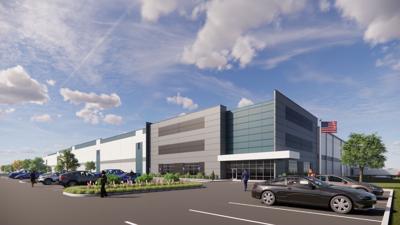 A joint venture of PCCP and Panattoni Development has acquired a 90-acre site for development of Creekside Logistics Center at the Huyetts Crossroads area, west of Hagerstown in Maryland, the US.
This 730,880ft2 Class A industrial warehouse with 40ft height will be located at 16422 National Pike.
Construction of the project is slated to be completed in December.
PCCP senior vice president Ryan Dodge said: "This project presents a prime opportunity to purchase a shovel-ready site in an area experiencing significant demand and minimal competing supply.
"We are pleased to kick off our 12th joint-venture with Panattoni and expand the relationship with the newly formed Northeast development team."
Panattoni partner Johan Henriksen said it is an "opportunity to take advantage of the current supply/demand imbalance created by e-commerce growth."
The warehouse will stand to benefit from the close by access to Interstate 81 and I-70, multimodal infrastructure, regional highway network, regional parcel and freight hubs, and "an abundant labor force."
Furthermore, the site will be able to provide tenants with tax incentives provided by the state.
PCCP is a real estate finance and investment management firm. With offices located in New York, San Francisco, Atlanta and Los Angeles, PCCP has $12.7bn in assets under management on behalf of institutional investors.
Based in Irvine, California, Panattoni is a privately held, full-service development company. It has 28 offices in the US, Canada and Europe.
———————————————————————————————————————
Image: Construction of the project is slated to be completed in December. Credit: Panattoni.