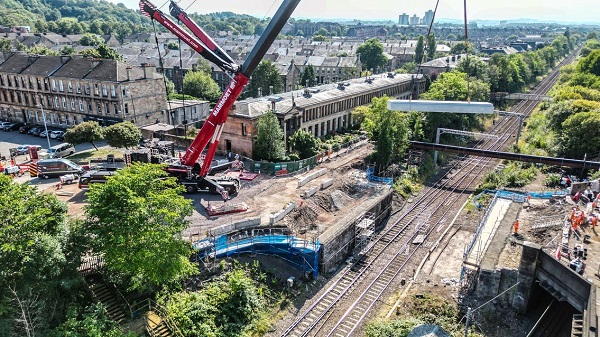 Network Rail has begun work on building a new bridge over the railway at Nithsdale Road in Southside, Glasgow, Scotland.
The work has begun after the demolition of the old structure.
This project is a part of the Glasgow-Barrhead electrification works.
It will see a new bridge deck being built higher over the railway to allow overhead electrification wire to run beneath the structure.
Demolition of the bridge is the latest phase of work under the Barrhead to Glasgow electrification project.
This project is a part of broader plans to decarbonise passenger services on Scotland's railway by 2035.
Contractor Bam Nuttall, on behalf of Network Rail, had demolished the old bridge.
Deploying cranes, the contractor removed 1,100tof spoil from the railway bridge and placed four concrete pre-cast cil units into position on the abutments of the previous structure to offer extra height clearance required for the electrification wires to run under the thinner bridge deck.
Network Rail project manager for the Glasgow-Barrhead electrification Allan Wilson said: "Successful demolition of the Nithsdale Road bridge removes a key blocker to the installation of the overhead wires that will enable the electrification of the line to Barrhead by December 2023.
"We will have the new deck in place in September and then will begin the process of reconnecting the utilities across the structure with a view to having completed the work and opening the new bridge in January next year."
Apart from the main bridge works, a smaller structure at Kennishead Road near Darnley was demolished and an under-track crossing was installed to transport diverted power cables.
———————————————————————————————————————
Image: Bam Nuttall, on behalf of Network Rail, had demolished the old bridge. Credit: Network Rail.