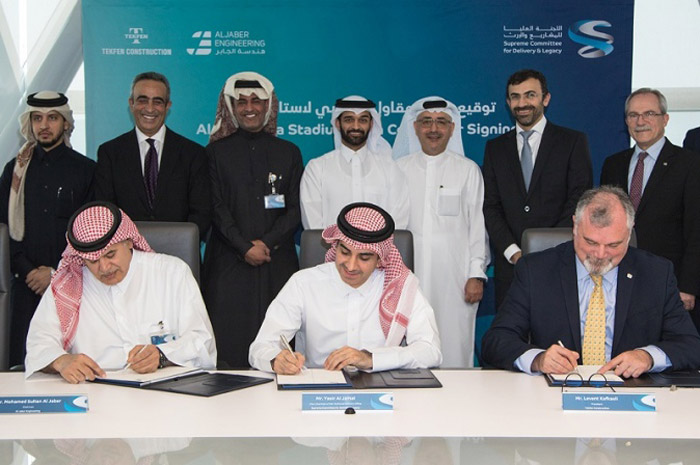 A joint-venture of Qatari firm AlJaber Engineering and Turkish firm Tekfen Construction has been selected as the main contractor by the Supreme Committee for Delivery & Legacy (SC) for a new stadium in the Al Thumama district in Doha, Qatar.
The stadium, which will be used to host FIFA World Cup matches up to the quarter-final stage, will have a 40,000-seat capacity. In its post tournament legacy mode, the facility's accommodation capacity will be lowered to 20,000 seats.
SC secretary general Hassan Al Thawadi said: "We are delighted to award the main contract to AlJaber Engineering and Tekfen as a joint-venture. The stadium in Al Thumama is located in one of the most rapidly developing areas of Doha. Once ready, the stadium and its surrounding precinct will not only become one of the capital's central sporting arenas, but will also serve the local community as a central community destination."
The stadium will be located in a 515,400 sq m area that already comprises four outdoor training pitches and office facilities used by the Qatar Football Association Technical Committee.
AlJaber Engineering CEO Osama Hadid said: "Being a Qatari company we are proud to build such a strategically important venue for this historic tournament. We will ensure the delivery of a stadium that makes the residents of Al Thumama and the wider Doha community proud when it opens its doors for the tournament in 2022."
Construction work on the project started in mid-2016, with TiME Qatar serving as the project manager. Recently, the levelling and grading works were completed by Boom Construction.
The design of the stadium will be unveiled in 2017. The facility is expected to be concluded by 2020.
* For more information on the Qatar construction market, visit the Construction Intelligence Center Report Store.