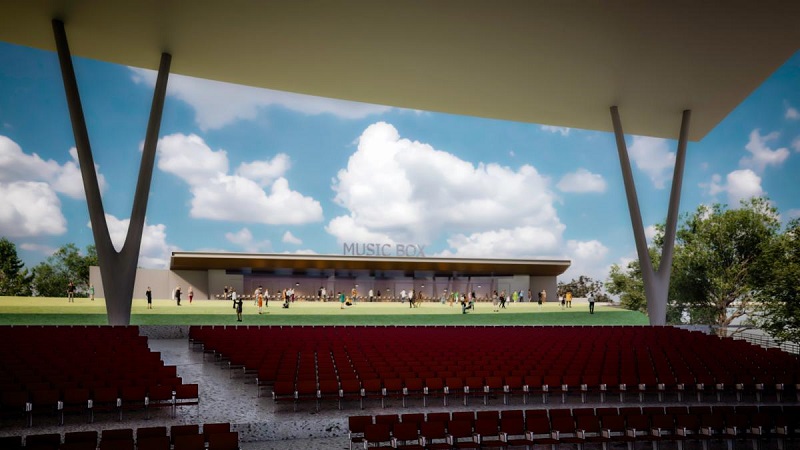 The Macon-Bibb County Urban Development Authority in the US has approved the selection of a design/build team for the new outdoor amphitheatre which will have a capacity of 10,000 people.
Acting on behalf of Macon-Bibb County, the authority approved the team comprising Piedmont Construction Group, TVS, Stage Front, and HGOR for the amphitheatre that is planned to be constructed at the Macon Mall.
The stage of the amphitheatre will be on the site's south-east corner facing toward Rocky Creek and Mercer University Drive.
It will feature 2,500 fixed seats in a stepped seating bowl and 6,000 lawn seats outside of the roof structure and bowl.
Additionally, 1,500 temporary seats will be arranged on a flat floor between the fixed seats and the amphitheatre stage.
Other amenities will include greenspace, dressing rooms for artists, ticket booths, vendor and event areas, a green room and transitional walkways.
Two entrance plazas will have retail amenities, concessions and restrooms, along with other retail options around the amphitheatre. A full-service restaurant is planned to be constructed in the future.
Macon-Bibb County Mayor Lester Miller said: "We want to provide a top-notch entertainment experience for both people attending shows and the artists.
"This team isn't just designing a facility. They're bringing their knowledge and experience of the entertainment industry to make sure this venue serves our community, the state, and future talent."
The design/build team will initially collaborate with Macon-Bibb County, industry representatives, local and state partners, and the community to create a final design of the amphitheatre.