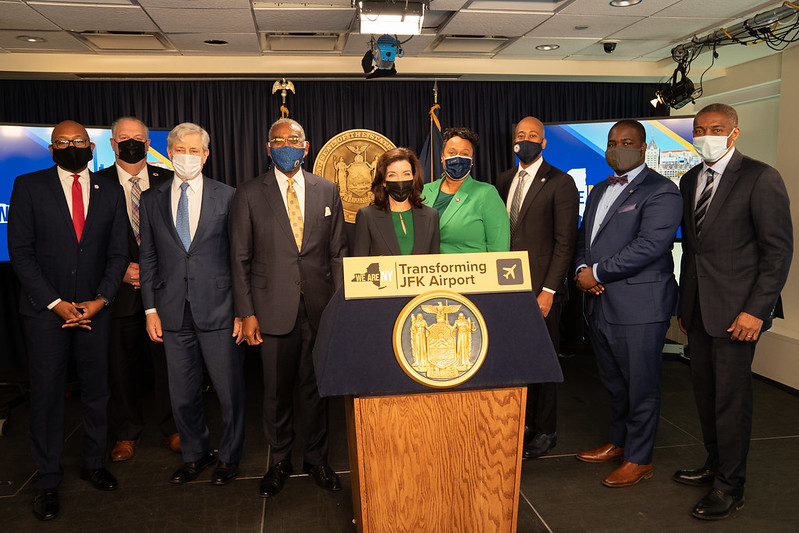 The Port Authority of New York and New Jersey has signed a revised agreement with The New Terminal One (NTO), to build a new $9.5bn international terminal at the John F Kennedy International Airport (JFK) Airport in New York.
NTO is a consortium of financial sponsors that include Carlyle, JLC Infrastructure and Ullico.
The new 2.4 million ft2 terminal will be constructed in phases on the sites of the existing outdated Terminal 1, the aging 59-year-old Terminal 2, and on the former Terminal 3 site that was demolished in 2013.
The NTO consortium will privately fund the complete cost of the new terminal.
Construction work on the terminal is planned to commence in the mid of next year.
Under the first phase, which is anticipated to open in 2026, the terminal will include the new arrivals and departures hall and the first set of new gates.
The project is expected to be completed by 2030 and create more than 10,000 jobs.
Upon completion, the new terminal will feature 23 gates, check-in halls, arrival spaces, dining and retail amenities and an indoor green space, along with space for lounges and family-friendly amenities.
A joint venture of CAG Holdings and Munich Airport International has been appointed as the operating and technical services partner to NTO.
The Port Authority has also planned to undertake many infrastructure upgrades and improvements including parking, utilities and roads, as part of the project.
Port Authority chairman Kevin O'Toole said: "This agreement to build a new Terminal One at John F. Kennedy International Airport demonstrates the commitment of the Port Authority of New York & New Jersey and our private partners to deliver for our region through some of the most difficult times in our agency's 100-year history.
"Moving forward with this state-of-the-art international gateway, and the extraordinary level of private investment it brings, will create thousands of good-paying construction jobs critical to our recovery from the pandemic, while building the foundation of economic growth for decades to come."
———————————————————————————————————————
New York Governor Kathy Hochul announces plan to build $9.5bn international terminal at JFK Airport. Credit: Governor Kathy Hochul / Flickr.