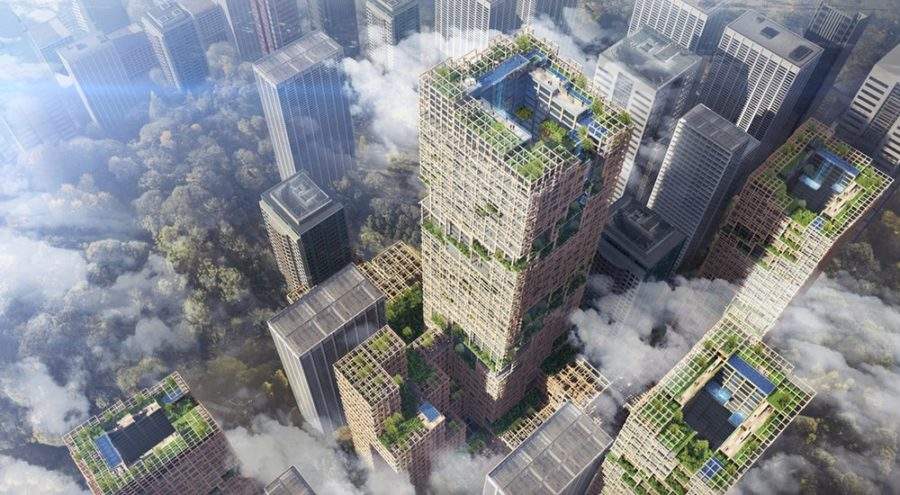 Japanese company Sumitomo Forestry has announced plans to construct a 350m-tall skyscraper built primarily out of wood by 2041.
The structure is part of the W350 plan to create 'environmentally-friendly and timber-utilising cities,' according to the company, and is timed to mark the 350th anniversary of the founding of Sumitomo Forestry in 1691.
The building will be made of 90% wood, with steel providing the remaining material. The finished structure will include 70 floors above ground, cover a total area of 455,000m2 and require 185,000m3 of timber. Sumitomo Forestry also predicts the project will cost around JPY 600 billion.
"These structures are like a forest, a habitat for living things. The number of wooden buildings in urban areas is increasing," said the company. "Under this concept, greenery on the earth will contribute to buildings and cities, making over cities as forests."
The project also has a clear environmental aim, as the timber used in the building is expected to incorporate 100,000 tonnes of carbon dioxide through carbon fixation. This will counteract some of the 1.408 billion tonnes of carbon dioxide produced in Japan in 2014. This is equivalent to 8,000 wooden homes, but will provide this significant environmental benefit without consuming as much space on the ground.
W350 is a beneficiary of the 2010 Act for Promotion of Use of Wood in Public Buildings, which was enacted by the Japanese government to encourage construction companies to use more wood in their projects, and obligate the government to 'take the lead in wood utilisation in public buildings.' Around 68.5% of Japan's land masses are covered in forests, yet the country's self-supply rate for domestically-produced timber is a much lower 30%.
Sumitomo Forestry will take advantage of Japan's plentiful local timber and government policy, to create a structure that towers over Tallwood House, a student accommodation building in Vancouver that currently stands as the tallest mass timber building in the world at 57.9m.