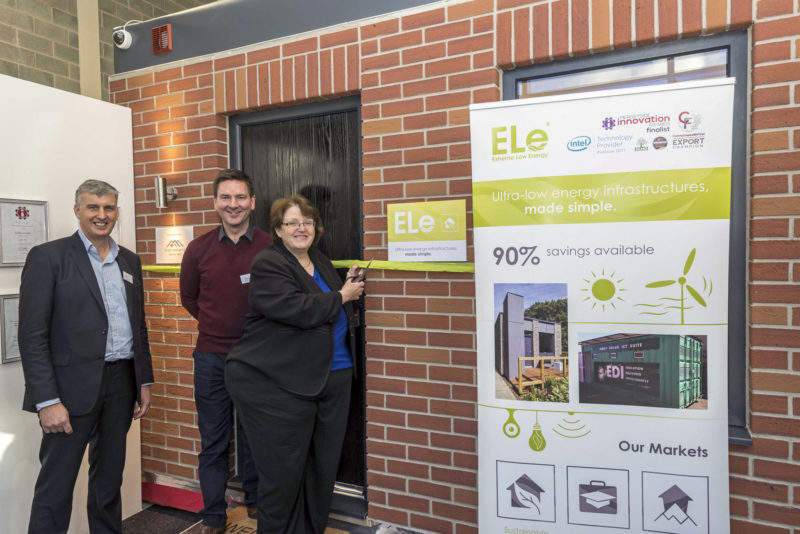 Extreme Low Energy (ELe), a specialist manufacturer of low energy infrastructure has unveiled a model low-energy, eco-friendly, home of the future at its headquarters in Skelmersdale.
The firm has installed the replica modular home in the reception area of its new offices. It is fully equipped and powered by ELe systems and built by sustainable building company Simply Modular.
It uses ethernet cables to power a range of domestic and commercial appliances, and by using DC power, it eliminates the wasted energy that is created during AC/DC conversion.
The replica also has monitoring capabilities. A housing association, for example, could monitor whether a dwelling is over- or under-occupied, along with measuring the humidity and temperature to prevent damp, mould and condensation in its tenant's homes. These could all allow for preventative maintenance rather than costly reactive repairs.
Mark Buchanan, founder and technical director of ELe, said: "Our ELe system is designed to be mass produced and easily installed, helping reduce fuel poverty and provide housing associations with data enabling them to monitor the energy performance of their properties and aid in the cost of maintaining them.
"The tenant benefits from reductions in their electricity bills whilst the housing association benefits in reduced maintenance costs.
"We believe that this is a template for the future and are currently discussing the implementation of this technology in planned projects for modular home development across the UK."
The modular home is powered by solar panels which discharge the electricity they generate to a battery storage system.
ELe's systems power the heating, lighting and integrated appliances, and the company claims it can save the user up to 70% in energy use.
West Lancashire MP, Rosie Cooper, who unveiled the home, said: "I'm proud that such pioneering innovation is being developed here in West Lancashire.
"There's a real housing problem across the UK and it's important that ideas, like those being put forward by ELe, are considered as a possible solution to the housing crisis we face."