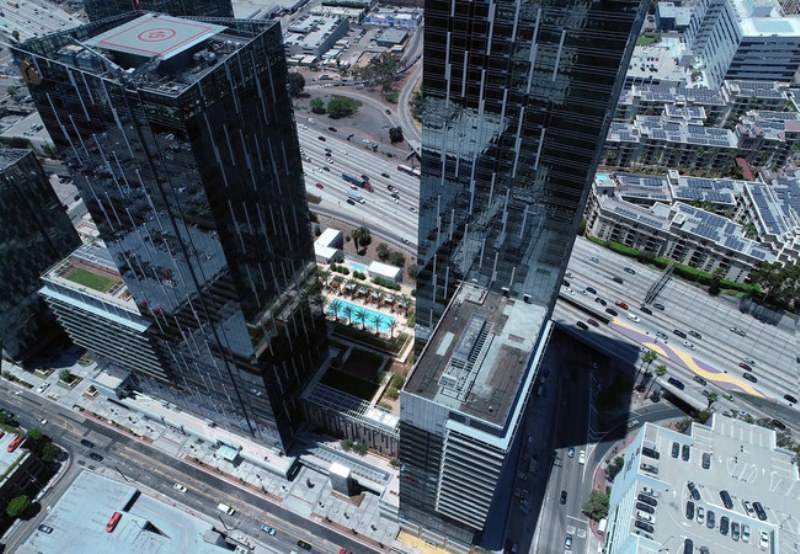 Architecture and engineering firm Harley Ellis Devereaux (HED) has completed the glass-enveloped Metropolis Tower II Residences in Los Angeles, US.
The new 40-storey, 461ft-tall tower offers 514 condominium homes ranging from studios to two-bedroom units.
The building features a residential amenity level with an expansive outdoor landscaped deck on its 9th floor.
For the development of this second residential tower in Metropolis for client Greenland USA, HED was the architectural designer while Gensler was responsible for the project's entitlement process and the site's master plan.
"These condominiums are attractive and are a perfect fit for the Los Angeles marketplace."
The firms also collaborated for the development of the Tower I Residences.
The second residential tower features exterior glass walls and 10ft–11ft ceiling heights.
Greenland USA representative Na Ye said: "The design of this building is something we are particularly proud of. We have enjoyed the opportunity to work with HED for the full architectural scope of work for this tower and are continuing this great collaborative partnership on the next condominium tower which will open late in late 2019 or early 2020."
The condominium homes range from 482ft² to 1,431ft² in size. The METNINE amenity level features a 1.5-acre outdoor area that includes a dog park, a children's playground, a garden, a gym, and a resort-style pool.
Other amenities in the building include a screening room, a billiard room and a resident-only clubhouse.
The project's interiors were designed in collaboration with New York-based JG Neukomm Architecture, and the outdoor amenity spaces were designed in partnership with OJB Landscape Architecture.
HED Corporate & Commercial Design Studio principal Jeremy Hsu said: "We are incredibly proud of the quality of work that has gone into the Metropolis II Residences. These condominiums are attractive and are a perfect fit for the Los Angeles marketplace."