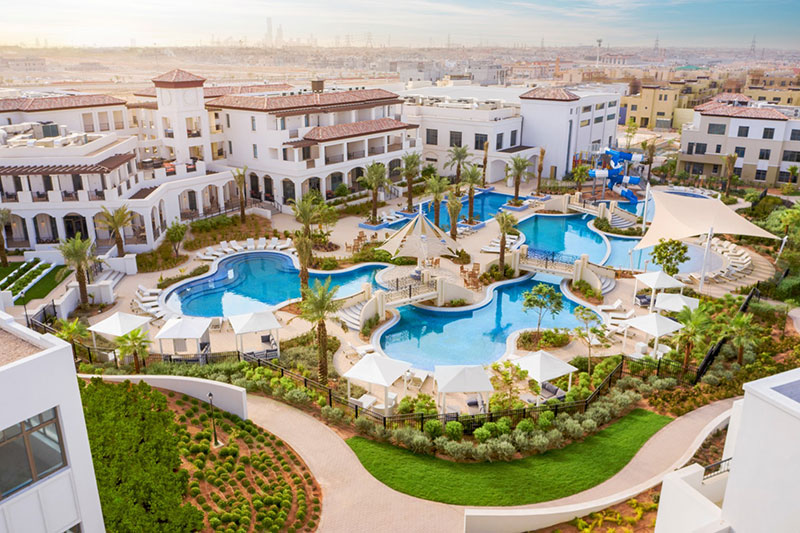 Gulf Related, a partnership between Gulf Capital and US-based real estate firm The Related Companies, has inaugurated Antara, an SAR1bn ($267m) residential development in Riyadh, the capital of Saudi Arabia.
Antara offers 520 homes, which include a wide range of villas, contemporary townhouses and modern apartments to its residents such as individuals, couples and families with children.
Offering a resort style living experience, Antara has several recreation and relaxation facilities in a resort-like environment surrounded by lush landscaping.
The residential community offers amenities such as a large fitness and wellness centre, terrace restaurants, poolside cafes with concepts including Circle Café, Taqado, Poke by Sushi, Park House and Sushi Counter, all of them overlooking five interconnected pools.
The community has a Montessori Pre-School which can accommodate up to a hundred children.
Gulf Related co-managing partner and Gulf Capital CEO Karim El Solh said: "Antara is a high-end, sophisticated, and family-friendly residential resort in the heart of historic Riyadh. We are privileged to be part of the Diriyah community of developers who are contributing to and revitalising an area of high cultural and historic significance.
"Gulf Related's SAR 1 billion investment in Antara highlights our belief in the promising residential real estate sector in Riyadh and the long-term growth prospects of the Kingdom. This development is Gulf Capital's sixth major investment in Saudi Arabia and represents our commitment to supporting the Kingdom's 2030 vision of achieving far-reaching economic prosperity and supporting the growth of the real estate sector as a key pillar of the economy."
Antara also offers large business lounge, where residents can work remotely in a relaxed yet professional environment. The community is also launching Village Inn, a ready-made temporary staying solution for those who want to experience hotel life in a secure residential community.
Gulf Related co-managing partner and Related Urban CEO Kenneth Himmel said: "We are proud to announce the opening of Antara in Diriyah today. Antara was designed at the highest international standards to create a unique and sophisticated residential experience catering to both long-term and short-term stays.
"Antara is strategically located in the prestigious Diriyah area, and we were keen to ensure that the unique and historic settings were incorporated into Antara's urban planning, design, and architecture. Antara has already attracted considerable interest ahead of its official inauguration, with immediate leasing commitment of over 100 units.
"Despite challenging times for global and regional economies, the completion and opening of Antara comes at a time of renewed investments in landmark real estate projects in Saudi Arabia."
—————————————————————————————————————————————————-
A view of Antara residential community in Riyadh, Saudi Arabia. (Credit: GulfCapital.)