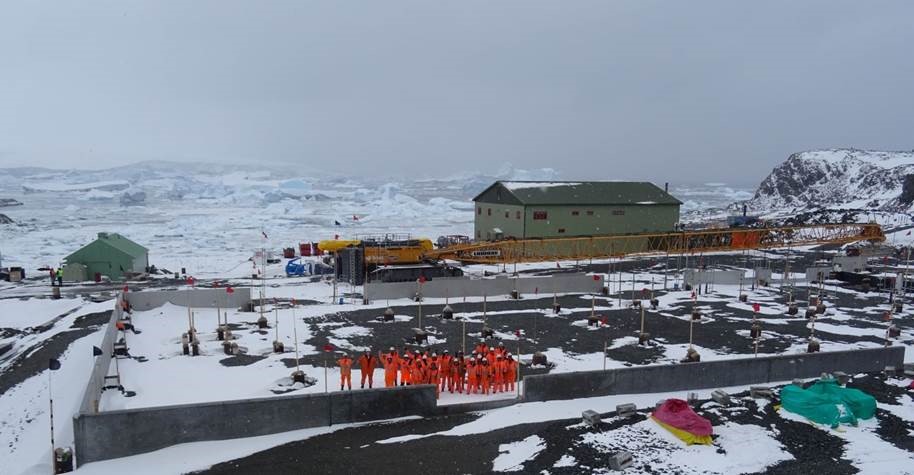 BAM has announced the completion of groundworks for a new polar research building at British Antarctic Survey's (BAS) Rothera Research Station, Antarctica.
The new scientific support facility, the Discovery Building, will support polar scientists who undertake vital research into climate change and biodiversity, and is part of a major programme commissioned by UKRI-NERC to update the UK's Antarctic Infrastructure.
The new 4,500m² facility will be a two-storey building that will replace six old buildings at the station and will feature thermally efficient building envelope, heat recovery generators and thermal stores, and a ventilation system with air exchanges based on occupancy.
The work on the project is being executed by the Antarctic Infrastructure Modernisation Programme (AIMP) partnership that includes Bam, designer Sweco, Hugh Broughton Architects, and Ramboll as BAS' technical adviser.
Till date, this construction team has laid 70 precast concrete foundations for the building's structural steel frame and has installed 32 sections of perimeter wall.
About 3,500 tonnes of graded rock has also been filled to create the formation level and ready for the ground floor slabs to be fitted next season.
Due to the harsh winter conditions in the area, construction on the Discovery Building can only take place during the Antarctic summer months, which is between December to May.
Furthermore, the new research building is slated for completion in 2024.
British Antarctic Survey AIMP director Jonathan Ager said: "We were forced to curtail this activity last season, to bring our team home safely as the world entered lockdown.
"It was therefore essential that we completed the groundworks this season so that, when we return in December, we have the best opportunity to complete a weathertight structure, and to prevent damage from the extreme Antarctic winter."
———————————————————————————————————————
Groundworks completed on new Discovery Building in Antarctica. Credit: BAM.