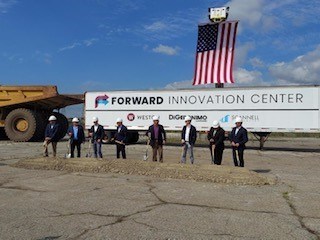 Weston, DiGeronimo Cos, and Scannell Properties have announced the groundbreaking of a business hub in Ohio, Texas, the US.
This 210-acre property, earlier called as the Ford Motor Company in Brook Park, Ohio, will now be called as the Forward Innovation Center.
Weston president of acquisitions T.J. Asher said: "It's bittersweet tearing down this plant with its history, but what we are going to end up with is something more efficient and modern for today's companies."
Situated in an accessible location for land, air, water and rail travel, and directly next to Cleveland Hopkins Airport, the Forward Innovation Center will offer tenants with distribution and manufacturing space.
Constructed with future fulfillment and manufacturing requirements, it will consist of features such as 32 foot ceiling heights, heavy power and ESFR sprinklers, and new solutions.
Commenting on the project, Ohio State Senator Sherrod Brown said that it "opens a new chapter for this historical industrial corridor, and is a testament to the commitment to Ohio workers and the Cleveland community."
Demolition of the Ford Cleveland Engine Plant No. 2 commenced in July and is advancing with the first of the spec buildings to be finished by Q4 2022.
Weston is a privately held national real estate company with 22 million square feet of property across the Midwest and Southeastern United States.
The DiGeronimo Companies is a privately held national real estate company.
Scannell Properties is development company in the US.
———————————————————————————————————————
The 210-acre property was formerly known as the Ford Motor Company in Brook Park, Ohio. Credit: Weston, Inc.