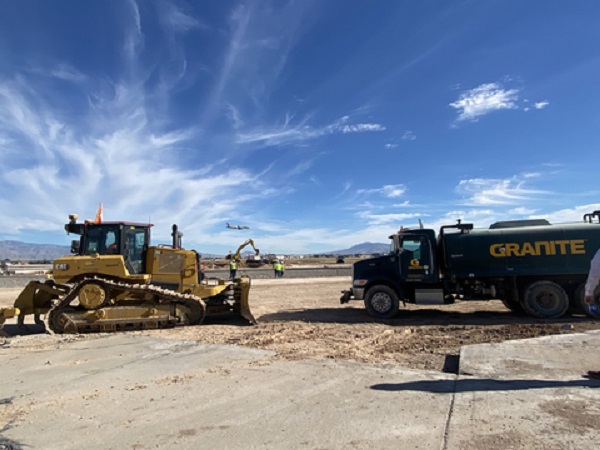 Granite has won nearly $20m contract from the Tucson Airport Authority (TAA) to rebuild an outboard taxiway (Taxiway C) at the Tucson International Airport (TUS) in Tucson, Arizona, US.
This project is a part of the TAA's estimated $400m, multi-year Airfield Safety Enhancement Program.
The project is mainly funded via an FAA Airport Improvement Grant (AIP) with extra funding expected from the recently passed Infrastructure Bill before the start of construction.
The order is expected to be recorded in Granite's Q4 CAP.
This is the second work package being awarded as part of the earlier announced $130m multi-year Construction Manager at Risk (CMAR) project that requires current runway being demolished and reconstruct a new relocated commercial runway, centre taxiway, and outboard taxiway that will parallel the current main runway at TUS.
Granite senior project manager Zach Thompson said: "The construction team will continue to build upon its strong relationships established over the past decade with TAA and its stakeholders as it transitions from completing its current DBB1 (Design Bid Build 1) Project under TAA's Airfield Safety Enhancement (ASE) Program, back to work under the existing CMAR contract.
"The preconstruction team continues to look for innovative, cost-saving options to right-size work packages in pursuit of ultimate programme build out over the next 4-5 years given the headwinds of market volatility and funding availability."
Situated within five miles of the project, Granite's Swan Plant will offer nearly 43,000 tonnes of hot mix asphalt, 42,000 tonnes of total base course, and 10,000 tonnes of several other aggregates and sand.
The project is expected to commence in October 2022 and anticipated to finish in September 2023.
———————————————————————————————————————
Image: Granite crews carrying out work at Tucson International Airport. Credit: Business Wire/Granite.