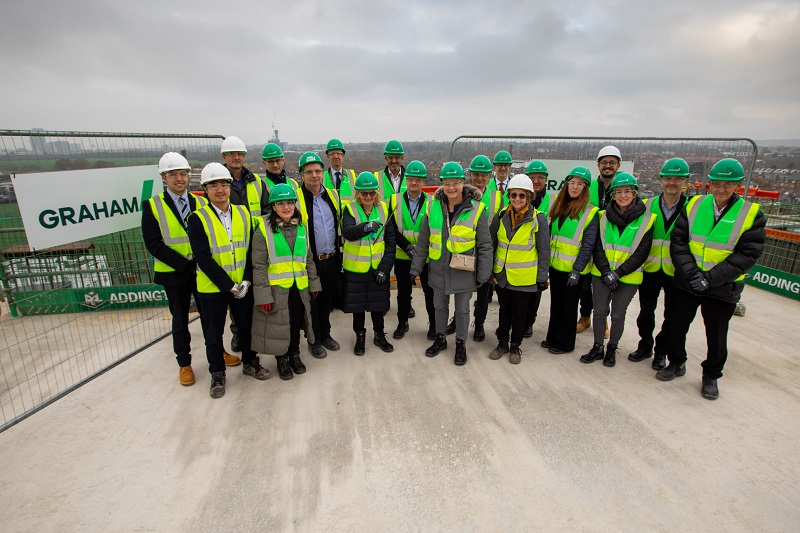 Construction engineering company Graham has announced the topping out ceremony of Imperial College London's new School of Public Health building in West London, UK.
Located at Imperial College's White City Campus, the new multidisciplinary building will offer flexible, interactive, and collaborative spaces for students, academics, collaborators and the local community.
It will house the latest facilities to support modern advances in community engagement, public health, data sciences, genomics, incubators, and educational facilities.
Designed by Allies and MORRISON, the new nine-storey School Of Public Health building will provide approximately 58,000ft² of space.
Graham is leading the construction programme of the project along with fitting out the new building.
Graham Building operations director Pat O'Hare said: "This is a landmark moment for Imperial College London's transformative White City Campus, the home of the new School of Public Health.
"We're delighted to celebrate this milestone alongside representatives from Imperial College London, a renowned institution regarded for its approach to teaching, research, and inspiring innovation."
The new School of Public Health building is scheduled to be completed by next year after a fit-out, and the building users will move in by the end of the year.
School of Public Health director professor Deborah Ashby said: "Imperial College London's School of Public Health is an integral part of one of the most collaborative, multidisciplinary, innovative universities in the world.
"Its new home at the White City Campus will amplify our collaborations, innovation and our teaching and research locally, nationally, and internationally."
In March, a consortium led by Graham was appointed by the City of Edinburgh Council for a regeneration housing development at Meadowbank, Edinburgh, UK.