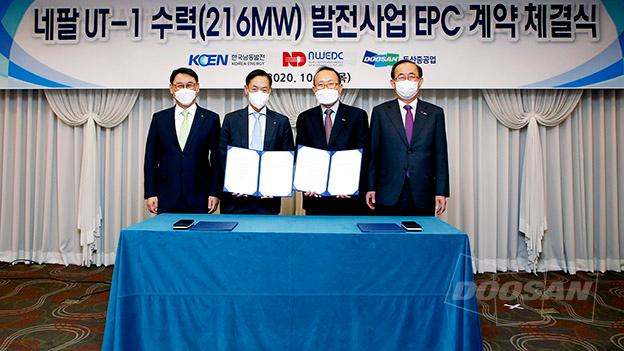 Doosan Heavy Industries & Construction has signed a KRW400bn ($353m) contract with Nepal Water & Energy Development Company (NWEDC) for the construction of a hydropower plant in Nepal.
NWEDC is a special-purpose corporation with 50% stake owned by Korea South-East Power Company (KOEN), 25% by Korea Overseas Infrastructure & Urban Development Corporation (KIND), and 15% by International Financial Corporation (IFC).
The scope of the work will include the construction of 216MW Upper Trishuli-1 Hydroelectric Power Plant located near Trishuli River, 70km north of Kathmandu.
Under the contract, the South Korean firm will be responsible for the manufacturing and supply of the main components, such as the turbine and power generator along with the construction of the hydropower power plant.
Doosan Heavy Plant EPC Business Group CEO Inwon Park said: "Winning this hydroelectric power plant contract will help expedite Doosan's efforts for the eco-friendly energy business, including the offshore wind farm and hydrogen business.
"We plan to step up efforts for the local manufacturing of plant components and plant engineering and will seek to promote the related industries in Korea, as we expect to see more business opportunities, such as the need for modernisation of old hydroelectric power plants, in both the domestic and overseas markets."
Construction on the project will last for about five years.
Separately, Doosan has signed an MOU for business cooperation with KOEN for the 215MW Asrit-Kedam Hydroelectric Power Plant, which has been ordered by the Pakistani government.
The power plant, being led by KOEN, is located 375km north of Islamabad. Construction on the project is set to commence at the end of 2022.
———————————————————————————————————————————-
Officials during the contract signing ceremony. (Credit: Doosan Heavy Industries & Construction)