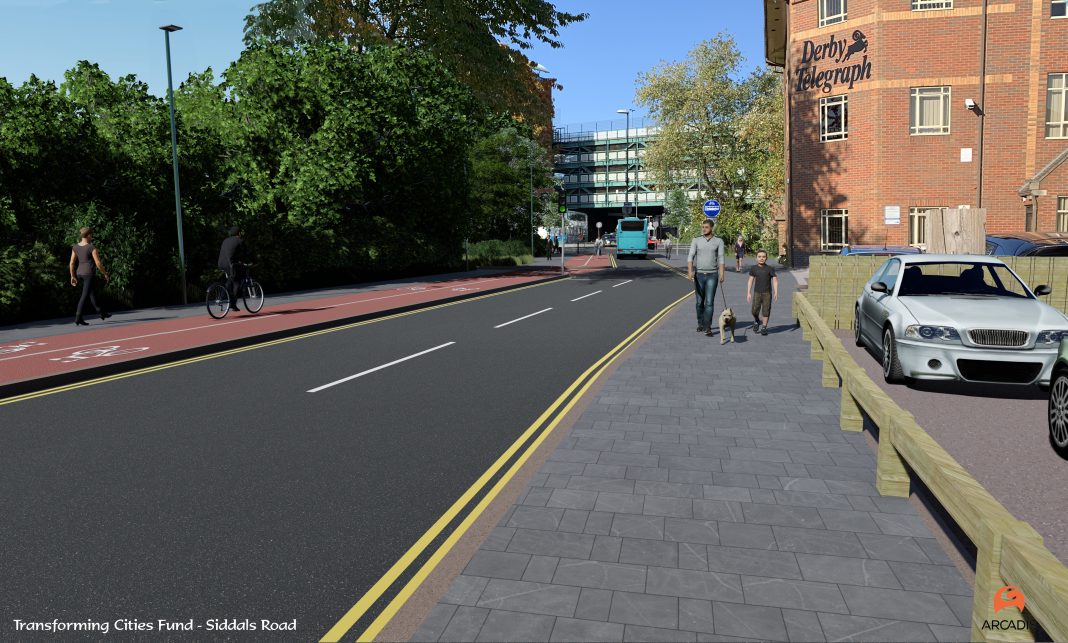 Derby City Council, together with Nottingham City Council, has submitted a bid for £100m for the second phase of the Transforming Cities Fund in the UK.
The Fund aims to improve connections between major employment sites in addition to promoting active travel and public transport.
As part of the plan, the Council has revealed its plans including the establishment of Derby's first dedicated mass transit link.
The mass transit link will have the provision of electric Rapid Transit (eRT) route that would run directly across the city centre, linking major intra-city destinations and public areas. The eRT route will include extensive, traffic-free routing.
Derby City Council is also proposing three new 'smart' park and ride hubs with improved cycling and public transport links, as well as upgraded RTI and waiting and electricity charging facilities.
The council said it is also planning to offer demand responsive transport service to link the city centre and rail station to key employment sites including Rolls Royce, Bombardier and Pride Park.
Other improvements include upgrading junctions, infrastructure and RTI at a key junction, as well as cycle lane improvements along key routes including dedicated cycle lanes along Slack Lane, Raynesway and Nottingham Road.
The proposed bid also includes initiatives to better connect Derby and Nottingham and East Midlands airport.
The initiatives include improving real-time information, signal and bus lane priority for public transport across the region; consolidation of cashless payments and seamless ticketing in Derby; expanding the rapid electric charge point network; upgrading cycle links between the two cities; and bike share programme.
Derby City Council planning, regeneration and transport deputy leader Matthew Holmes said: "The economic benefits will be huge for both cities because this level of investment offers the chance to implement some really exciting changes, bringing mass transit to the city, and creating public transport innovations and transport experiences.
"A key part of the proposals, for example, is a dramatic expansion of sustainable travel options. These include a network of cycle lanes and an improved environment to encourage walking.
"The overarching ambition is to radically improve the connections between where people live and work, and provide better access to employment and training.
"As part of our commitment to clear air, we have also designed our programme to deliver significant reductions in emissions, encourage a more active and healthier population, and to support inward investment and regeneration projects."
—————————————————————————————————————————————
Derby City Council has revealed plans for eRT route. (Credit: Copyright Derby City Council)