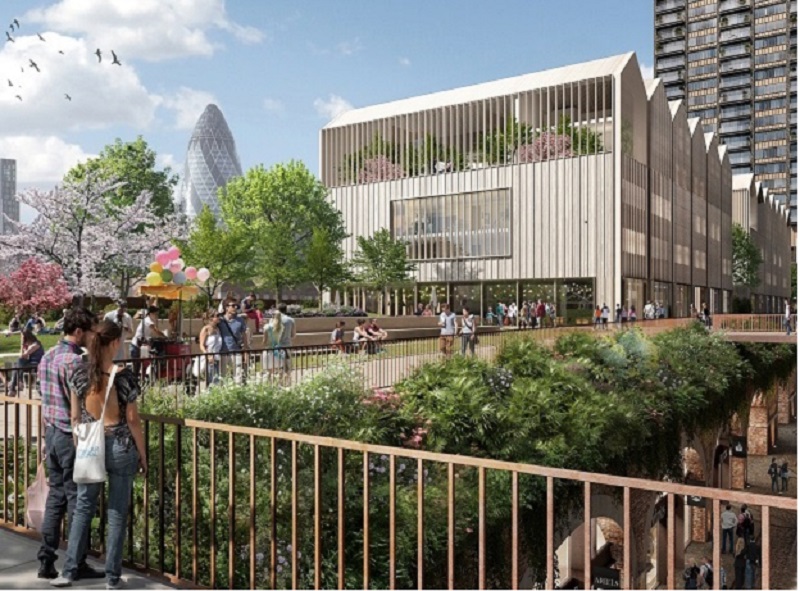 Bishopsgate Goodsyard Regeneration, a 50:50 joint venture between Ballymore and Hammerson, has plans to begin construction of the Bishopsgate Goodsyard scheme, in London's Shoreditch, in 2024.
The developer signed the Section 106 agreement, clearing the final planning hurdle for the regeneration of Bishopsgate Goodsyard.
The mixed-use project would see Bishopsgate Goodsyard, located on London's city fringe, being transformed into a new £900m urban scheme, reported Construction Enquirer.
This ten-acre scheme will feature 500 news homes, of which 50% will be marked as affordable, and 1.4 million square feet of workspace.
Designed by architect FaulknerBrowns, the masterplan features an elevated public park located on top of restored historic railway arches.
Representing the final stages of the planning process, the Section 106 agreement formalises the approval given to the plan in late 2020.
This plan had secured approval from the London Borough of Tower Hamlets, the London Borough of Hackney, Network Rail, Transport for London (TfL), and the Greater London Authority, reported The Construction Index.
The JV will now commence detailed designing and preparations, to begin site enabling works. It will also work with Network Rail on a delivery and phasing plan.
This project will also feature over six acres of public space, which is 25% more than the proposed original plan that was first submitted in 2014.
The car-free scheme will have new pedestrianised streets through the site, with a new east-west street built.
This scheme will also include two new culture and arts buildings, with one in Hackney, and Tower Hamlets, respectively.