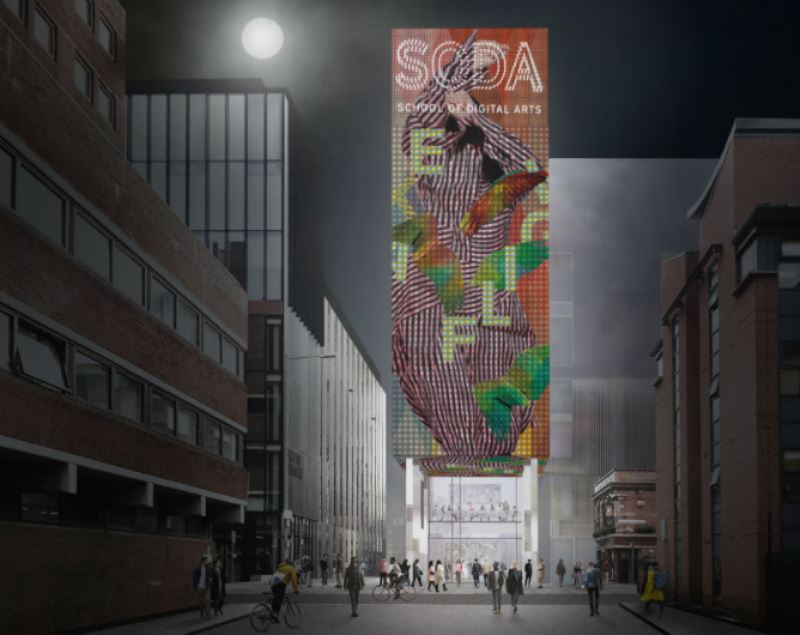 The Manchester Metropolitan University has announced the start of construction on its School of Digital Arts (SODA) building in the UK.
SODA is being built with a £35m investment jointly funded by Manchester Metropolitan, Greater Manchester Combined Authority and the Greater Manchester Local Enterprise Partnership.
Designed by the FCBStudios, the five-storey interdisciplinary school building will be situated adjacent to the Manchester School of Art in the Benzie Building on Higher Chatham Street.
The 5,200m² SODA building will feature a digital innovation and UX lab, green screens, edit suites, film, sound, music and production studios, a screening room and gallery space.
The building's exterior front wall will be a high-resolution LED wall, making it a canvas for student work.
FCBStudios partner Simon Doody said: "SODA is a future-facing school for Manchester Metropolitan University, which aims to provide facilities, support and a canvas for digital storytelling that is relevant to industry and groundbreaking in its outlook.
"From the outside, a subtly textured façade is created from pleated metal panels which reflect the local context. It also echoes the nearby workshop building that this faculty had its conception in – keeping that exciting culture going in the new building has been a key driver to its look and feel. Internally, the building is designed to be highly flexible, providing spaces that will encourage collaboration, exhibition and community, and allow faculties to evolve as technology advances."
Construction is set to be completed in early 2021 and the building will open in September the same year.
Ten apprenticeship opportunities and 100 local jobs will be created during the construction phase.
Each year, more than 1,000 students study animation, filmmaking, photography, UX and games design, AI and more at SODA.