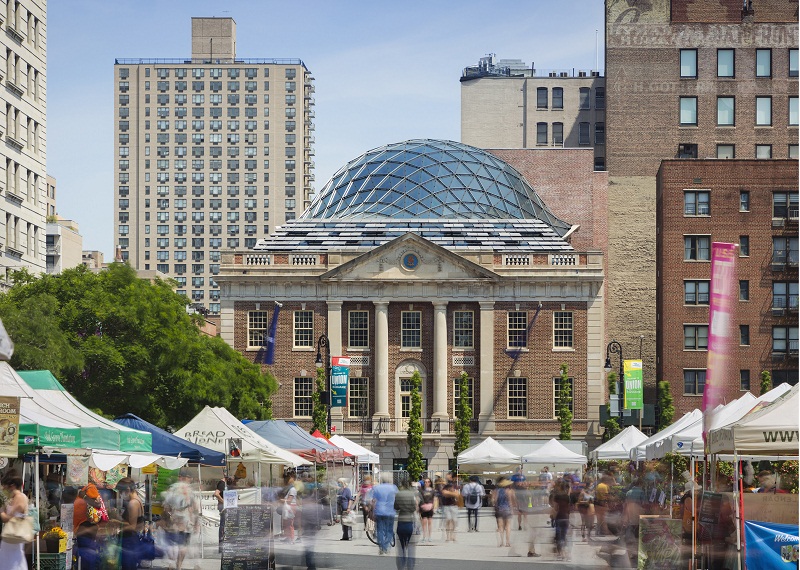 BKSK Architects has concluded the transformation of the former Tammany Hall headquarters building in the US for Reading International (RDI).
The Landmarks Preservation Commission has approved the BKSK design for the new Class A commercial building with three floors of restored historic street façades and a three-storey glass and steel dome.
The design expands the usable square footage of the building located at the north east corner of Union Square Park in Manhattan.
RDI purchased Tammany Hall 18 years ago and advanced the current project using a $57.5m construction loan secured from Bank of Ozarks and Fisher Brothers.
Supported by Edifice Real Estate Partners, BKSK and RDI have positioned the building to serve multiple tenants.
A glass dome inspired by the form of a rising turtle shell has been added to the building, bringing an additional space of 30,000ft² to the interior.
BKSK's design turned the original hipped roofscape into a glass dome. As part of the restoration and expansion of the building, two existing façades were preserved.
The design comprised of a self-supporting free form shell grid dome atop a reconstructed hipped roof of steel and glass with dappled gray terracotta sunshades.
BKSK carried out rigorous research regarding the choice of glass that would provide climate and light control for the dome. The company also led the analysis of insulating glass and solar illumination to increase useful sunlight.
The project's lead design architect Todd Poisson said: "We believe that many structures, Tammany Hall among them, can accommodate change and vertical expansion without a loss of integrity.
"Rather, this manner of unexpected juxtaposition can heighten the public's perception of a building's significance. Our goal is to make the northeast corner of Union Square come alive in a way that it never was, but perhaps always hoped to be."