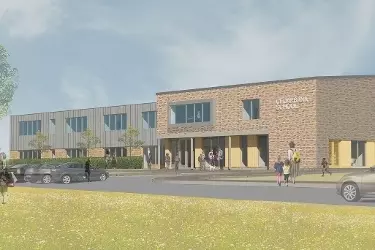 BAM Construction has begun construction of a new school in West Lothian in Scotland, for secondary pupils with additional support needs.
To be located within the James Young High School in Livingston, the new Cedarbank school will bring up to 140 Cedarbank pupils under one roof. The existing school is currently spread out over three locations in West Lothian.
As per the plans, the school will have a multi-purpose hall, specialist classrooms for  music, science, home economics, art, IT and life skills as and base classrooms.
This £7m project will also feature a kitchen/dining area within the school and landscaped external areas that will consist of varied accessible and natural hard and soft landscaping, space to conduct lessons outside and an outdoor allotment.
It is being delivered by hub South West on behalf of the local authority.
BAM Construction construction director Martin Cooper said: "We're delighted to be part of the team delivering this innovative, purpose-built building which will provide quality care and education for the pupils of West Lothian for many years to come."
Meanwhile, Royal BAM Group, through its subsidiary BAM Bouw en Vastgoed Specials, will buy all shares of Houtindustrie Stam & Landman (HSL) and Gevelelementen Noord-Holland (GNH) from the present owners.
HSL and GNH are producers of complete, prefabricated wooden facade elements, and have been suppliers to BAM for 25 years.
Located in Heerhugowaard, the Netherlands, the two businesses together employ around one hundred people, with annual turnover over €20m.
Financial details of the acquisition have not been revealed.
Royal BAM Group CEO Ruud Joosten said: 'The acquisition of our trusted partners HSL and GNH is part of the strategy that BAM has set out for the coming years. This step allows us to leverage our expertise in sustainability, digitisation, modular and industrial construction activities. In the Dutch residential building market, activities are shifting from the construction site to manufacturing locations under controlled conditions.
"Further integrating the prefabricated modules in our innovative design and construction processes ('conceptional building') enables us to scale up our sustainable solutions more quickly to meet the wishes of clients and residents. In this way, BAM is responding to the increasing market demand for affordable homes."
—————————————————————————————————————
Image: The new Cedarbank school will bring up to 140 Cedarbank pupils under one roof. Credit: BAM Construct UK Ltd