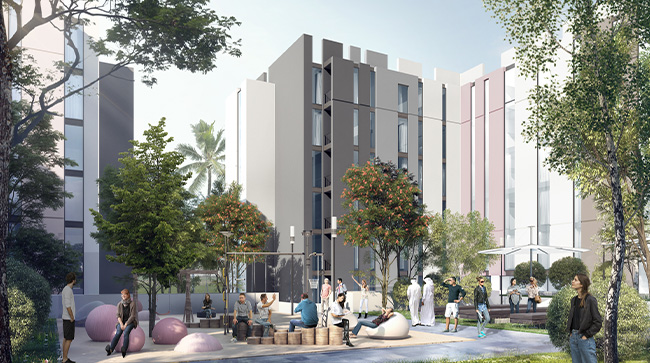 UAE-based Arada Developments has awarded a contract worth AED423m ($115m) to Best Building Contracting Company for the construction of East Village, the second phase of Sharjah megaproject, Aljada.
The AED24bn ($6.5bn) Aljada mixed-use district is located in Muwaileh district.  Sprawling over a 24 million ft² area, the master-planned destination includes extensive retail, hospitality, commercial, healthcare and education offerings.
The East Village project will include the construction of 16 apartment blocks, located within a landscaped master plan. It will feature nearly 2,000 homes.
The housing units, which are characterised by fresh and bold designs, are aimed at younger customers. Arada said that 95% of the East Village community is now sold out.
Arada chairman HE Sheikh Sultan bin Ahmed Al Qasimi said: "This is a key moment in the development of this record-breaking project, and is evidence of our determination to push construction forward at several areas within the Aljada project site.
"We thank investors in East Village for their trust and will now work to ensure that their homes are built rapidly and to the highest level of quality. We have chosen a partner with a track record of stability and success to construct this special community, and we look forward to working with them to bring East Village to life."
Construction on the East Village project will commence immediately and the initial housing units are set to be completed in December 2021.
Established in 1975, Best Building Contracting Company has completed two Al Zahra Hospitals (one each in Sharjah and Dubai).
The company has also completed several high-rise towers that comprise the Sharjah skyline, including Crystal Building, Al Hind Tower, Sara Tower and Al Qassimi Building.
————————————————————————————————————————————
The East Village project will include construction of 16 apartment blocks. (Credit: Arada Developments LLC)