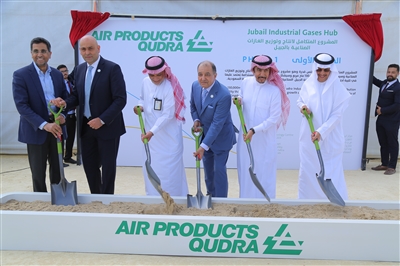 Air Products Qudra has broken ground on fully-integrated industrial gases hub project in the Jubail Industrial City, Saudi Arabia.  
The project is being developed by Air Products Qudra in collaboration with the Royal Commission for Jubail and Yanbu, an autonomous organisation of the Saudi Arabian Government.
The project involves the construction of a steam methane reformer (SMR) to produce hydrogen; an air separation unit (ASU) to produce oxygen and nitrogen; and hydrogen pressure swing adsorption (PSA) units to recover hydrogen from off-gases.
Additionally, the project involves the installation of comprehensive pipeline networks to connect and transport industrial gases to the refinery and chemical customers in the region.
Air Products chairman, president and CEO Seifi Ghasemi said: "In collaboration with the Royal Commission, this investment in Jubail demonstrates that focus and is another example where we can bring Air Products' full suite of capabilities in support of sustainable energy and chemicals production to the Kingdom of Saudi Arabia."
Scheduled for completion in 2023, the industrial gases hub is expected to allow Jubail to achieve higher values for off-gases.
The project also includes the construction of a second hydrogen fuelling station in Saudi Arabia at the site.
In 2019, Air Products and Saudi Aramco commissioned the hydrogen fuelling station at Air Products' new Technology Center in the Dhahran Techno Valley Science Park in Saudi Arabia.
Recently, a consortium led by UAE-based Metito Group has started construction on Independent Sewage Treatment Plant Project (ISTP) in Dammam West, Saudi Arabia.
The consortium includes Mowah, a water utility firm in Saudi Arabia, and Orascom Construction, an engineering, procurement and construction contractor in Egypt.
—————————————————————————————————————————————
Officials from Air Products among others during ground breaking of industrial gases hub in Saudi Arabia (Credit: Image courtesy of Air Products and Chemicals, Inc.)