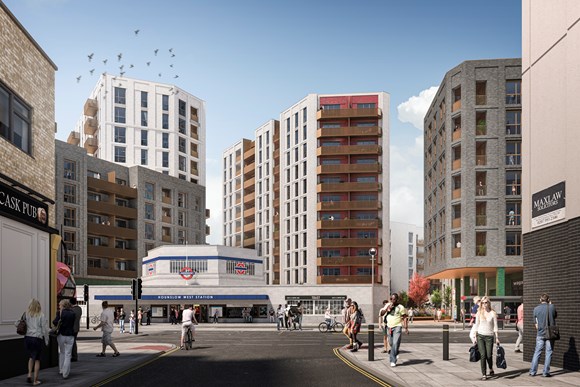 Hounslow Council has given planning approval to major housing scheme located by Hounslow West Tube station in London, UK.
This scheme is being brought forward by housing association A2Dominion, along with Transport for London's commercial property company, TTL Properties.
The 1.5ha scheme will see delivery of 348 new homes, all of which will be kept affordable, as well as new commercial space.
The project also involves improvements to the public realm and Tube station.
The new homes will be delivered across four buildings, and be a mix of one, two and three and four-bedroom properties.
They will be a combination of shared ownership, which provides an affordable mode into homeownership, and London Affordable Rent, the level of which is set by the London Mayor and is much below open market rents.
This scheme is designed by HKR architects, and includes a range of improvements for the local community. These feature a new public square, enhanced pedestrian routes and public transport interchange as well as improved cycle parking via a new purpose-built secure facility.
The project will feature 950m2 of retail space.
A2Dominion director of technical and commercial Steven Waite said: "A2Dominion focuses on developing and maintaining high quality, affordable homes and we are committed to future investment in Hounslow and the surrounding area. These new homes represent an opportunity for local people and those who work locally, to become part of a new thriving community.
"Our relationship with Transport for London is bringing a fresh perspective to sustainable housing, with a focus on green energy and transport links to the rest of London."
Sustainability also figures into the scheme via an electric energy strategy, with the project to be powered by renewable forms of energy, such as air source heat pumps along with the potential for solar panels.
——————————————————————————————————-
Image: The 1.5ha scheme will see delivery of 348 new homes. Credit: Transport for London/A2Dominion.