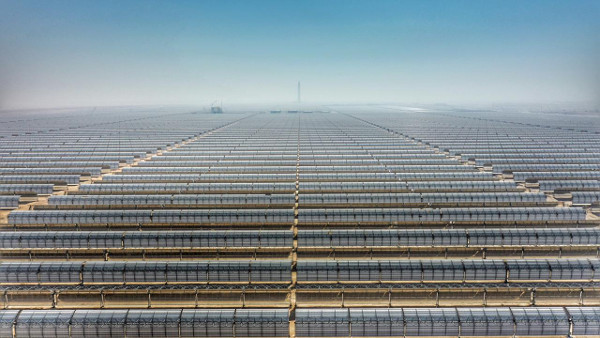 Spanish engineering and renewables group Abengoa has completed the construction of three 200MW parabolic trough plants that are part of Phase IV of the Mohammed bid Rashid Al Maktoum Solar Park (MBR), being developed in the Saih al Dahal area, around 50km south of Dubai, the UAE.
These three fields comprise a total of 6,360 parabolic trough collectors and involved the assembly of over 160,000 tonnes of structures.
Under the contract with the phase IV EPC contractor Shanghai Electric Group, Abengoa was responsible for the technology, design, engineering and construction of the parabolic trough plants.
Noor Energy I consortium, which comprises ACWA Power, Dubai Electricity and Water Authority (DEWA) and China's Silk Road Fund, is developing the Phase IV of the MBR Solar Park.
The 950MW fourth phase includes a total of three technologies to produce clean energy. These include 600MW from a parabolic basin complex, 250MW from photovoltaic panels, and 100MW from a concentrated solar tower.
By 2030, the Mohammed bin Rashid Al Maktoum Solar Park is planned to produce 5,000MW of clean energy.
Currently, Abengoa is constructing what it claims to be the world's largest solar-gas hybrid plant, Waad Al-Shamal, Saudi Arabia.
——————————————————————————————————————–
A view of solar field at the Mohammed bin Rashid Al Maktoum Solar Park. Credit: Abengoa.