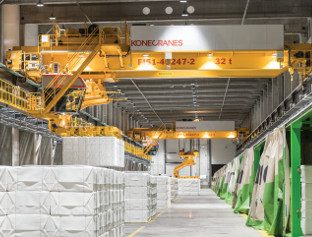 Brought to you by
It's important to have the right crane for the job—so when the goal is to repeatedly move non-breakable, mass substances at high volumes and for long time periods, operators will often have reliability, durability, and safety at the forefront of their minds.
Customers are also increasingly demanding more bespoke solutions that are engineered precisely to their demands, and may use technology sourced from a range of suppliers, but delivered and installed by just one company.
An industry that often requires process cranes is metal processing. Ohio, USbased R&M Materials Handling is currently working on a project in this sector, supplying a high-output crane to a steel manufacturing facility in Regina, Canada.
The multi-crane installation at the brand new Varsteel facility in Saskatchewan features a 50USt DXW heavy-duty wire rope hoist that will load and unload full plate steel.
"This is a fast, high-capacity hoist that will be operating twenty-four hours a day, so it has to be both reliable and durable," explains Kevin Towers, regional sales manager at R&M. "We've been working on this project for about 18 months, and we're now ready to ship components to our crane manufacturing partner in Canada."
Pinnacle Industrial Services will be constructing the crane, with Towers expecting installation in February 2020. "The customer said to us that they'd had problems in the past with the durability of their cranes, and as a result we have focussed on the long-term reliability of the hoist, as well as ensuring that spare parts would be readily available to limit downtime," he adds. "This was a major factor for Varsteel, as spare parts are not usually stored for this type of crane. The control system for this hoist has also been engineered to ensure smooth and precise location of loads."
The hoist, which will be the first DXW model installed in Canada, follows similar projects in the US, several of which have exceeded 125USt.
DXW is an open winch electric overhead hoist that includes extra-hard wheels with MCB-type bearings, said to extend the lifetime of the runway and wheels, and a DC disc hoist motor brake with 200% braking torque.
In addition, the technology features an overload limiter with built-in condition monitoring, to help safe operation and enable predictive maintenance monitoring.
"There is a huge potential for future sales for this type of crane," says Towers. "Generally, for projects like this, equipment is sourced individually by the customer, which can lead to Frankenstein-type cranes, with drives, festooning and controls all supplied by different companies.
"However, we're delivering a new concept and acting as a single source for customers, which ensures that the crane fits together and works effectively, while making it easy for client communication and sourcing of spare parts. We've set a new pattern for process cranes and are certain that customers will jump on board."
In terms of the process crane market as a whole, Towers notes that the steel industry has been demanding the company's DXW hoist, while the hydroelectric sector has installed a number of SXL cranes.
"These projects are slightly different to the steel industry, as the hoists are moving multi-million dollar turbines, which means that precision is incredibly important," he notes.
Custom made commonplace
Specialising in bespoke crane installations, SCX (Street CraneXpress) most recently installed two 25t goliath cranes that are operating at a 350m long stockyard in the UK.
"We were asked to replace two ageing manually controlled goliath cranes, the operation of which was causing health and safety concerns," explains Dave Little, technical sales manager at SCX Special Projects, which is based in Sheffield, England.
"The objective was to remove all manpower from the stockyard, so our solution was to engineer two semiautomated goliath bridge cranes, running in parallel, each with a 35m span and a 25t safe working load."
The project features a remote control room that houses a number of displays for each crane, including two HMIs for crane diagnostics, stockyard inventory, crane and lifting grapple location and status, plus a multi-screen 14 camera CCTV system to support the crane's positioning functions.
"Because the cranes were installed outdoors, operating over a relatively long distance, we have used both laser and radar positioning systems to cope with all possible weather conditions," adds Little. The technology is capable of travelling at up to 85m/min along the rails, with the payload securely locked at transport height before high speed long travel operations are permitted.
"The cranes were fabricated locally and assembled at our Barrow Road facility in Sheffield," continues Little. "Extensive factory testing was carried out to reproduce the actual process activities, prove the control software and ensure the CCTV system delivered enough information for the operators to safely observe and perform any final functions."
SCX has also recently been working with a major UK paper mill to design and install a custom-made, two-crane automated handling system that ensures the manufacturer will be able to continue production during maintenance of its upstream machinery. "This downtime could be a very costly inconvenience when continuous operation is an essential part of the production plant," notes Little. "The client contacted us with an idea for a buffer store: the 4t, 80in diameter rolls of paper are now held in two previously redundant storage rooms, so that they can then be used in downstream production should the manufacturing process be interrupted either by failure or planned service."
As a result of height restrictions in the upper store at the plant, the upper level crane incorporates a customised active hook system, which uses actuators to swing the hooks outward and then sweep them back under the shells at the centre of the rolls.
"This design allows the roll to sit tighter into the yoke, optimising lift height and allowing the load to clear the other rolls in storage," says Little. "To transfer the rolls to the lower store, the upper level crane lowers them through a trapdoor at the rear of the upper store and onto a specially designed, automated transfer bogie, which moves them through to where the second crane is located."
A touch-screen HMI system is used to control the operation, recording the exact specification of each roll as they are automatically stored in different locations, so that they can then be retrieved based on colour and age, at the touch of a button.
Finally, SCX has been collaborating with an aluminium mill in Oman, working to create a "highly complex crane automation system" that helps process around half a million tonnes of rolled aluminium a year.
"The rolling mill is equipped with 12 cranes manufactured by our sister company, Street Crane, rated from 7.5t to 80t SWL," explains Little. "Due to the complex distribution path options once the coils are rolled, the mill required a crane management system capable of critical path analysis to organise and distribute the coils accurately through the most efficient route possible."
SCX says that the processes in the plant are complex and varied, and so it required an intelligent sensor and control solution. "First, the cranes accurately position the hot coils onto 45 individual stands in front of coil cooling air fans," notes Little. "The system predicts the coils' cooling time and as the cranes come to collect them, sensors mounted on the grabs verify the temperature.
"Once below 70°C, the coils are automatically moved to one of 120 storage stands. Optical and pressure sensors determine whether the coils have been accurately seated in the grabs."
These high-speed cranes travel at 90m/ min and lift at 45m/min, processing up to 45 tonnes of metal per hour. The semiautomatic cranes are primarily operatordriven via control chairs, located in booths set into the wall above the gantry.
"The technology features an automatic 'go-to-shredder' function with two-button activation and a hold-to-run feature to ensure safety," adds Little. "Because of the extreme operating environment, which can be up to 60°C, air-con units were also added to keep the thermally insulated control cabinets at a suitable temperature."
Heavy loads
German manufacturer Kuli recently undertook a project to install a process crane that loads trucks with precast concrete components at a customer in the Nuremberg area.
According to Kuli, which is based in Remscheid, about 40km east of Düsseldorf, the project posed an interesting challenge, as the concrete parts are both very large and heavy, with dimensions of up to around 3.5m x 9.0m x 3.5m, and weights of more than 40t.
"The customer wanted to optimise its storage area and therefore the crane is configured with a twin hoist to guarantee 'true vertical lift'," explains Oliver Kempkes, managing director at Kuli.
The double girder EOT crane is a type 'ZK' model that can be used outside and includes walkways for maintenance. It has a maximum capacity of 45t, with a span of 40m and lifting height of 15m. The crane can achieve lifting speeds of 0–3.2m/min and uses two 5kW motors, with a design according to DIN 15018, H2B3 classification.
"Special equipment for this installation includes four cross travel drives rated at 1kW each, an electronic lifting force limiter, as well as radio remote control," continues Kempkes. "The installation also features an anti-collision device for two cranes running on the same track and a heater in the control cabinet."
In addition, the technology has been equipped with Kuli's Energy Recuperation system, which was first shown at the Bauma exhibition in April 2019. "The energy generated by every braking sequence is fed back directly to the power grid," notes Kempkes. "This technology might be known from automotive systems, but there is a huge difference between feeding energy back to a 'simple' battery, or to an electricity network with AC voltage."
The company says that to prevent any potential problems with different voltages, the energy is synchronised to the existing electrical frequency of the grid before supply. "All this is done automatically by the system, with no need for any special programming," adds Kempkes.
"This lifting system is also special as there was also no need to install large brake resistors, which transform brake energy into useless heat. This allowed us to save weight because such resistors are very heavy, while it enabled the customer to make better use of its processing space as resistors have to be fixed to crane girders and therefore considered when planning the layout of a facility."
Kuli was awarded with the Reinhard and Max Mannesmann medal for its innovation on the project.
Paper Mills, waste-to-energy
Another crane supplier that currently has a number of heavy-duty crane projects ongoing across multiple customer segments is Finland-based Konecranes. One of its recent installations was for Metsä Group's bioproduct mill in Äänekoski, Finland, which took delivery of a train loading system that moves 1,100 tonnes of pulp per hour onto a railway wagon.
The fully-automated technology features multiple 32t bridge cranes that have customised grippers and automatically supply freight trains.
Said to be the biggest forestry investment in the Northern Hemisphere, the facility at Äänekoski manufactures a total of 1.3 million tonnes of fibre-based products, 60% of which are transported to the Vuosaari Harbour in Helsinki for global export.
"The export total equates to about 20,000 truckloads of pulp," explains Kristian Isaksson, development manager at Metsä Fibre Oy. "In a pulp plant as large as this, the logistics and delivery process, and their operational flow are all vitally important, which is why the grippers and train cars have been customised for our product dimensions.
"The equipment is remotely monitored, which also contributes to the operational reliability, and ensures no product contamination."
According to Metsä, the efficiency in this section of the plant is up to 100%. "We wanted to ensure that we created the world's most efficient logistics channel," adds Isaksson. "We are still in the early stages, but can say that the system is functioning very well."
Konecranes has additionally teamed up with a waste-to-energy plant in Finland, to help the site automate its processing capabilities. Riikinvoima, a company based in Leppävirta in the east of the country, operates the facility that handles around 150,000t of municipal waste, producing 180GWh of heating and 90GWh of electricity annually for the region.
The layout of the plant means that two 12t hoists have been positioned over the entrance to the site to load waste into a shredding machine. These machines then feed the processed waste into an incinerator, either working alone or in tandem.
Despite not having implemented this type of system before at a wasteto- energy plant, Konecranes used its Remote Operating Station (ROS) technology for the project, which enables a single crane operator to control machinery using screens in a control room based on a live camera feed.
As such, Riikinvoima has removed the need for its glass-walled operating pulpit, which is said to be both safer for personnel, while allowing employees to focus on other tasks.
"What we've done here is to standardise and package a proven solution specifically for waste-to-energy customers," says Joseph Botros, director at Konecranes and head of the wasteto- energy business.
The installation includes an easy-touse main user interface (MUI) that allows plant staff to create weekly work orders and manage waste processing, while the project is also said to benefit from standardised 'Smart Features' from Konecranes, such as restricted areas, sway control, shock load and slack rope protections.
A year on from project completion, Juha Räsänen, managing director of Riikinvoima, says that the remote systems have been working well. "I think ROS is very easy to use," he notes. "Automatic functions and tools have also been useful and the plant's utilisation rate has been very high during the first heating season, with not a single malfunction."
In general, Konecranes says it is seeing a trend from customers who are demanding automated or semiautomated technology to improve the safety and efficiency of material handling in the process cranes sector.
"In addition, customers are interested in our digital solutions such as the Truconnect Remote Service and the YourKonecranes customer portal," explains Heikki Lappalainen, sales and business development director at the company. "These solutions are critical given we are in the era of Industry 4.0 and pervasive connectivity."
Recent product launches from the company include its M-series, which is said to be the firm's most compact and modular big heavy-duty winch to date.
"The initial customer response has been promising—not only for the M-series but also for our S-series cranes and C-series electric chain hoists—and sales are already underway," adds Lappalainen.