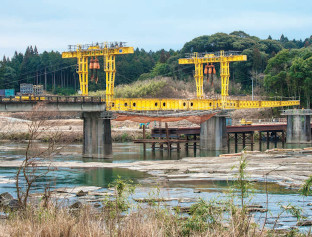 Brought to you by
Evolution is constant in chain hoist making, and different manufacturers are targeting different niches. Diversity rules, and offerings are varied, which can only be good for consumers. The hard part is making the choice.
Tiger Lifting
Tiger Lifting has its globally patented Quad Cam brake pawl design. This single piece pawl design is thoroughly tried and tested. "This system guarantees permanent engagement of at least one of the two reciprocating cam pawls and in the unlikely event of a pawl spring failure, this design will ensure the brake is still fully functional and the load is sustained without damage to the mechanism. This allows the chain block brake to function safely no matter at what angle the body is positioned," says business development manager Greg Fardell.
Tiger have been making manual chain blocks for more than 50 years. Their latest evolution, introduced in 2020 after several years of field trials, is a new design of load limiter. "It allows very accurate setting of the load limit and the highest level of load and operator protection," says Fardell. When the hand chain of a manual hoist chain is pulled at an angle, it is critical that it leaves and enters the hand wheel without twisting, snagging or jamming. Tiger has a specially designed deep-profile chain block hand wheel to achieve this; it helps to seat the chain at any angle or direction of pull, up to 45 degrees, allowing the chain to run more smoothly and quickly.
Precise tolerances in the bottom hook yokes mean that foreign objects are restricted from entering the load sheave area and the chain cannot get twisted.
The multi-fall load sheaves incorporate DU self-lubricating metal polymer bearings. These unique composites comprise a steel backing for mechanical strength and a porous sintered bronze interlayer impregnated with PTFE and lead for high wear resistance and extremely low friction. This makes them ideally suited to subsea use.
Zero maintenance is possible, as selflubricating bearings can operate perfectly dry, but lubrication will give greater reliability under boundary conditions.
Tiger also have their patented 'EZ Check' hooks to check that the hook has not been previously overloaded. Three raised pop marks are embossed on the side of the hook, making an equilateral triangle. By simply measuring that all three sides are the same length, an inspection can show that the hook is still in its original state and no distortion from overloading has occurred.
Kito
Not many hoist-making companies make their own chain. One that does is Kito. "That means we can guarantee consistently high quality from the hoist to the chain to the load hook," says marketing manager David Rennert. "We carry out extensive testing at extremely high stresses with analysis of all parts that lie in the flux of force. The requirements of our Kito standard are far beyond those that are usual in the industry."
Kito says it is one of the few manufacturers worldwide to offer electroless nickel-plated load chains. "These give higher corrosion-resistance and lower wear than traditional load chains," says Rennert. Chain strengths are 800 to 1,000N/mm2. Another characteristic of the chain is reduced hydrogen embrittlement.
In Germany, Kito's CX and CB manual chain hoists and hand chain blocks, as well as their LX and LB lever hoists, are all DGUV-GS ("safety tested") certified. "This is a certification established in Germany," says Rennert; "Kito is the only hoist manufacturer to receive it."
For the Japanese market Kito have an interesting concept: the motorised manual hoist. This is a high-capacity product based on manual hoist designs for loads that that would normally take two operators to lift. With a motorised manual hoist, one operator can do the job.
The motors are attached to the hoist body and controlled by push-button pendant. Capacities range from 20t to 50t; and the main difference between these hoists and conventional electric machines is that the body is much more compact and the hoisting speeds much lower. "It suits operations that require slight and minor adjustments to load positions—setting a beam or infrastructure component into place might be an example," says Rennert, "or for heavy duty work on a manufacturing floor." Known as the Kito MCB, it is currently available only in Japan.
Harrington Hoists
Kito's US subsidiary Harrington Hoists, Inc. also stresses the advantages of using its own chain. "It is crucial to control the manufacturing of both the hoist and the chain to ensure the highest quality and safety for our users," says Jason Said, director of business development. "Chain and hoist marry together to form the complete machine."
"We provide manual chain hoists up to 100t. Higher capacities are achieved through increased mechanical advantage, and this is attained through multiple reevings, which of course involves more chain. As you would expect, the greater length of chain adds weight that must be accounted for in the rated capacity of the hoist. Therefore, if you can manufacture smaller, lighter weight, chain, then you can have a lighter hoist package."
The lighter hoist package is evidenced in Harrington's claim to produce the smallest, most lightweight chain hoist in the world, in their 0.5t CX005 mini hand chain hoist. It is a follow-up to their 0.25t-capacity CX003.
A slip clutch is fitted as standard to the CX series, to ensure the safety of operation operations and the operator. "User safety is our number one driver, so anything we can do to reduce size and weight is a win/win," is Said's view.
"The same is true of technological advancements. We now have RFID technology on all our manual chain hoists, as this is becoming much more relevant in the rigging community. Ease of maintenance is always a leading consideration in designing any new hoist. We pride ourselves that our hoists offer this, to maximise the benefits of ownership and return on investment for our clients."
SWF Krantechnik
In October 2019 SWF launched Athlo chain, their latest generation of chain hoists. The first model of the series is available for loads up to 2.5t; capacities up to 5.0t will follow in the near future. The design has a newly constructed interior and all-new mechanical components.
The new dual-speed motor with 4:1 ratio and redesigned cooling fins provide better cooling to extend the service life of the hoist. It has a re-designed limit switch, which can also be used as an operating end switch, both for everyday use and in extreme conditions. The chain bag is new, and so is the brake, designed to last 1 million cycles or up to a lifetime with proper handling; it responds instantly when the power is turned off. The slipping clutch has a larger diameter and additional grooves, again to improve the cooling effect of the gear oil and increase overall service life.
Compact design and a new upper-eye suspension give increased lifting height for the same suspension height. With the new suspension bracket, a push or motor trolley can be installed using a special safety pin. No further tools are required. High security, performance and usability, with easy maintenance and a long service life were, they say, factors driving the development of Athlo chain.
Columbus Mckinnon
Columbus McKinnon's most innovative chain hoist product currently is the Lodestar VS. Its electric motor has variable-frequency drive: a single phase model has just been launched, in March this year. The main feature of the VS is CM's HI-Tech hoist interface technology.
With this, the operator can plug the hoist into a computer or tablet, via USB ports; from there he can access performance information and change any parameters he desires. Maximum, minimum and indeed average speeds, accelerations and decelerations can all be set. The interface also provides built-in error prevention that rejects incorrect parameters and prompts the operator to make corrections before programming is complete. Acceleration and deceleration rates are automatically calculated based on control methods and speed selections; and it can display hoist status information, including start/ stop cycles, motor run time, and current temperatures as well as over-temperature and over-current events. Hoist fault information is also displayed. It is, say Columbus McKinnon, one of the easiest to use computer interfaces on the market.
William Hackett
William Hackett are another company that leverage the benefits of their chain making expertise into their range of hoists. Their hoists are unusual in that they can lift safely at any angle. "Lifting at an angle carries risks that are frequently under-appreciated," says director Ben Burgess. Fleeting, also called cross hauling or snigging, is the practice of moving a load sideways by supporting it from two or more fixed hoists and adjusting the chain lengths of each hoist in turn, so that the load is gradually transferred from, say, being vertically below the right-hand hoist to being vertically below the left-hand one. It is commonly done, but carries a particular risk: when a hoist is pulling at an angle, out of the vertical, its working load limit (WWL) may be considerably less than normal. It therefore needs to be de-rated.
Hoist makers give de-rating values for different angles from the vertical; these values are specific to each brand of hoist. Users are often unaware of these, and if they are aware, using them increases the complexity of the lifting plan, and hence the time it takes to prepare it and the associated degree of risk. "Consult the manual," says Burgess. "Unless it says the hoist is safe to use at an angle, then it isn't safe: don't do it. If in doubt, seek clarification from the manufacturer." William Hackett hoists are unusual in that up to angles of 45° they need no de-rating; they are as strong at an angle as they are vertically.
Lever chain hoists are on the face of it a simple and mature technology. That would seem to imply that radical improvements are few and far between. William Hackett, however, have devised exactly such an improvement. Their SS-L5 QP manual lever hoist has, as one might expect, useful design features: Firstly, it is light-weight.
"I was speaking recently to the head of lifting of a global oil company," says Burgess. "He told me that statistics show that 80% of hoist-related injuries happen not when the hoist is being used, but in the logistics stage, when it is being moved into position. From the delivery truck a hoist is moved to a warehouse shelf, from there it goes onto a pallet, from the pallet it goes to the back of a van. People do these things manually, and that is where the accidents happen. By the time investigations have been made, and investigating staff paid for, the average cost of an injury, he said, is €20,000—and that applies whether it is a broken toe or a strained back. Therefore a light-weight hoist has a huge advantage over a heavier one: the likelihood of injury is that much less.
"That in turn means that one should use a different criterion in choosing a hoist. Rather than by lifting capacity alone one should go by its performance ratio: its capacity compared to its weight. Our new SS-L5 QP lifts 1.6t and weighs just 8.5kg. Divide one by the other and you find that it can lift 188 times its own weight, which is its performance ratio, and which is a significant benefit to users."
But the most radical feature of the L5 QP is elsewhere. It is the first lever hoist to incorporate four pawl mechanical engagement. A pawl is the item that engages with the ratchet gear and arrests the rotation and in doing so secures the load.
Spring-loaded pawl and ratchets have long been used in lever hoists. They are vulnerable to failure if the spring fails: the load will suddenly descend at speed. As a safety feature, therefore, twin pawls have long been the industry standard, supposedly twice as safe. If one pawl fails, the other will hold the load.
However, in fine tolerance lifts, says Burgess, unless the twin pawl is offset it is possible that they can enter an unstable state with point loading on the tip of the ratchet tooth, which provides the potential for the ratchet wheel to rotate too rapidly for either of the pawls to engage. "From our experience, pawls and pawl-springs are frequently-replaced spare parts. From that, we deduce that they are prone to wear or failure," he says. William Hackett's four-pawl system is, he says, resilient to mechanical failure. It is a patented design, simple, but ingenious.
The four pawls act as two pairs, each pair sharing a pawl stand. As the toothed ratchet wheel rotates, one pawl rising over a ratchet tooth interacts with its partner, pushing it down towards the ratchet wheel and making it engage the next tooth. There is always a pawl engaged with the ratchet, and this is independent of any spring action—though springs are fitted as an added resilience measure for still more redundancy against failure.
"The pawls are in an offset configuration, which allows finer adjustment and tensioning capability. The pawl springs are totally enclosed in the brake chamber; the design allows, however unlikely, for both pawl springs to fail. Even in that event the quad pawls would still maintain full functioning engagement with the ratchet gear. The result, of course, makes the hoist much safer," says Burgess.
David Round
Ohio-based hoistmakers David Round celebrated their 150th year in business last year. One of the company's specialities is low-headroom hoists—which can be as low as 13.5 inches (34cm) on a hoist lifting 10,000lb (4.5t). Another speciality is hoists made of stainless steel. "There are hoists on the market that use some stainless steel or aluminium parts; but we are the only manufacturer in the States making hoists entirely in stainless steel," says Matt Downing, director of sales and marketing. The company has just rolled out a new design combining both features: a low headroom stainless steel hoist for the pharmaceutical and food industries that has, says Downing, the minimum lowest headroom available on any hoist design in the market. "They are built to order (as all of our stainless hoists are), to fit each customer's requirements and specifications."
One of the huge advantages of stainless steel, he says, is its cleanability. "Stainless hoists are very easy to clean. That in particular gives a very big market for us in the food and pharmaceutical industries.
Frequently these hoists get a complete washdown every night. And we can deliver our cleanroom products free of weld scars and other surface imperfections.
"Another advantage of all-stainless construction is spark protection. We have explosion-proof versions of stainless steel chain, wire rope and strap hoists available when required for hazardous environments."
"Our explosion-proof hoists featuring NEMA 7 enclosures and fittings and intrinsically safe push button pendants as well as explosion-proof rated motors as required. Each is supplied with rubber bumpers in addition to stainless steel trolley wheels, load chain, bottom block and hook.
"We are currently working on 3t and 5t capacity stainless steel hoists, which we will be offering as a new line."
Jd Neuhaus
JD Neuhaus (JDN) are introducing this month (April 2020) a food-grade version of their Air Hoists Mini series to meet the cleanliness and hygiene demands of the food, chemical and pharmaceutical industries. The motor housing is made of uncoated cast aluminium. The chain, chain guide, load sleeve and hooks are in stainless steel. This makes the hoists corrosion-resistant and impervious to high humidity. The hoists are easy to clean: even a high-pressure washer can be used on them without problem. Using compressed air as an energy medium means that electrical short-circuits are out of the question and the hoists can be used in areas containing, for example, flammable organic substances. A completely synthetic, mineral oil-free, specialised grease that poses no physiological risk is used for lubrication of the motor, which is particularly well-suited to the food and pharmaceutical industries. The lubricant for the chain is also food-grade approved. The hoists' top hooks and load hooks have twist locks for safety. The hoists are available with a lifting height of 5m and a control length of 4m.
Corrosion-resistant chains are also a hallmark of the KMX Kinetic Series Manual Hoists from Ingersoll Rand. These hoists have copper-plated hooks that are spark-resistant; they are ATEX certified for operation in potentially explosive environments. The hoists themselves are of all-steel construction; the VH-grade load chains have a premium inorganic zinc coating to give exceptional corrosion resistance with minimal downtime in harsh, damp, outdoor environments. The fasteners and hand chain are made from stainless steel for rust prevention. Dip spin and powder coating on critical components give added corrosion resistance. Capacities range from 0.5 to 20t. "The spark and corrosion-resistant materials mitigate the need for costly equipment and parts repairs that often follow repeated exposure to harsh elements," said Brad Imhoff, global product manager at Ingersoll Rand. "Extreme environmental testing showed that after hundreds of hours of salt-spray exposure, the series demonstrated significantly reduced corrosion."