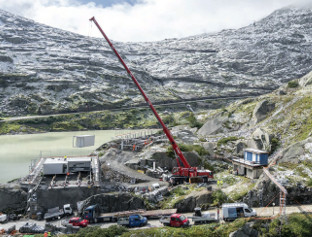 Brought to you by
Over the next six years a new arched dam wall is to be built on Lake Grimsel reservoir in the Bernese Mountains at an altitude of 1,900m.
The old dam wall on Lake Grimsel, completed in 1932, bears the name 'Spitallamm' and is now starting to show its age. There is a large crack which covers almost the entire area of the 114m high old dam wall and essentially splits the structure vertically into two segments. Concerns that the old wall would be unable to withstand the water pressure from the reservoir at Grimsel Pass if there was a powerful earthquake led the developer, Kraftwerke Oberhasli, to announce this ambitious project.
The new double curved arched dam wall some 113m high with a coping length of 212m will be built in front of the old one. Around 220,000 cubic metres of concrete will be required for the new wall, whilst the cost of the project is estimated at 125m Swiss francs ($128m). The old wall will remain in place and will be flooded at a later date.
The new dam wall is scheduled to be completed by 2025. Swiss construction group Frutiger based in Thun is the lead contractor for the project, heading a consortium involving several companies. Liebherr mobile cranes and MK mobile construction cranes from the company's fleet are now frequent visitors to the Alpine site.
An LTM 1130-5.1 worked its way up from Aare valley near Meiringen, around tight hairpin bends to the reservoir to build a container village on a rocky plateau between the two barrages on the glacial reservoir. The Vario-Base variable support system on the new crane was extremely useful for this high altitude job because the very small set-up area for the vehicle meant that it was not possible to extend all the outriggers in full.
A total of 60 residential containers were positioned precisely by crane operator Heinz Wittwer and his mobile crane in just three days. Radii of up to 47m were required for this purpose. 40 workers will move into their temporary accommodation after the winter break.