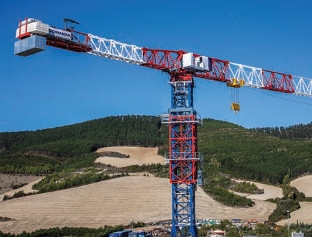 Brought to you by
Tower cranes, luffers aside, have in recent decades come in hammerhead or flat-top form. But there is a third option: a halfway hybrid, the low-top, is offered by two manufacturers and claimed as offering the best of both worlds. Why do some manufacturers favour high, some flat, and two, perhaps mavericks, perhaps visionaries, offer the in-between?
Each form of tower crane of course has its advantages; and each, equally, has areas in which it is not so strong. The hammerhead, otherwise known as the high-top, is the traditional and not-far-offuniversal ubiquitous tower crane. It has become the tower crane of default for a simple reason: because it is good at what it does.
Elementary structural analysis tells us that a triangulated design provides the greatest strength for the least weight of component beams. And that is exactly what the hammerhead provides. The high cat-top and the pendant lines support and give strength to the jib. It is structurally efficient.
Manitowoc's Thibaut Le Besnerais says, "The load chart on a hammerhead of a given class will normally provide better tip load at max jib length, compared to a flat-top crane. A flat-top will have a stronger load chart on shorter jib lengths. The way the load chart is balanced is different. This may be seen as an advantage, but it depends on what the customer and the job site needs."
Cristian Badin, commercial director, Raimondi Cranes, points out there are also differences in how the jib performs during lifts. "On flat-tops, the jib tip will be pulled down more than on a hammerhead. However, this effect is balanced at the engineering stage so the flat-top jib tends to point upward at the jib tip, appearing not perfectly straight when no load is applied.
"Theoretically, it is said that the hammerhead jib should be more stable during the lifting of heavy loads; while this statement might have been true many years ago, modern technological features have dramatically reduced this effect so there is no real difference between the two types."
Despite the boost to jib-end capacity, there are applications where the flat-top is to be preferred, which is why many companies offer both. Liebherr and Wolffkran are examples. "We offer a wide range of both of these types of crane. With these densely graded series of modern cranes, we can meet all the requirements of what construction sites expect today," says Liebherr's marketing manager Hans-Martin Frech. Liebherr as the world's largest supplier of tower cranes offers capacities from 6t flat-tops to 100t hammerheads (for their 4000 HC 100 heavy-load tower crane) and most things in between.
Wolffkran also makes both hammerheads and flat-tops. Their hammerheads they call cross cranes: "Cranes with classical tower tops for lifting heavier loads and high hook heights." They can come with multiple jib bracings for even more load capacity and greater jib length. Their flat-tops are called 'clear cranes' and are marketed as all-rounders.
Product manager at Wolffkran Wouter van Loon summarises the pros and cons of each: "We make both hammerhead cranes and flat-tops. They are about equally easy to design: the design process for a flat-top is not much longer or shorter than for a hammerhead. The most important point is that for a flat-top the components of the jib have to be heavier. That has knock-on effects: installing it at the job-site is less easy, and takes more time and effort. That in turn costs money. That is the big issue with flat-heads."
In other words, the hammerhead jib is supported halfway along it by the pendant lines. The flat-top jib, having no such support, has to be heavier than a hammerhead jib to give the same strength and lifting capacity. Being heavier means a larger mobile crane will be needed to set into position atop its tower. How big a disadvantage that will be depends, among other things, on the size and capacity of the crane:
"Below a certain capacity, that disadvantage is outweighed by the greater simplicity of installing a flat-head: you don't have work at great height attaching the pendant lines. And if the capacity is not too large, the jib is not so heavy that it causes problems," says van Loon. "The crossover point comes at around 350tm capacity. Below that, flat-tops are still a practical solution; above that it is difficult to make them with the same lifting capacity as a hammerhead without them being too heavy to assemble easily."
Le Besnerais is not as convinced as van Loon that there is a cutoff point where the advantages of flat-tops stop being relevant. He says, "I think flat-top cranes' advantages are valid whatever the class. What could be seen as a challenge, is that for high capacity cranes the flat-top concept could require jib elements of a size that is not easy to transport. Our recent developments of 500 and 800tm flat-tops, the MCT565 and MDT809, both show that a large crane and the flat-top concept are compatible. For example, the MDT 809 can fit in ten containers, which is five containers less than a traditional hammerhead crane."
Cristian Badin, commercial director, Raimondi Cranes, agrees. "Raimondi's philosophy is to continue the development of increasing capacity flat-top cranes, way above 350tm capacity. We don't consider the mentioned size as a limit that flattops somehow perform less optimally than hammerheads."
Javier Militino is group marketing manager for flat-top specialists Comansa. The absence of pendant line, he says, is not the only reason why flat-tops can be easier to erect. "Our flat-tops also offer the possibility to erect the jib module by module. When site conditions and access are bad, for example in the centre of cities, the jib can be erected in several sections, one after the other, direct from the truck instead of being placed on the ground, preassembled, and then lifted and placed in one piece.
"That reduces erection weights and gives parts that are easier to handle. That in turn means fewer complications and makes the erection fast, simple and economic. A smaller mobile crane is required due to the lower weight of the single jib sections, as opposed to a complete jib.
"Connecting the jib sections together is very simple, because the upper part of the union between two sections is normally pinned together without even needing a hammer. The lower rails automatically locate together just by lowering the jib section, and final fixing of the side rails is by one simple longitudinal bolt on each side of the jib.
"Furthermore the erectors are always in a safe position because they never have to leave the jib structure to erect tie ropes, as they do on conventional pendant lines cranes. During days with high wind, which is normal in cities near the ocean, the fact that you are erecting 10m jib elements instead of a 70m jib make the handling safer and easier."
The other great advantage of flat-tops is the low overhead clearance that they need. There is no tall cat-head taking up airspace above the jib. That makes them useful for airport sites, where safe overflying airspace for planes to take off and land is an issue; but only a tiny proportion of construction tasks are near airports. Much more relevant is the scenario that uses multiple tower cranes on the same high-rise project. Here, clearance between the jibs of the different cranes is vital; so the towers must be of different heights to achieve this. Flat-tops require the height difference to be much less. "The flat-top advantage is where you have several cranes on one site," says van Loon. "There you really save on tower heights. That is their biggest advantage."
Militino of Comansa makes the same point: "The most typical advantage of the flat-top is the lesser height clearance between cranes. If there is a project in which there will be several cranes working at the same time, and some of them are going to share jib-space, working with flat top cranes could give the project manager some definitive advantages by reducing the height between the cranes. There is no need to add extra height just to get over the pendant lines of the neighbouring crane."
Angelo Cosmo is product marketing manager of Terex, who make both flat-tops and hammerheads. He adds his confirmation: "Yes, if we talk about easy erection for sure jib weights have an influence on possible cost increase due to the mobile rent; is a different feeling when we highlight the benefit of having the flat-top operating in crowded jobsites where jibs overfly and tower mast configuration might improve crane placement and optimise the investment."
"Often you will see one hammerhead and several flattops overlapping on a high-rise site," says van Loon. "The general practice is to put the highest crane as the largest-capacity one, to lift the biggest loads; that will be the hammerhead. Below it you put the flat-tops, one below the other; you can have much reduced clearances between them, so the overall height of your cranes is much less. And on a normal jobsite, one crane installs the others if a mobile erector-crane is not practical. By having the hammerhead there first and highest, it can lift the flat-tops jibs onto position.
"For that reason tower-crane contractors tend to have cranes of both types. If they only need lower-capacity lifting, they may have just flat-tops."
The number of cranes on a site will depend on contractor preferences as well as circumstance. "Some contractors want a single crane with a long jib that can span the whole of the site," says van Loon. "In the US they mainly prefer big cranes with long jibs, so that a single crane can serve the whole site. Others may prefer several cranes with shorter jibs. That is especially true for time-sensitive projects, where for speed you would go for more cranes and more people on site for a shorter time. Sometimes of course there is room for only one crane. That is why we still offer a 100m jib length: that is long!"
The modern flat-top, or true cantilever crane to give its more technical name, can be said to have been invented by Swedish company Linden in 1978, when they introduced their 8000 modular crane system. Comansa bought the rights and drawings in 1983, and for many years the company was known as Linden Comansa; it dropped the 'Linden' part of the name only last year. Flat-tops therefore are a large part of its heritage. "We focus on flat-top because of its advantages," says Militino. "It is what we do well. Many people do hammerheads, not so many do flat-tops. We offer the widest range of flat-tops and we have a really good position in the market.
"Comansa has a long experience in this field designing flat-tops, and once you know how to do it, it is not difficult. It is just a matter of dimensioning and calculating. Experience will give you the extra possibilities to adjust the parameters to get them right."
Comansa indeed specialises in flat-tops to the extent that they do not make hammerheads at all; but they do make very high-capacity flat-tops (as well as luffers) to cover the range that would normally be the sphere of hammerheads. Their range goes up to the 3000 series, the largest of which can lift 90t. Militino explains their reasoning.
"We have started to sell those very high capacity flat-tops in markets like Singapore, where thanks to the increase in pre-cast concrete high-rise cladding, really heavy-lift cranes are mandatory. Cities like Hong Kong and New York with concentrated populations are seeing the same. Pre-cast work will increase everywhere, not just in cities, and not just for residential projects. So there is reason to immerse ourselves in this heavy-lift technology and we are developing really good cranes for heavy lifts. The markets are telling us it is needed."
As witness the latest addition to their range. Their new 21LC1400 comes in two versions, with maximum load capacity of 50t or 66t and became available worldwide this September. The main expected application of the 21LC1400 is to work in prefabricated construction and infrastructure projects, or indeed in any other site in which it is necessary to lift very heavy loads.
Terex too offers its biggestcapacity crane as a flat-top rather than a hammerhead: "Currently our biggest hammerhead has a maximum capacity of 32t while the flat top CTT 721 has a maximum capacity of 40t." says Cosmo. "Terex has for many years heavily invested on the flat-top range." Will they stick with them? "For future projects on big tower cranes, as with all new cranes, we will listen to our customers to make the right decision on which design to follow and crane specifications.
"The worldwide market is big and is at different stages (depending on buildings type and design, construction methods, technologies acceptance and so on)," he says. "It is not easy then to generalise. For sure we can say that there is, since few years, a trend from tower cranes customers to invest more on flattop than hammerhead cranes. But again there are still regions and applications where hammerhead cranes are well appreciated, and thanks to our customers we are recognised as one of the leading manufacturers."
Saez is another company that has committed to the flat-top. "Back in 2004, we decided to leave the jib-pendants behind and start designing only flat-top cranes. It was because we realised all the advantages that they offer," says Juan Ballester, their sales representative.
"Flat-top cranes are not necessarily easier to design than hammerhead or low-top cranes, but we believe that it is sensible to follow up the rest of the Saez line and continue making flat-tops," he says. "When you choose one path you should stick to it." Saez are not tempted by low-tops: "Our engineers prefer the design of the flat-top cranes versus the low-top cranes. I am not saying that lowtop cranes are a bad design. Every crane can have a great design if it is designed properly.
"Flat-top cranes are also a little bit lower in the overall height than low-tops, and, even if you are only talking about a 1m difference, that metre can be very helpful sometimes."
Which has brought us at last to the low-top. These do have catheads rising above the tower, and pendant lines to the jib; but the cat-heads are a fraction the height of a true hammerhead.
Jaso is one company that specialises in them and proclaims their benefits. Area manager Dick Huitema says: "Our low-tops give the best of both worlds. The main benefit of a flat-top is their low fly-over or airspace clearance. But when you compare like with like there is actually no difference in the clearance heights of flat-tops and low-tops, because flat-top designs need deeper jibs. A good example is our latest low-top, the J1400, which is also our largest crane up to now. It has 64t capacity and a tip load of 10.5t at 80m. We launched it this year. It is actually one metre lower than the similar-capacity flat-top equivalent from another manufacturer. So in overflying its performance is similar, or even more favourable.
"The boom can be erected section by section, as with a flattop, if you need to. On the Jaso low-top, the boom can be lifted section by section. The first section includes the tie pennant but still weighs less than the first section of a flat-top. Once that is up the rest of the boom is lifted in 5m or 10m sections, as with a flat-top.
"And the third supposed advantage of the flat-top is ease of erection. But in fact our low-top is just as easy, and as quick, as a flat-top. The low-top has a weight advantage. The top part of the slew table, for example, is in one piece, and takes just one lift to set in place. So as far as erection is concerned, the low-top and flattop are identical.
"So we have all the advantages of the flat-top, and we also have the strength of the hammerhead. Which has been our main aim in building these cranes: to give the complete crane the best of both worlds.
"And there are other advantages as well: Transport is always an issue with tower cranes. The aim is to transport them in standard-size containers. With flat-tops, that is not generally possible without compromising on other qualities— adding more weight, for example, to the jib in order to make it lower but still strong enough. And the bigger weight of the jib then needs a bigger mobile crane to erect it.
But even our J1400 low-top fits into standard HC40 containers.
"Any jib will deflect under load. That can be overcome on a pendant crane, but the solution on a flat-top is to add more steel. More steel implies more money. The extra weight also demands more powerful hydraulics for climbing.
"Low-tops can be much lighter than flat-tops, with all the benefits that can bring—for example on axle pressures for road transport. I am not sure that that message has yet got through to all potential users; but rental people know that time is money, and they now know and purchase low-tops.
"Our first low-top came in eight or nine years ago with the J360. It has evolved since then to become one of our main designs; and we have added higher-capacity models, the 24t (max) J700 and the 64t (max) 1400, which are big units."
Moritsch are perhaps the ultimate acolytes of the low-top. Their low top series contains four models: the RTT 330, RTT 370, RTT 470, and RTT 570, ranging in maximum capacity from 17.6t to 35.2t and capacity at tip from 2.9t to 4.4t.
It is a family firm with cranes in the blood: Mariano Moritsch's father Ferruccio founded Comedil cranes in 1962, which was acquired by Terex in the late 1990s; after many years in the industry Mariano founded his own company in 2015. Why has he chosen to concentrate on low-tops?
"When I started the new company I was looking for something different, as my father had done before me," he says. "That has been the family tradition. Some customers had told me good things of flat-tops; other were not so enthusiastic. When I talked to engineers they said why not try low-tops?
"Our RTT 470 is only 1.5m taller than a benchmark flat-top of that capacity, so it gives effectively the same air-space above it. That is important for contractors. And it has a tie-bar and pendant lines—which gives a lighter structure, allows a smaller erecting crane, and gives a much smaller deflection of the jib under load.
"And our solution gives the possibility of designing the first jib section, inboard of the pendent lines, light enough to have the trolly and rope ready-mounted on it for erection; you can lift the whole assembly into position, so that makes for very quick erection and dismantling. The foldable counter-jib also can arrive at the site with tiebars, handrails and so on pre-assembled, in a single container or truck. All you have to do is unfold the jib and set the tiebar. So that saves lots of time as well.
"My own personal opinion is this: flat-tops are a good idea up to about 300 or 350tm. Above that, the deflection at the end of the jib with maximum load becomes troublesome. So we make flat-top models below that range, and lowtop models above it. This year we will be offering four new models of flat-top, from 100tm to 300tm, with 16t maximum capacity next to the tower. Everything over that capacity will be low-top. We make luffing tower cranes also, but we are not tempted to offer high-tops. We do not see the need.
"Our first prototype took three years to develop. I think we got it right. We are working on two new models right now, and hopefully they will be as good."
Tower cranes have evolved; and evolution works so that different species occupy different niches. In some applications, they can compete with one another; in others, one or another is clearly better fitted and dominates. Whether you go for flat-top, lowtop of hammerhead will depend partly on the task in hand and partly on personal preference. But diversity, in ecosystems and in crane systems, is a good thing. It is good to have the choice.