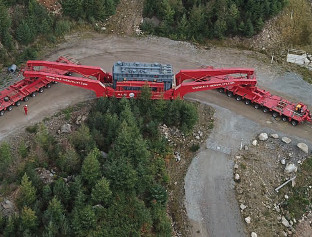 Brought to you by
According to Global Energy Monitor, China is ramping up its coal power, building or about to start construction on plants equivalent to the EU's entire capacity. Japan also has a strong emphasis on coal power, partly to meet the shortfall created by the closure of many of its nuclear power plants following the crisis at the Fukushima plant in 2011. It will have four new power plants commissioned in time for this year's Olympic Games in Tokyo.
India is also relying on coal to meet its growing demand for electricity. And just over 12 months ago, work was completed on the €6bn Egypt Megaproject which comprises three gas-fired plants designed to boost Egypt's power generation capacity by 40%.
So, while solar and wind power are gaining traction, the fossil fuel power sector—and the wellestablished hydropower industry— still requires transport and lifting solutions.
For ALE, power generation has been a priority market in South Africa. "We've played a significant part over the past five years in the key coal-fired and hydro power stations in South Africa. This work includes both green and brownfield projects, as well as maintenance," says Jon Anderson, director, South Africa.
The power sector has also played a major role for Hydra- Slide. Its skidding system was invented for the power generation and transmission industries, specifically for moving transformers and generators. Vice president Janine Smith says the sector remains a primary focus for many of its customers.
Whether it's logistics, lifting, or skidding and jacking, the power sector poses some universal challenges.
For a start, there is the issue of transporting the components from the handful of the world's genset manufacturers. Many countries have mature and robust infrastructure but in developing countries, where there is a pressing need for power generation plants, this may not always be the case.
"There may be no port facility, no rails, no bridges, no roads," says Mammoet global tendering manager Gavin Kerr.
This is why Mammoet gets involved at the design phase, to work with clients on "the art of the possible", and sometimes even reverse engineering to find the most practical and cost-effective solution.
"You may have a heavier piece of equipment to provide a certain amount of energy but the weight brings more complexities to the logistics chain and will increase the ultimate price to the end owner," says Kerr. "This equipment often needs to be ordered three years before the facility breaks ground so you need to make the right decision very early in the project."
Nathan Overell, Mammoet Canada engineering manager based in Edmonton, says several modes of transport may also be needed, perhaps starting with river barge, then ship, rail and road, but being able to manage the full spectrum helped to de-risk delivery. "One component can be handled up to 10 times on just one project," he said.
When there's a lack of robust infrastructure Mammoet's terminal crane, the MTC-15, can come into play, turning a quayside into a heavy lift terminal.
Mammoet was responsible for completing a complex rolloff operation for one of the largest HRSG [heat exchanger] modules to be ever transported by barge. PSEG Power Connecticut contracted Mammoet to move the fully-assembled 3,152t module along the Hudson River from Coeymans, New York, to Bridgeport, Connecticut.
The module, measuring 145ft long, 120ft high and 39ft wide was moved onto the barge on 141 axle lines of SPMTs which remained underneath it during the journey.
Low water at Bridgeport meant the module could not be directly offloaded from the barge so Mammoet's solution was to place a grounding barge between the offload site and the barge carrying the module so it could sit in deeper water. The barges were fastened together, providing the stability to transport the module on the SPMTs over the grounding barge and offload site.
Transporting cranes to site can be equally challenging, as Sarens experienced when providing a crane to the construction of the coal and gas-fired power plant on Hong Kong's Lamma Island. There is no transport on the small island but there was a quayside next to the construction site. Global key account manager Stijn Sarens described how the LR1400 and LR1750 crawler cranes were shipped to Hong Kong and, in open water, were transferred to small barges, which could carry two or three components. For the power station's next phase, Sarens will employ a CC2800 and a CC6800.
The main on-site challenge on jobs like this, says ALE's Jon Anderson, is working within the constraints of an existing structure, as most power generation components are installed inside a building and on a pre-constructed plinth, which could be 5–10m high. This requires methods to lift and slide loads, as well as rotations and changes of direction.
Mammoet's Kerr says the complexity of the tasks mean they are engineer-driven niche services. "During a refit you may have to lift a 250t generator from a 10m-high concrete pedestal, move it 20m, forward then lower it 10m to the ground, and figure out how to get it out of the building. That's completely different from just providing a heavy-lift crawler crane that's readily available on the market," he says.
The trend across many sectors for larger, prefabricated modules is pushing demand for greater lifting capacities, and the power industry is no exception. Prefabrication saves time on site and larger modules can provide greater power efficiency.
"Components are getting bigger and heavier so we need more powerful cranes and bigger transport needs," says Stijn Sarens.
A Tadano spokesperson also pointed out that the trend for larger modules requires 'constant job planning preparation and engineering'.
For ALE's last two projects in the UK, the module manufacturers also pushed for prefabricated pipe racks and skids. "They have very little weight but can have significant volume, so we have to adopt the same transport methods as we would for the heavier gas turbine items," says Matthew Rushton, head of projects.
Hydra-Slide's Smith says that as well as components getting larger and heavier, modules are also more sensitive. "This means more precise handling and placement is required during movement and jacking," she says. "For example, we've developed the AS500 Alignment shoe system to satisfy demand for precision alignment while still being robust, simple and hand portable."
While components may now be bigger and heavier, Sarens says that, rather than creating congestion on compact job sites, prefabrication frees up space that would have been required for pre-assembly. "You have a better overview on a modular construction site than on a stick build," he says.
Clear areas, however, are still at a premium, and crane manufacturers try to accommodate this in their designs, Kobelco pointed out.
"One of the biggest challenges on power plant construction sites is a lack of space to erect the crane and to fit it on a small footprint. We strive to design our cranes to make them easier to assemble and disassemble as well as to limit their tail swing radius when slewing," a Kobelco spokesperson says.
ALE's Anderson says the larger and heavier modules create challenges throughout a project, from transport to lifting.
"Larger trailer combinations are required to spread the load of the components and ensure groundbearing pressures are within tolerable ranges," he says. "Bridges are also a common challenge, where we need to design propping systems to ensure the bridge has the capacity to bear the load of the transport convoy. For on-site lifting, the increased weights and dimensions require larger machines and custom-designed and built structures tailor-made for the lift."
Access to power plant sites may not always be straight forward as routes can sometimes be steep or narrow. Here, TII says its SPMTs come into their own. Andreas Fiedler, head of engineering heavy transport at Scheuerle, said its SPMTs have the "highest framebending moments on the market," and axle loads up to 60t.
"The seven steering programs allow all desired driving manoeuvres, including crab gear and cross-drive," he says. "We can also technologically increase the number of drive axles in the self-propelled transporter or the number of drive axles in our Power Boosters to provide enough traction. In special cases, customers can still couple tractors to self-propelled for steeper routes."
ALE's Rushton says access to power plant sites was one of the main challenges in the UK.
"Routing of abnormal loads in the UK can be restrictive in terms of overall weight and physical dimensions," he says.
At Keadby 2, a high-efficiency gas-fired plant currently under construction in the UK, ALE is developing a redundant river berth facility to accommodate heavy crane operations, in line with legislation requiring planners to consider the use of the nearest water fed facility. It is also building a 200m temporary road across a field into the site.
Another complexity for the power industry is the three-crane lift required for heat recovery steam generators (HRSG). "It's a strategic dance between three cranes. It's quite unique to the power sector, you don't see them very often," says Kerr.
HRSG modules are a set of tubes which are transported horizontally and in frames to provide rigidity. To position them on site, the frame is flipped vertically and the tubes are pulled out of the frame.
ALE carried out a three-crane lift for the erection of the HRSG modules for the new Montgomery County Power Station in Houston, Texas. ALE's scope was to lift 29 modules, ranging from 200t to 285t, over four months and the most complex were the two HRSGs.
For this, ALE used a Liebherr LR1750 in conjunction with another 750t crane—a Manitowoc M18000—and a Kobelco CK2750. The lift was successful but a change in crane choice did require the lift plans to be redrawn.
"Planning for the lifts was originally engineered using our Demag CC2500 but, because of operational constraints, we replaced it with a Manitowoc M18000, requiring all the engineered lift plants to be changed at short notice," says project engineer Jaime Avila.
Installing the condenser also called for careful planning and execution, and a jack and slide system, as the module was slid into position with only 50mm clearance on each side.
ALE also lifted two gas turbines, with a 293t total lift weight, two generators (278.3t) and a steam turbine (314t).
Recently, German crane and heavy transport contractor HKV Schmitz+Partner used three 500t Liebherr cranes to transport a gas turbine from the port at Chempark Dormagen to a new power plant on a neighbouring site occupied by INEOS Köln.
Two LTM 1500-8.1 mobile cranes hoisted the turbine out of a freighter onto a low loader trailer and, once at the INEOS plant, an LR1500 crawler crane placed it on the prepared site.
The two LTM 1500-8.1 cranes were set up with their maximum ballast of 165t. Supporting the cranes on the quayside was a challenge as the outriggers had to be positioned towards the ship, over a rail used by a port crane. This required a precise calculation of the transmission of the support forces and a special structure had to be built over the track.
HKV bought the LR1500—the company's first crawler crane—in March last year, and unloading the turbine was its first heavy hoist. "The turbine has an asymmetrical centre of gravity," says HKV's Rolf Weyers, "which is why planning the lifting tackle was so important. It was perfectly suspended on the LR1500 after it had been uploaded from the low loader trailer."
At the Weisweiler lignite-fired power plant in North Rhine- Westphalia, crane and heavy haulage logistics contractor Wasel used a Liebherr LR 1600/2 crawler crane to replace parts of the pipework system on the top edge of a cooling tower.
It took three days and 54 low loader journeys to erect the crane to a roller head height of 182m. Set up with its main 102m boom and a 78m luffing fly jib, the LR1600/2 hoisted glass fibrereinforced plastic components weighing up to 12t out of the 117m-high tower. It had to handle radii of up to 61m and required around half of the total 525t of ballast used for the job just to raise and lower its long lattice boom. An additional 60t of ballast was used on the derrick boom for hoists involving a large radius.
Limited site access, a significant gradient and a live substation environment were some of the challenges US-based Northwest Crane Service faced when it installed a 118,607lb transformer at a power station in Oklahoma.
Northwest used a 500t capacity Hydra-Slide HT500 heavy track hydraulic skidding system to slide the transformer into place. It also used Hydra-Slide's Hydra-Pac synchronous hydraulic power unit, oak timber mats, jacks, and rigging gear to complete the job.
The sloping site meant Northwest had to account for the variation in height in its slide track support.
"We had to jack it up from the trailer," says project manager Jimmy McClug, "[Then] install the slide track, slide it 50ft to align with the pad, jack it up to remove the slide track equipment, and jack the transformer down onto the pad —with a maximum 0.25in [approximately 6mm] tolerance to the centre lines."
ALE marked up a milestone recently, installing Indonesia's heaviest turbine generator. The 462t generator, part of the $4.4bn expansion of the coal-fired Tanjung Jati B power station, had to be lifted 16m, manoeuvred and then installed.
ALE's solution was a gantry system with strand jacks installed on skid tracks. The company designed and built custom modular beams, using them alongside the gantry, a 500t capacity skidding system and four 200t capacity strand jacks.
Once the generator had been positioned on a trailer below the gantry, strand jacks were attached to the generator. The strand jacks lifted it clear of the trailer and ALE held the generator in position for 30 minutes to check for any settlement of the ground beneath the skid tracks. The gantry system was also monitored electronically.
The gantry system was set to drive mode and moved along the skid tracks and the generator was lowered to 30mm above the foundation. ALE then lowered it onto bearing pads using the strand jacks.
In Canada, the largest Potain travelling tower crane ever to be used in North America, is lifting penstocks on the Site C hydro power station in north-eastern British Columbia.
The Potain MD3200, one of only four in the world, was originally built in 2007 to construct the EPR nuclear power plant in Flamanville, France. AFDE Partnership, which is building the generating station and spillways civil works, had the crane reconditioned and shipped from France in 52 custom containers on five ships. The crane can travel at 17m per minute, along the 107m of the custom rail track.
Heavy lifting systems specialist Enerpac has developed solutions specifically for the power generation sector. Its 450t strand jack gantry is, it says, the first of its kind to feature a rotating unit, enabling lift and rotation of large turbine equipment during power plant installation. It can lift to a height of 15m.
The strand jack gantry comprises four modular support legs supporting an overhead ski track for an Enerpac SBL1100 gantry. A pair of 200t strand jacks is positioned on each gantry beam and connected by steel strands to a centrally suspended, custom-made rotation unit and lifting beam. The lifting beam allows the load to be rotated 90º. The strand jack gantry and rotation unit are controlled via an Intellilift wireless control system.
The entire gantry can be transported in multiple standard containers to port logistics centres and power plants.
Last year Enerpac also developed a 'pick, skid and drive' strand jack gantry system for power plant maintenance. The 450t gantry enables generators and turbines to be swapped for maintenance.
The system comprises an aerial track of skid beams and support legs, strand jack gantry combining skidding and strand jack technologies, and an SPMT or electric trolley system.
With the strand jack skidded into position, the generator is lifted using four Enerpac HSL2000 strand jacks. It is then skidded using four HSK1250 skid beams below the strand jack gantry to the far end of the skid beam track. It can then be lowered onto either an SPMT or electric trolley system mounted on steel tracks and moved to a maintenance area.