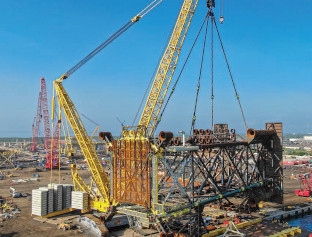 Brought to you by
As crawler get ever larger, many might ask 'Just what is a big crane?' It's not a rhetorical question. So-called big cranes of over 500t capacity of 20 or 30-years ago were something of a rarity. Today, they can be found in the fleets of well over 100 crane companies worldwide. And, in considering specific job-related performance, don't be misled by nominal capacity. Especially in the crawler sector, leading manufacturers have been very innovative in developing new boom systems to significantly increase boom height, reach, and related capacities. Unlike telescopic cranes, crawler manufacturers are not obsessed by nominal rated capacities. Significantly, there have also been some very useful changes in the design of counterweight and superlift systems, seriously improving the utility of big cranes.
If we take 600t capacity as a start point, it will surprise many that a total of approximately 2,000 crawlers of that size and larger (up to 4,000t) have been produced worldwide to date. Of course, that's starting back in the days of mechanical Manitowoc Ringers and the first monster Lampson TransiLifts, but discounting those fine machines of the 1960s, 1970s, 1980s and early-mid 1990s we are still left with an estimated 1,700 having been produced in the past 20-25-years. Clearly, a very large proportion of these cranes are still in service. Virtually all of them are fully-hydraulic cranes rated freeon- crawlers and do not use 'Rings'.
But while their big sales price tags might appear very alluring to manufacturers, on several occasions history has proven that committing the substantial, necessary engineering and manufacturing resources to larger-sized cranes is a risky endeavour. The nuclear sector had been a key source of demand for crawlers, and three major incidents each stopped the 'big' crane business dead in its tracks.
In 1979, the Three Mile Island accident put an end to a decade of steady increase in US nuclear plant construction. Up until then, 53 plants had been completed and a further 76 approved. After Three Mile Island, plans for 39 new nuclear power plants in the US were cancelled and, for the US, that was the end of the line for over 30 years.
Just as the world was beginning to feel a degree of comfort over nuclear safety, the reactor explosion at the Chernobyl plant in 1986 further set back power plant development that has only recently begun to 'thaw'.
And then, in March 2011, the Tohuko earthquake caused a tsunami that swept over the seawall of the Fukushima Daichi nuclear power plant some 250kms north of Tokyo.
Each of these had profound geopolitical impact. Public fears about the safety of nuclear energy were exacerbated and investment halted. Over these years the size of nuclear plants had increased substantially.
While the likes of Manitowoc Ringers and Lampson's TransiLifts had enjoyed the fruits of the first nuclear plant building boom in the 1960s and 1970s, by the 1980s Demag had emerged as a leader, building large hydraulic crawler cranes. In the 2000s, although now pursued by Liebherr, Terex– Demag was still ahead of the pack. Their success had been largely built on the success of their 600t capacity CC 2800 that had become the dominant large crawler crane in the petro-chem and general construction markets. But for the new generation of nuclear plants much larger cranes were required.
By the time of the Fukushima disaster in 2011, the large crane landscape had also advanced considerably. Since the earlyto- mid 2000s the potential for another major nuclear power plant building boom had become a hot topic—one which the world's leading crawler crane manufacturers were intent on fulfilling. However, unlike earlier generation plants which could be built by cranes of 250-1,000t capacity, the next generation called for much bigger cranes.
In October 2007, at Terex- Demag's plant in Zweibrucken, the writer was on hand to witness the hand-over of the first 3,200t capacity CC 8800-1 Twin by Steve Filipov and Alexander Knecht to Al Jabar's Alex Mullins. That monster adopted a twin-boom design approach and was literally based on a doubling of their very successful 1,600t CC 8800-1. That first Twin had been primarily aimed at heavy petro-chem work, etc., in the Middle East, but it was also of a size suitable for the new nuclear.
When, in 2010, Manitowoc started testing its largest ever crawler crane, the 2,300t Model 31000, hopes were high for significant global demand with the first two units allocated to US crane hire customers. In truth the 31000 was rather 'small' for nuclear plant construction but offered strong capacities for petro-chem, stadium construction, etc. It was one step stronger than Demag's 1,600t CC 8800, which has sold almost 30 units.
Building the largest-sized cranes has always held a strong appeal to crane manufacturers. For some, like Demag, Liebherr, Manitowoc, Lampson, and, to a lesser extent, Kobelco, these had proven worthwhile adventures. For Demag, big cranes included the CC 4000, CC4800, CC6400, CC6800, CC8800-1, CC 9800, CC 12000 and CC 12600. Liebherr had the LR 11200 and the LR 11350, and the LR 1600 built for Ontario Hydro and the LR 1300 built for the Tennessee Valley Authority (TVA). These last two, despite sharing nomenclature with later 'standard' crawlers, were unique cranes, super-sized for their time.
Manitowoc had the M1200 Ringer and 21000, and Kobelco's entrant was the SL 13000. In all, 140 'super-sized' cranes were built between the 1980s and 2010. Certainly, some had been engaged on nuclear construction but the majority not so.
By the time of Fukushima, the Chinese crawler industry was in a rapid-development phase. By the late-2000s, the leading players had developed crawler cranes in the 600-1,000t classes. When I visited Chinese crawler crane plants to see the prototypes of their cranes of 3,200-3,600t capacity in November 2011, the full story of the Fukushima accident and its repercussions were still largely unknown. In July 2012, a Special Commission established by the Japanese Government concluded that the accident had been foreseeable and that the plant operator, Tokyo Electric Power Company (TEPCO) had failed to meet basic safety requirements. In October 2012 TEPCO admitted its failings.
Perhaps prudently, Liebherr had taken its big crane development a little slowly. Their 3,000t capacity LR 13000, went on test soon after Fukushima. The Ehingen crawler factory took its usual conservative design approach, avoiding the twin boom of domestic and Chinese rivals, with a single-piece boom and derrick masts. This, the largest single-body crawler crane developed to date, was able to offer pick-andcarry over its full load chart.
Fukushima virtually snuffedout demand for such super-sized cranes for almost a decade. During the past 8-9-years the total number of cranes built in this class has reached about a dozen, split almost evenly between 3,000t Liebherr LR 13000s and 3,200t Demag CC8800-1 Twins plus two 4,000t XCMG XGC 88000s.
The three cranes owned by crane companies, rather than end users or state-owned enterprises— Mammoet and Mexico's ESEASA with their LR 13000s, and Al Jaber with its Twin—have been engaged on a variety of work, dominated by petro-chem-related heavy lifting. Most of the other Twins are owned by Chinese enterprises and been involved in a mix of domestic work including nuclear and conventional power plant and petro-chem. Meanwhile some of the other Liebherr LR 13000s have been purchased for new nuclear plant construction in Pakistan and Turkey.
Another area of work that some years ago might not have been expected to involve a significant volume of big crane work has been stadium building. Sports arenas with seating capacities of 100,000 or more that lend themselves to rock concerts, etc have become big business. Events such as the Olympic Games and the Football World Cup, each requiring a number of venues, have led to building booms in the likes of South Africa, Russia, Qatar and Japan. Add to these the development of fabulous new stadiums for leading football and NFL clubs and the volume of work becomes clear. Big stadiums, often with expensive and heavy retractable roofs require a lot of mobile cranes normally working around one central large crawler. The one nation that has continued, indeed accelerated, its nuclear power plant building programme is China. Primarily motivated by their desperatelyhigh levels of air pollution from coal-fired plants, for the past decade China has led the world in the scale of new nuclear construction. China now has 45 plants in service with some 70% of capacity built in the past ten years. Before the emergence of the Chinese crawler crane industry, the first generation of the country's nuclear power plants had been built over 20 years by significant numbers of Manitowoc M-250s and Ringers, Demags ranging from 250–600t capacity, Kobelcos of 250-650t capacity, and Liebherrs mainly of 350-400t capacity.
A further 12 new nuclear plants are currently under construction in China with many more planned but these are unlikely to provide much work for imported cranes.
For these days, at the bidding of President Xi, it's Chinese cranes for China. To date, Chortsey Barr estimates that XCMG has supplied three of its 2,000t XGC 28000s and two 4,000t XGC 88000s. Although one XGC 88000 was recently employed on a project in Saudi Arabia, for the main part these cranes have been exclusively employed on domestic applications. Meanwhile Zoomlion's single 3,200t ZCC 3200NP most-recently installed the dome at the No. 6 Fuqing Nuclear Power plant in Fujian Province. As hinted in our introduction, despite the lack of 'super crane' sales action, much has changed in the 'smaller' sectors. Here we have sub-divided these cranes between a) 600-750t; b) 1,000t; and c) 1,250-1,600t classes.
Demag has made the 600–700t class its own with the iconic 600t capacity CC 2800 (1998-2003) and CC2800-1 (2003-2019) with around 400 sold. The only significant challenger to emerge was Liebherr's 600t LR 1600/2 introduced in 2007 which, at the time, Weldex's Dougie McGilvray described as "ideal for wind farm lifting". Beyond that, in 2015 Liebherr very successfully revived the fortunes of its popular 750t LR 1750 with the LR 1750/2 (known in Japan as the LR 1750HS800). Building on the success of the CC 2800-1, during the past six-toseven years Terex-Demag achieved market leadership with its 650t SL 3800 and, at the last Bauma, launched the CC 2800-2 as a successor to the icon.
Of the Chinese products, XCMG has enjoyed significant success with its 650t QUY 650 with more than ten supplied to Reliance in India and others exported to Uruguay and Iran. Taking into account various Manitowoc models (888 Ringers, 18000s and the current MLC 650s), Kobelco 7650s, Hitachi-Sumitomo CT 15000s, and various 600-750-tonners from XCMG, Zoomlion, Sany and FUWA cranes we estimate that in total approximately 900 cranes in this class have been sold.
In many ways, the 1,000t capacity Terex Demag CC 5800 is a forgotten crane. Introduced in 2005, it was developed at the same time—and as a sister machine to— the 1,250t capacity CC 6800-1. The 5800 employed a boom of 3m width while the 6800's boom is 3.5m wide. Originally, expectations were that the more-transportable CC 5800 would be the best seller but history has shown that the much stronger lifting performance of the CC 6800 has won the day.
Thanks in part to the low ground bearing pressures afforded by its unique OCTA-TRAC crawlers, Manitowoc's 1,000USt (900t) capacity 21000 has found market in some demanding applications.
More recently the 1,000t LR 11000 has quietly established a significant market presence, while at Bauma 2019 Liebherr introduced the 800t capacity LR 1800-1.0. Zoomlion's 800t QUY 800 has enjoyed limited success with a unit shipped to a wind farm in Takestan, Iran in 2013 and most recently a similar unit has been working with 147m main boom and 7m jib on the Linxi Canal Wind Power Project in China. While the LR 11000 is now enjoying significant success on the market, the total number of 800-1,000-tonners in service is only around 50 units.
In reality, largely due to the influence of various load enhancing 'Superlift' attachments, the 1,250-1,600t 'bracket' covers a broad range of capacity and reach performance. There have been numerous models fielded by the Chinese manufacturers including the 1,000t and 1,250t capacity XCMG XGC 15000 and 16000. We estimate about ten units have been sold, including one exported to Inner Mongolia for wind work and another 1,250t sold for offshore construction in Batam, Indonesia. In many ways, again it was Demag that set the standard in this class with its CC 8800, originally of 1,250t capacity, followed by the 1,600t CC 8800-1 and 1,250t CC 6800. Recently sales of the CC 8800-1 have revived with orders from Van Schaften as well as Integrated Logistics in Kuwait. However, thanks to a relentless series of improvements and enhancements, Liebherr's 1,350t capacity LR 11350 has become the best-selling model in this category. Most recently Kobelco has re-entered this class with its SL 16000 available in configurations up to 1,250t capacity. In total we estimate there are approximately 200 cranes in this size-bracket in service worldwide. INNOVATION AND DEMAND Chickens and eggs come to mind. A cogent argument can be made that the current healthy demand for crawler cranes in the 1000-to- 1,350t classes is, in part, being driven by the benefits delivered by innovative crane design developments. Similarly, it's always true that healthy market demand spurs innovation.
During the past 15+ years the key drivers to big crane demand have been a) wind farm installations and b) the expansion and renewal of refinery, gas processing, fertilizer plants and petrochemical facilities.
Strengthening market demands with challenging applications have always driven innovation in the crane industry. In the upper-size spectrums this is particularly true where manufacturers – particularly Liebherr and Demag—have continued to out-engineer each other in the kind of technical competition upon which both of these companies thrive.
In 2008, the European Wind Energy Association had predicted that European wind turbine generating capacity would increase by 3,000% from 2007's 56MW to 180,000MW in 2020 and 300,000MW by 2030. In fact, the 2020 target was exceeded in 2018.
In terms of crane market demand, more than any other application, wind farm development has been the principal driver of demand for crawler cranes in the 600-650t classes. Of course, wind market demands differ around the world due to different levels of wind quality. Until the early 2000s, large ATs were most favoured for European wind work. However, as tower heights increased beyond the capability of even the largest ATs, demand began to transition in favour of large crawler cranes.
However, a significant portion of the market required a wheelmounted solution. Responding to this, Liebherr developed a new crane by mounting the upper of its 750t LR 1750 crawler crane on a heavy truck chassis—thus creating the LG 1750 lattice truck crane, of which over 100 units have now been sold.
When moving from 80 to 110m height, wind quality improves. While the average generating capacity and hub height of installed turbines in major global markets has continued to increase, in the US there has been a partial plateauing of tower lengths and hub heights. This has been attributed to the excellent wind quality in the interior regions of the US. While the average turbine in the US in 2018 was 2.4MW with hub heights of 88m, in Germany the corresponding values were approximately 3MW with 128m heights. In areas of the US with more-moderate wind speeds tower heights can reach as high as 160m. For the past couple of years, EU demand for new wind turbine installations has been slowing down. In 2017, 15.68GW of wind power was installed representing 55% of all new power capacity and reaching 12% of EU electrical energy generation. However, by 2018 only 11.7GW of new wind power was installed: a year-on-year reduction of 33%.
Nevertheless, 2018 was a record year for new wind capacity financing with 16.7GW of future projects reaching final investment decision.
In Germany it has become increasingly difficult to get approval to build new wind turbines. Cranes originally acquired for wind work are having to find alternative applications in Germany and elsewhere. The decline in new wind turbine erection in Germany has been nothing short of extraordinary.
The peak year was 2017. In the first nine months of 2019 only 513.7MW of new wind energy was installed compared with 4,170MW in the corresponding nine months of 2017. Predictably the impact on crane hirers, especially those with 600–650t capacity crawlers has been stark, while sales of new cranes in those classes have also taken a big hit.
Partially compensating for this dip has been a positive trend in demand for larger-sized crawler cranes for wind farm work. No more graphically was this demonstrated by the order placed at Bauma by Van Schaften Leasing of Schiedam, Netherlands for another three 1,000t capacity Liebherr LR 11000s. Added to the five units they already owned, this created by far the largest fleet of this model in the world.
At the order-signing, Johan van Schaften said: "The LR 11000 has outstanding capacities and is perfect for wind turbines on 100m towers with its F2 system and without derrick". Van Schaften is a bare rental company operating worldwide and it should not go without mention that at Bauma Van Schaften also ordered two 1,600t capacity Demag CC 8800-1s.
In Europe, on-shore and offshore turbines continue to grow in power output and height. A recent example of this took place in Rotterdam where two 1,800t-class Liebherr LR 11350-P1800 Power Booms owned by Denmark's BMS teamed up to make a dual lift of a 12MW offshore wind turbine weighing 675t (780t total load) which they hoisted to full height on 150m booms.
The need for increased efficiencies and production at oil refinery, gas processing and fertilizer plants and throughout the petrochem industries continues to lead to ever-larger heavy-wall reactors, catalytic crackers, coke drums, heat exchangers and pressure vessels. The majority of producers of these vessels are now located in Asia (Japan, Korea, China, and India) but there remains a substantial industry in Spain and Italy, the latter being the manufacturing home of Duro Felgueres and GE Oil & Gas. With weights reaching up to 2,000t and lengths from 100 to 150m, the erection of these massive elements requires the largest crawler cranes, while at the upper-end they require the large Mammoet/ALE and Sarens' ring-based cranes of up to 7,500t capacity.
A DIVIDED MARKET For more than ten years, over half of the market for 600-650t crawlers has been in Central Europe and especially Germany. Indeed, virtually all of the leading German, Dutch, Danish, Belgian, Austrian and British crawler and all terrain crane hirers have profited significantly from the unparalleled levels of wind farm demand.
As European wind farm work has declined, it is fortunate for crane hirers and crane manufacturers that the 750t category continues to develop at a healthy rate. This is thanks to the wider variety of applications to which these cranes are being applied. No doubt Liebherr will be hoping that their new LR 1800-1.0 can build on this success of the LR 1750/2.
Looking at the global picture, a regional split in the supply-anddemand picture has gradually taken shape. Clearly, China remains the leading market for nuclear power plant construction as well as a massive industrial manufacturer. It's a market now effectively closed to imports thanks to the 'Buy Chinese' pronouncements of President Xi. Still, much of the rest of the world is wide-open to all.
Manitowoc—which basically started the global market for big crawler cranes—today primarily sells to its home market and has no real presence with its large crawlers in Europe, Africa and the Middle East. Eastern Europe and Russia are interesting big crane markets with Liebherr especially strong in Russia. Liebherr and Demag have long-established strong global market positions and lead the global big crane market. However, the Chinese, with their price advantages, have succeeded in gaining footholds in a few emerging markets. Probably the world's most price sensitive market, India, has continued to purchase larger-sized Demag and Liebherr crawlers as well as Sany and XCMG cranes. Amongst other markets where the lower-cost Chinese cranes have gained favour include Indonesia and Iran as well as parts of Latin America including Uruguay and Argentina.
JAPAN RISING Starting in 2016, after many years of absence, Kobelco introduced its new 1,000-1,250t SL 16000 series crawler crane which has since been selling well in their home market. Previously, indeed back in the early 1990s, Kobelco fielded its SL 13000, selling two units to Uchimiya and one to Kitashikoku. Since then Uchimiya added a 1,250t Demag CC6800 while Kita purchased a 1,600t capacity Demag CC8800-1. Others, most notably MIC, acquired two Demag CC 8800s, while Tokyo Juki and Nippon Express each purchased CC 6800s. In the meantime, Chubu Kogyu (CKK) acquired a CC8800-1 purchased in 2012 from Australia's Tutt Bryant.
Similarly, a CC 8800-1 joined the fleet of Kitashikoku. Most recently, 1,800t capacity Liebherr LR 11350-P1800s have been purchased by Kanto Crane and the Denzai Group. Clearly, Kobelco has entered a somewhat crowded domestic market.
Kobelco says the SL 16000J and J-H were developed to meet Japan's increasingly stringent environmental regulations as well as tightened road haulage requirements where maximum vehicle width of 3.2m is demanded. MIC took delivery of the first unit to be sold—a model SL 16000J-H—which went to work installing highway flyover sections in Kyoto Prefecture. This model has a nominal capacity of 1,250t at 10m radius and is equipped with a derrick boom and counterweight wagon attached to the crane by a telescopic stinger. The SHL version can be equipped with main booms to 150m and systems of 95m + 85m luffer. Heavy boom sections are of up to 3.47m width.
Unusually these new Kobelco models are equipped with two separate power systems (diesel engines, pumps, valves, etc.) mounted on each side of the upper with the aim, the manufacturer says, of providing a degree of extra insurance should one of these systems fail. The crane controls are also unconventional, featuring an electric lever that changes the lever operation to voltage using a potentiometer which Kobelco claims is smoother than hydraulics. Amongst the crane's interesting features are its electronic controls that allow the operator to set the optimal operating speed by a touch panel.
MIC's general director Kikou Mitsuhashi and the head of their construction division and senior managing director Kyoichi Iguchi commented that the reason that MIC is renowned for keeping its colourfully-painted cranes so clean is that "all of the care and attention gives you a better grasp of the machine's condition. Those who keep their cranes clean are more likely to realize when even the smallest thing goes wrong, thereby avoiding any major trouble." The two executives added, "Some of the foreign models are bigger (then the SL 16000) but a lot of thought has to go into using such big cranes in Japan. Transporting them to places is an issue. The SL 16000JH is designed to comply with domestic transport regulations."
Talking about domestic market demand, Mitsuhashi felt that "lifting with big cranes saves time—and its' safe too. Demand is growing for the use of big cranes, Before, people weren't willing to bring us in, but they want cranes now." Iguchi added: "We strive to be the first choice of those who want to bring in cranes for a project". But there was unanimity between the two men as the most important consideration. They said "not causing any trouble for the client. Safety first; and dependability".
Other buyers include Uchimiya, the leading crane hire company that over the years has purchased most of Kobelco's pioneering big cranes and was the second to take a SL 16000J-H into its fleet. In addition, customers include Japan's largest crane hire company, Yonehara, and Nanshinjuki. While there is some big crane demand in Korea, Indonesia, India, some South East Asian countries, and of course China, for the moment at least Kobelco is forsaking this, concentrating its entire production on its home market.
For the most part, crawler crane demand in Japan tops out at the 500t level with Kobelco's SL 6000 and HSC's 6000SLX selling in significant numbers. As mentioned earlier Demag and—particularly—Liebherr have enjoyed Japanese market success with their 600t and 750t cranes. However, Demag's 650t SL 3800-1 struggled to meet the needs of the Japanese crane hire industry but Liebherr's 750t LR 1750HS800 (known internationally as the LR 1750/2) has really hit the spot.
JOB FOCUS In the smaller 600-750t classes, the record shows that the continual stream of detailed developments of the Liebherr LR 1600/2 and LR 1750/2 as well as the 'moldbreaking' approach adopted by Terex-Demag with the 650t SL 3800-1 were critical in their sales success. In terms of applications, while the 600t capacity band was established as the core of the European wind turbine market, even against with the background success of the CC 2800-1, Terex was willing to take the bold step to change the game. It was a decision not without risk, but proved a game-changer in their favour.
When Manitowoc announced the 2,500USt (2,300t) capacity 31000 with its variable position counterweight (VPC) rather than simply focussed on lifting capacity, reach and transportability, it drew attention to the costs and issues of job site preparation and ground bearing pressure. That innovation was subsequently applied to the smaller 300t MLC 300 and 650- 700t capacity MLC 650. The VPC-MAX offered on the MLC 650 boosts nominal capacity to 700t (770USt) and has proven particularly popular with North American crane hire companies.
In 2019 Cleveland, Ohio-based All Erection & Crane Rental placed its third order for this model, taking its fleet to five units. They also acquired two additional VPC-MAX attachments to boost the capacity of existing MLC 650s. All's crawler crane division manager, Rick Mikut said: "The VPC enhances versatility and lifting capability. Because of this technology, no counterweight is needed to be added to the crane's carbody, minimizing footprint and impact on the ground. Matting is minimal and transport weight reduced."
Most recently, both Demag and Liebherr have focussed on the same area with their Flexframe (Demag) and V-Frame or Vario-Tray (Liebherr). These V-shaped devices connect the superlift counterweight to the rear of the crane by replacing the former tele cylinder used for that purpose. The V-shaped device affords greater flexibility in terms of radius range. These latest developments recognise that the maximum counterweight effect is only needed to overcome the maximum moment when the boom is at a very low angle during erection and lowering. Whereas the VPC allows the counterweight to be telescopically-retracted when its full effect isn't needed, the latest German developments allow a part of the counterweight to be uncoupled once the boom is erected. At the same time, these systems allow the superlift counterweight to be retracted to radii much closer to the machines. As we have discussed, the increasing height of wind turbine towers and the increased length of various industrial/petro-chem heavy-walled columns, demand ever-longer boom systems with ever-greater lifting capacities at steep boom angles and maximum heights. In the 1,000-3,000t classes these needs have resulted in the development of Demag's Boom Booster and Liebherr's Power Boom (P-Boom) where the lower width of the boom is more than doubled by the insert of wide, boom-doubling sections. No matter what form it takes, there is nothing especially new about boom strengthening in this way. However, the idea had laid dormant for many years and is now being applied to 'smaller' cranes in the 600-750t classes. Manitowoc's M 16000 and MLC 650 are now available with 3.5m wide inserts to increase height and capacity.
Liebherr's 600t LR 1600/2 can be equipped with SL 10 booms offering heights to 160m. The new Demag CC 2800-2 can handle booms to 102m without derrick or up to 138m with derrick.
The use of short fixed-offset fly jibs—especially for wind work— has been developing for many years. One of the first was with Manitowoc's 400t M 16000 WA which has sold very well in North America. Liebherr has recently optimised the performance of its 1,000t LR 11000 by boosting the capacity of its F2 jib from 179t to 250t. One point of current emphasis, again driven by the space constraints such as found on wind farm site, is the ability of large crawler cranes to operate with extremely long booms without the need for a derrick mast with the space and erection time involved with such. For example, the F2 jib of the LR 11000 can be used on main boom without derrick.
Optimising working speeds is especially critical when hoisting and lowering to extreme heights. Increased rope speeds are delivered on Liebherr's LR 11000 by the employment of two parallel winches.
For crawler cranes the time and cost of transport, erection and dis-assembly have always been critical considerations in the total economics of ownership and operation. One feature being somewhat 'revived' by Liebherr on the 800t Liebherr LR 1800-1.0 and 1,000t LR 11000 is a boom design where smaller cross-section inserts can be transported inside larger and heavier sections. Meanwhile, in introducing the CC 2800-2 upgrade, Demag are seeking to benefit from the large in-service population of its predecessor CC 2800-1. Should they acquire a CC 2800-2, owners of CC 2800-1s can now 'economise' by employing the luffing jib and some main boom inserts of their older 600-tonner on the new CC 2800-2. In similar vein the new 600t model uses a drive train very similar to that of its big brother, the 650t SL 3800-1.
Another move in a similar direction is the use of counterweight slabs of the same weight and dimensions from one model to another, thus allowing fleet owners to potentially save on such investments.