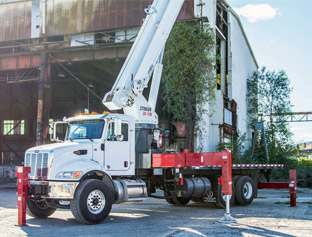 Brought to you by
"North America is the only place that boom trucks are going," says John Luckow, senior vice-president, cranes at Custom Truck One Source. The company produces own-brand trailers, service bodies, and dump bodies, and back in 2016 it bought the Load King brand of boom trucks from Manitex. It has not stopped there. In April this year, Custom Truck One Source also acquired Terex's boom truck and truck crane business.
It may be that the boom truck's size and lack of manoevreability deters European users—American trucks are not small—but they are the standard construction crane for housing and similar projects in the US, and Luckow clearly believes that there is a big future for them there.
"We bought the Terex business in April and spent 105 days moving the production line from Oklahoma down to Kansas City. It wasn't just the name we were buying but the production assets as well. We spent July and August setting up; the first crane came off the line at the end of August, so that was quite fast. We were quite pleased with that rate of progress. It was important to us to be able to say 'Yes, we've done it.'"
Those who look at their products will see little difference from the tried and tested models they may have been used to from Terex. "We are offering the same models as Terex to start with, but rebranded as Load King." Thus the old Terex BT 2047 is now the new Load King Stinger 10-47 and the Terex BT 70100 is the Load King Stinger 35-100.
And note the name Stinger: "We are selling them as Stingers. That harks back to the old history of boom trucks. A guy named Ray Pittman was in at the start of them. Back in the 60s, his company made boom trucks in a town called Olathe, in Kansas, and sold them as Stingers. After a change of ownership, production moved to Iowa, then when Terex bought the concern to Oklahoma; and now we have bought from Terex and can reintroduce the name. Stingers is a name that is remembered fondly by users and the original factory was not far from here. Now it has come back to its roots in Kansas City and it feels like the crane business is coming home.
"And strangely enough we even have three guys on our production line who worked at the original Pitman plant in Olathe. They must have a couple of hundred years of production experience in crane assembly between them. They can probably assemble cranes in their sleep."
Is it then just a rebadging operation? "Initially we are rebranding and rebadging; but we have two new products that we are going to introduce. One of them is a 35USt machine with a five section boom. Terex always stuck to shorter, foursection, booms, but the market has been waiting for a longer fivesection boom for a long time.
"Our other new product is an 80USt machine, again with a fivesection boom and 80ft boom length. So longer booms on 35USt and 80USt cranes will be our first projects since moving the business here."
Which raises the obvious question: Why that particular change? "The trend for many years has been for longer booms," he says. "Federal and permit laws constrain us as to what we can put on a truck. Within that, the request from customers is: 'How can I get more onto my threeaxle or fiveaxle truck?' By 'more' I understand 'longer boom' or 'bigger capacity': 'If I have a truck, what is the most crane I can get on it?'
"Higher strength steels, and aluminium to make parts lighter, are some of the ways you can put more lift onto the same piece of road." As history has demonstrated: "40USt was a big capacity boom truck ten years ago; now 60USt is big. And we have an 80USt model in the pipeline. So we have come a long way in sizes for boom trucks. Previously those capacities were only for truck cranes built on special chassis, or allterrains,"
Now, as Luckow points out, the smallest ATs start around 50USt, and these are often featurefocused vehicles specialising in working in tight spaces. "So we are handling those loads instead, on a commercial chassis, at higher road speeds.
"We are building the prototypes, which will be ready in November or December; and it should be available for customer deliveries maybe in May. We have hired engineers from Terex—some of them have relocated from Oklahoma to Kansas—and we are doing cycle testing and the like. We want to make sure that it lives up to everything that it should be.
"We are making a statement about that with our warranties. Terex offered two years, which is pretty good for the industry; we offer three years for parts and five years for structural work, the boom, turret, T box and so on.
What we are trying to say is 'Look, we recognise we are untested to an extent, but we are extremely confident in the product we are offering you. We are walking the talk with this. We are putting our money where our mouth is."
QMC is another maker that has come under new ownership. In this case, though, the management is unchanged, and remains a family concern. "We've been in the business of building cranes since the late 60s, give or take a change of name, so that is quite a while," says general manager Brent Petring.
Their history mirrors that of boom trucks in general. "Our first market came from precast concrete suppliers, who made items like septic tanks. They would need loading at the factory, transporting to the site, and then unloading; all of that called for a truck, a crane at each end, and contractors to supply the cranes and the truck and the driver. So we began bringing the product to the jobsite with the crane mounted on the truck. That precast work has been bread and butter for us for many years. Then utilities companies discovered us, as did oil and gas and underground construction companies."
QMC specialises in what you could call bespoke boom trucks: "Our niche is custom cranes; we make around two thousand a year, not twenty thousand."
And their business model is unusual: "We don't have dealerships. Instead we work direct with the end user. We talk to them about what they want, then we build it. So each crane is almost a custom design.
"We even go down to how many toolboxes the customer wants on the deck. An electrical utilities customer may need more storage than a customer who makes prefab.
We have one customer who wants outrigger pads painted red, the outriggers themselves yellow, and the deck white. We are happy to do that, and to add an alarm to show the outrigger is retracting, and a backup alarm as well. If a customer can imagine a perfect crane, and can give us a five-point list of what it has, we can do that."
The crane can be set in any position on the truck, front, centre or rear; but "mostly we do rearmounted, because that allows the heaviest loads on the base, which is good for our pre-cast customers."
They have another curious speciality as well: the trailer mounted crane. "It is a special application which many people find strange. They are few and far between, but where they are useful they are very useful indeed. One application is for unloading fishing boats. The tractor-trailer unit rolls to the edge of the dock, the tractor unhitches and drives away to do other things, then comes back and hauls the crane to the next boat when it is ready. An advantage is that you can put a lot of weight on them, but it does give a very long trailer that can be hard to manoeuver in tight spaces.
"We have been under new ownership since 1 January 2019. The aim is to increase our production, and to push ourselves to new customers.
Pre-cast people know us but there are some utilities who do not. We are working on that. We have a brandnew website as a tool to that end. A custom crane is bound to be a little more expensive, but we are now able to do things more efficiently, which means we can lower our prices. QMC has offered a variety of different models; we are consolidating that into some core models and a couple of new ones while still customising as before. We have a new 80ft boom model, for example, [and] we have built a few of those so far for customers who wanted them.
"We are based in Southern California, and we are strongest on the west coast, but we offer our cranes anywhere. We are in Arizona, Utah, the Midwest states and in Canada and Mexico; even in Saudi Arabia. Since we sell direct to the end user we are not dependent on where the distributors are, so there are more opportunities to go far."
Even more unexpected in terms of business model is Boomtrux, of Tampa, Florida. Since January they have been importing Chinese-made XCMG crane units and mounting them on American Kenworth trucks. It might not on the face of it be a good time to be importing into the US from China. "Yes, as an American company the ill-timed tariffs have affected us," says general manager Erik Mikkelsen.
"They have not affected our Chinese partner so much. They can wait it out so to speak. XCMG has actually been very supportive here."
They are calling their offering 'The Beast'. Mounted on a Kenworth T880 truck chassis, the XCMG XCT40U crane has 40t capacity, wireless remote control for the telescoping outriggers and auto-retract front bumper stabiliser. Claimed unique features include an innovative German-designed U-shaped boom with 142ft reach.
"This makes it different from almost any other American made boom truck," says Mikkelsen. "Our U-shaped formed booms give fewer seams, and the stress flows along the curve. You normally find these only in the truck crane world—cranes that are built on a specially designed carrier. This is the first unit that really brings that feature into the boom truck world on a conventional truck, such as a Kenworth, a Peterbilt, or a Freightliner for example.
"The shape itself allows for much greater lifting capacity and actually allows better access to perform maintenance and repair. There is almost always a 'local' dealer in every major metropolitan area. These companies are familiar with US trucks and can sometimes perform the maintenance and repair themselves. If not, the local dealer network is large and wide to support it. Often, truck cranes have limited repair sites, usually the crane dealer, and those are fewer in number to begin with.
"These boom trucks are not only very price competitive but provide our customers with new capabilities and features that were out of reach before. Boomtrux has always been an innovator, and introducing a new brand with so many new things features puts us and our customers 'out front.'"
The key question, however, will be: are American customers happy buying Chinese? Mikkelsen seems to think so: "Sales are going well," he says. "Users are absolutely enthusiastic. If they fly it, they will want it.
"We know innovation is not solely an American thing. XCMG has been working with Carlton Calfee, our founder, for over five years to get ideas and feedback about what they wanted to bring over here. The collaboration has been a major success and we believe we have a product that is superior in almost every way to its competitors. There has been some resistance to the 'foreign' nature of the product. We know Toyota had the same problem initially and was able to overcome that resistance.
But almost every person that has flown the unit themselves immediately starts asking about the warranty and parts support. To us, those are questions that indicate serious buying intent."
On boom trucks generally, the demands of Boomtrux customers are the same as those from customers of domestic manufacturers. "What we see here is the same. Customers want longer reach, higher capacity while being safer and more efficient in setup, fuel use and in simplicity to operate.
We keep looking for new solutions to old problems: shade for standup operators, backup cameras for better navigation on job sites, improved lighting capabilities for those working at night.
"Customers are aware of new trends and want to make sure their crane will have the latest improvements so they can be in service longer. Requests are becoming more pointed and specific. We believe customer education and knowledge is greater than ever due to the Internet and YouTube, which makes their requests and questions understandable. We get that, and we want to be able to provide advice and solutions. It is more of a partnership than ever. We offer a two-year manufacturer warranty on the crane. We are not just selling the equipment but gaining a service customer that will be with us moving forward."
Turning now to the home-grown big names, Elliott Equipment has been an important player in the market for decades. Back in 1948, contractors and utilities were looking for efficient ways to set poles and string power lines to electrify the country.
Richard Elliott developed the first telescoping crane for that purpose, and mounted it on truck chassis. Today Elliott has a wide range of boom trucks, and preaches the virtues of these machines.
In particular, they stress its advantage over the knuckleboom, which is common in Europe but starting to enter the American market. The boom truck's winch and wire rope, they say, offers more controlled vertical lifting and placement; a knuckleboom has its hook rigidly mounted on the end of the second arm, and both joints of a knuckleboom need manipulation to move the load in a linear fashion.
Boom trucks also score, say Elliott, in holding a load suspended.
"Because the winch is the primary lifting mechanism, it features holding valves that make it possible to suspend heavy loads at height for extended periods of time without drift. Knuckleboom cranes are not designed to suspend loads for long periods of time, but for the loading and unloading of materials."
Elliott's current capacity range goes from 10USt to 50USt, with boom lengths up to 142ft, and tip heights up to 207ft. The company splits its offerings into three broad classes: smaller models currently running from 10-18USt; medium models from 26-36USt; and larger models from 40-50USt.
Their highest-capacity model is the 50105. Like all of Elliot's boom trucks, the 50105 takes its designation from its capacity and boom length: 50USt at nine feet load radius, and a 105ft boom length from its four-section boom. Maximum height is 115ft, or 164ft with the optional 49ft jib.
The demand for longer booms without sacrifice of road speed is commonly felt. "Over the past several years the trend has been larger capacities and longer booms for the boom truck industry," says Bob Ritter, product engineering manager at Manitowoc. "The challenge has been and will continue to be how to maximise the higher capacity and longer boom length while keeping the machine easily "roadable". Support vehicles to haul additional counterweights are not widely accepted in the boom truck markets."
This explains why Manitowoc has recently introduced their long-reach National Crane NBT50L series. It is an update to their existing NBT50 series, which now has a 151ft boom and a maximum tip height of 158ft. "Our most recent innovations have been the design work on major structural components to develop stronger and stiffer welds with thinner, high strength materials," he says.
"The NBT50L Series is a perfect example of this. From the bearings up we optimised the turntable for this long boom crane and were able to minimise the deflection of the boom truck. It gives the operator a solid, almost truckcrane- like feel, in the comfort and mobility of a boom truck."
"On the question of innovation, with the NBT50L Series National Crane has focused on high strength materials configured in optimised weldments for the highest strength and lowest deflection possible in the larger and longer boom trucks, while maintaining overall weights conducive for easily moving the machine from jobsite to jobsite," he says. "This easy movement of the machine is a hallmark of boom trucks that is a must in the eyes of our customers."
The NBT50L is also the first series from National to feature an offsettable lattice jib, which at 36ft adds still further to the reach.
"With the added reach, there is less need to swing the jib on a job site. This increases efficiency and saves time for the user."
Customer research, he says, was crucial to the design of the offering. "With the NBT50L Series, we've delivered the boom length that our customers have been asking for. The goal is to enable companies to win and complete more projects with a single crane than ever before."
Its maintenance functions represent a step forward as well. The new boom trucks have onboard, real-time diagnostics for all electronics; external CAN cables and junction boxes; and easy-access hydraulics, all of which combine, says Ritter, to make the NBT50L Series the easiest National Crane boom trucks to service yet.
"Market demands do fluctuate," he says, "and as they do, so the need for different machines or niche applications do arise. A perfect example of this would be the need for a 30USt tractor mounted boom truck for the oil and gas industry.
Through very close involvement with our dealers and end customers, we introduced the NBT30H-2 TM to fill that gap for that sector of our customers. With its short overall length and specific weight distribution to meet Federal bridge laws, this machine can fill many applications above and beyond the original oil field support vehicle it was originally designed to be."
Manitex has built a strong reputation in the market for boom trucks, with an extensive range of models for a wide variety of applications.
Earlier this year, it expanded its heavy-crane product offerings with the introduction of the TC600 series boom truck. The new TC600 series features a base rating of 60USt, a maximum main boom height of 141ft, and a 194ft maximum height when equipped with an optional jib.
The TC600 incorporates a foursection boom and offsetable lattice style jib, utilising high strength steel and components to provide a high strength-to-weight ratio for increased capacities at long radius. It features a spacious, high-visibility cab and the advanced hydraulics of the Manitex TC line.
"Featuring a removable counter-weight system and uniquely designed trapezoid subframe, the TC600 provides added stability and precision control," the manufacturer says. Steve Kiefer, president and chief operating officer adds: "We are excited to add the TC600 boom truck to our line of products, supporting the industry's growing need for high-capacity machines.
Manitex has consistently been an innovator in meeting end-users' needs for equipment delivering high-value, operator comfort, and overall performance. The TC600 is available for immediate sale through the Manitex dealer network."
The first model of the new 60USt TC600 series is the TC60131. Again stiffness is emphasised—it has a redesigned wedge-style subframe and increased rise outriggers for quicker setup on uneven terrain, and a four-plate four-section boom, 39ft retracted, and 131ft extended.
Also emphasised is the boomtruck's major selling-point, ease, and speed, on the road. The five-piece, 10,000lb counterweight system has an external control panel for easy setup, and the counterweights can be placed fore or aft of the turret to give the best weight distribution for travel.
Altec's latest addition is the 30USt capacity AC30-53T. It is a tractor-mounted telescopic boom truck crane that doubles as an overthe- road tractor. In other words, it can tow a semi-trailer.
"While it is normal for our customers to continue to ask for additional capabilities such as increased lift capacity or longer booms, we have also seen a strong demand for continuing to improve upon the efficiency and safety of our equipment," says their boom truck market manager, Zak Hilliard.
"We're constantly listening to our customers and taking their feedback seriously when designing and improving our products. And we are always looking for ways to create more efficient, flexible and versatile equipment than we've seen in the past. Our customers are continually being challenged to be able to do more with less. They have passed that challenge on to us.
"So in addition to our latest crane, we're also launching new innovations such as the smart zone rating feature on our LMAP (Load Moment Area Protection) system that uses the outrigger configuration to determine the capacity of the crane with the outriggers. This gives an additional layer of safety when short jacking a machine on tight job sites."
Boom trucks might not be a global market, but it seems that where they are at home, they are flourishing. Business, you might almost say, is booming.