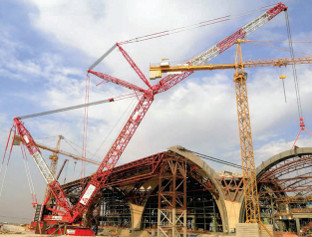 Brought to you by
Oil may well be the driving force of most of the economies of the Middle East, but the wealth it provides is funding a multitude of construction projects. Some are routine, some are huge, some are downright astonishing; and those projects need lifting gear. So by no means all of the crane market of the region is devoted to oil.
"Currently the Middle East is experiencing a boom in architecture and design of astonishing projects that are pushing the limits of engineering," says Kieve Pinto, executive director of Al Faris, one of the biggest crane owners in the region. Its fleet currently consists of over 800 mobile cranes and almost 70 crawlers. "The demand is to go bigger and bigger, in shorter timeframes. This typically requires larger and heavier cranes," he says. "We are continuing to invest and grow our fleet and capabilities and are beginning to tap into and experience a steady rise in heavy lift opportunities."
The region's preference for mobile cranes is well known, says Pinto; "but the crawler crane's strength and capacity makes it indispensible for the big lifting jobs, and it is the king of the heavy lifts.
"So there is a steady demand for crawlers of between 100t and 600t capacity, to serve both civil construction and the oil and gas industries. Heavier models above 600t are required in coal or gas-powered power plants, desalination, refineries petrochemical projects and nuclear plants. All-terrain cranes, being versatile and economical self-driven machines with short mobilization times, are used across manufacturing for lifting steel structures and components, in maintenance and repair work, in civil construction for lifting concrete slabs, and in logistics and shipping for lifting cargo. And given the region's general landscape with rough and often extreme job-site conditions it is not difficult to see why the rough-terrain crane is also high among local favourites."
Different countries have different construction priorities. "In Abu Dhabi we are focusing on the oil and gas sector, which is on-going." Perhaps unexpectedly, given that the region is synonymous with oil, is that the United Arab Emirates (UAE) is targeting a greener future, and is not alone in seeing an increased trend of investment in renewables.
A particular emphasis has been on solar projects: "We are working on a few solar park projects there," says Pinto. "We are also focusing on the renewables sector in the Middle East. Windfarms are being built in the region, and we have participated in that. Apart from constant investment in the utility and infrastructure sectors, there is renewed investment in the oil and gas sector in Abu Dhabi and the Northern Emirates. And Dubai continues to deeply invest and develop some of the most exciting projects seen, in line with Sheikh Mohammed's vision that reflects the strength of the economy and one that has successfully demonstrated the ability to grow steadily."
As witness its current focus on the ambitious, indeed extraordinary, World Expo 2020 project, which is providing opportunities for very many lifting companies in the region. "We have already done some heavy lifts at the site," says Pinto. "And by 2020 we will complete the transportation of around 250 wagons for the associated Dubai Metro Extension project." Not surprisingly, "projects such as these indicate a rise in demand for crane services."
Yousef Mousa, founder of Jordanian-based Yousef Mousa Cranes, has wide knowledge of the lifting market in that country. He founded his company in 1983 in Amman with two 20t cranes purchased from the UK. Its present fleet consists of nine mobile cranes ranging from 25t to 80t capacity. "We also run a fleet of Palfinger PK 27000 and PK 66000 cranes mounted on Mercedes trucks," he says. "And we have a fleet of telehandlers from JCB and from Manitou. They are in high demand at the moment on solar energy projects"—which in Jordan, as in the UAE, are a growth sector.
One of the most promising potential investments in renewable energy worldwide will be the installation of more than 250MW of concentrated solar power in Jordan's Ma'an development zone.
"At the moment the economic situation in Jordan is not very bright for the hire market. There are no new investors and no large projects that can use the large number of cranes that are available. The oil shale project is big, but its contractor has brought its own equipment from China. So prices for crane hire are low; since running costs are still high, this is having its effect on owners."
There are two notable largescale projects in Jordan at present. "One is run by the Arab Potash Company on the Dead Sea. The Dead Sea is the lowest point on the planet. Its water is salty, and is very relaxing for swimmers and bathers: there are many resorts for tourists along its coasts. Jordan had a large plant for extracting potash from its waters, and construction activities are continuously on-going, with many cranes of different types operated by both local and foreign contractors. The Arab Potash Company itself owns a fleet of cranes, the largest being a 250t Liebherr LTM1250-6.
"The other large project is the oil shale power plant at Attarat um Ghudran in central Jordan. Ours is a country with very poor mineral reserves. We are surrounded, of course, by immensely oil-rich countries but Jordan itself has none. Our only oil resource is oil shale, which is available in large quantities under our deserts." Indeed oil shale deposits underlie around 70% of the country. Now Jordan is building a large power plant to utilise it.
"The investors are from Estonia, and the contractors are GPEC from China," says Mousa. He adds that a large number of Chinese cranes are engaged on the construction work. "Our company normally carries out the tests and inspections of these cranes. We are full members of the LEEA, the Lifting Equipment Engineers Association of the UK, and are very active carrying out testing and examinations of lifting equipment throughout the country."
Tower cranes are the speciality of Abu Dhabi-based NFT. Indeed the company was founded 35 years ago as the region's first supplier of tower cranes. Since then, says deputy general manager Nagham al Zahlawi, it has become synonymous with Potain in the region, as that company's premier dealer worldwide, with partner offices in the UK, Belgium and Asia. In the Gulf Cooperation Council (GCC) region, which consists of Saudi Arabia, Kuwait, the United Arab Emirates, Qatar, Bahrain, and Oman, NFT has 20 depots and two main yards, and can supply models ranging from small self-erectors to luffers, flat-tops and hammerheads able to lift up to 80t. It also has a few crawlers available.
"We expect that demand for luffing tower cranes will continue to rise," says Al Zahlawi. "NFT plans to replace most of its luffing cranes in the UK with hydraulic cranes. This decision will allow us to increase our luffer fleet in the GCC, where luffers are becoming more and more popular. Potain's biggest topless crane is the MDT 809, introduced at Bauma. NFT has already purchased a few for its 2020 fleet, along with more self-erecting tower cranes. Indeed we see a higher demand for self-erectors in the region as a substitute for mobile and telehandlers, as their quick set-up and low operating costs make them ideal for low-rise construction.
"Key sources of demand certainly vary from country to country within the region. In KSA (Kingdom of Saudi Arabia), the focus is on residential projects. In UAE, it is a mixture of infrastructure and commercial construction with some residential. Qatar is emphasising commercial and infrastructure projects. In Kuwait, it is mainly government supported construction like airports and hospitals.
"We have supplied several megaprojects in the region. In Abu Dhabi NFT has 16 tower cranes working on a residential development on Yas Island. Our largest project in Dubai is the Meydan One, where 20 tower cranes are standing to build a gigantic mall. In Ras al Khema in UAE we have three MCT 205 tower cranes working on the Movenpick Resort Hotel and Hampton by Hilton. The Riyadh Metro is our most prominent project in Saudi Arabia, with 26 tower cranes spread across various stations and working with multiple contractors. Five of our Potain cranes are working at the Al Marassi Podium in Bahrain, and we are working on at least three large prestige projects in Kuwait. The International airport, with 26 tower cranes working, is one of them."
Kuwait International new terminal 2 project is envisioned to increase the capacity of Kuwait International Airport (Kia) and develop it into a new regional air hub in the Gulf. The new state-of- the-art terminal will be constructed in phases. While the first phase will add a capacity of 13 million passengers a year, the subsequent phases will enhance the capacity to between 25 million and 50 million passengers a year.
This $4.3bn construction contract was awarded to Limak Construction in a single package. The project is started in May 2017 and according to the project's timeframe, T2 is due for an overall completion and full operation by 2023.
Integrated Logistics is supporting Limak and its subcontractors, by supplying numerous heavy lift cranes, hydraulic modular trailers and other construction equipment.
Exclusively for this project, Integrated supplies around ten Demag crawler cranes, with capacities ranging from 400t to 1250t. It also supplies around 40 all terrain cranes from 100t to 350t, from Demag and Manitowoc brands. Apart from that, Integrated supplies 500t to 1,200t all-terrain cranes for short-term periods in on call basis.
The company's ten units of rough terrain cranes with capacity ranges from 50t to 80t and several 60t truck cranes also participate in this project for their specific requirements.
In-addition, Integrated's self-driving hydraulic modular Goldhofer trailers PST-SL-E & PSTES are also engaged in this project for transporting precast concrete and trusses throughout the site.
Belgian heavy lift and heavy transport company Aertssen opened their first office in Abu Dhabi ten years ago, and in March 2019 opened a new headquarters there. "Abu Dhabi is the most convenient place to be in the region," says Tony Nuyts, their general manager. "And we can cover the rest of the Middle East from here."
Since that first office opened Aertssen has worked, among other things, on placing foundation frames for offshore modules in Abu Dhabi; expansion work at Muscat international airport (see box, page 42) and a new terminal at Abu Dhabi airport.
"The Middle East generally is not booming in the way that it was a few years ago," says Nuyts. "The market is challenging. But there are projects in the air and I think they will come to fruition and we will hear from them all in the end."
The sheer scale and audacity of many Middle Eastern projects demands scale and audacity in lifting contractors. It is no place for the faint-hearted, but the rewards may be great.