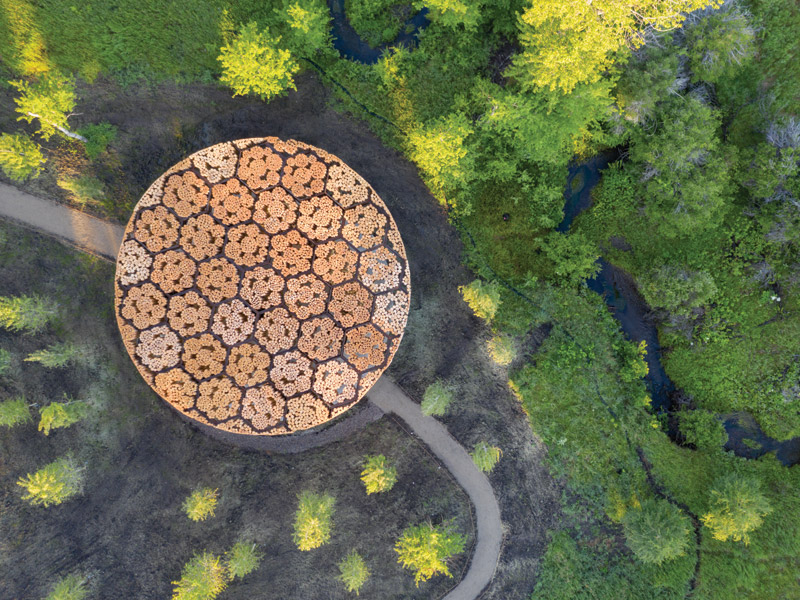 Words by Francesca Perry
Cows outnumber people in Montana. This fact is abundantly evident at Tippet Rise, an art centre on a 12,000-acre working ranch in the south-west corner of the US state, where you'll find 35 staff — and over 1000 cows. The landscape here is of a scale hard to comprehend, at least to Brits. You can walk for hours and not see a soul, a road, a house. Mountains line the horizon; the sun beats down on gently undulating canyons; a ceaseless chorus of crickets pervades the air. Everything is how it has looked for thousands, if not millions, of years. I can't work out if I'm at the end of the world or its very heart.
Tippet Rise opened in 2016, conceived by founders Peter and Cathy Halstead as a place for music and art engaged in the landscape. Inspired by sculpture parks and outdoor concert venues in rural landscapes they had visited over decades, such as Snape Maltings in the UK and Storm King Art Center in the US, a 'dream' vision developed to create the kind of place that had long inspired them. 'We wanted to share that experience in a place where land is so powerful,' explains Cathy, a painter, on a hot August afternoon at Tippet Rise. 'We wanted people to "feel" sculpture and "feel" music the way they wouldn't in the city,' adds Peter, both a pianist and poet.
Xylem-FKA2.jpg" style="width: 700px; height: 478px;" />Cows sit in the shade of Ensamble Studio's Inverted Portal (2016), one of Tippet Rise's artworks, with the Beartooth Mountains Behind
The couple's search around Colorado, where they live, turned out fruitless; they couldn't quite find the expanse they desired. So they went up to Montana — known as Big Sky Country — and from 2010 started purchasing parcels of land encompassing a ranch on the edge of the Absaroka-Beartooth Wildnerness, and working on a masterplan with Alban Bassuet and Raj Patel of Arup, to make their vision a reality.
Tippet Rise is open to the public on summer weekends (Montana winters are brutal), with a programme of classical music performances that changes each year. It is decidedly accessible: concert tickets cost only $10 (£8.30), but are free to those aged 21 and under. The main hub of the art centre consists of a 225-capacity concert venue within a barn — The Olivier Music Barn — with another barn for dining (Will's Shed), as well as a 100-capacity outdoor performance/talks venue named the Tiara Acoustic Shell. Then there are eight sculptural installations positioned across the ranch — some of which get used for occasional pop-up musical performances.
The Olivier Music Barn (left) and Will's Shed (right), with residences behind — all designed by Gunnstock Timber Frames. Photo: Erik Petersen
The barns and outdoor performance venue — designed by Laura Viklund and Chris Gunn of Wyoming-based Gunnstock Timber Frames in collaboration with Arup — form the central campus of the centre, clustered together. To this cluster a new structure for visitors has been added this summer: Xylem, a 195 sq m wooden pavilion for rest, reflection and gathering, designed by Francis Kéré and his practice, Kéré Architecture.
Xylem is found by descending a path from the barns into a grove of young aspen trees, beside a stream which provides an ongoing peaceful soundtrack. The low, circular pavilion is made from grouped bundles of stripped, slender trunks of dead lodgepole and ponderosa pine — native to the Mountain West region and sourced sustainably from Montana and local states. The structure is top-heavy, dominated by its distinctive roof, held up by seven columns creating a sheltered, shaded space below. On top, the roof gently undulates, echoing the landscape. But its underside is the showstopper: multiple circular bundles of pine trunks — of different diameters and lengths — are grouped together, placed at varying heights to create a dazzling, rich and diverse topography.
A magical, climbable forest: Xylem harnesses pine trunks to spectacular effect. Photo: Iwan Baan
The pine pavilion appears as a natural yet striking thing, in the same way a unique rock formation might be. There is an element of fairytale to it; a magical realisation of natural elements. It makes you feel upon entering as if you are in an upside-down world; a common response from visitors, myself included, is to lie down and stare up at the roof — longing to climb across it. This wonder-inducing roof structure was conceived by Kéré as a kind of forest canopy; much like a canopy, small rays of sunlight penetrate through at random intervals, between the bundles.
The seven columns descend from the roof to the poured concrete base; around them cling five seating modules, consisting of grouped and carved pine trunks and forming organic shapes. Not immediately visible beneath the sea of pine, a skeleton of corten steel, engineered by AECOM, holds the entire structure together; it forms a hexagonal lattice across the roof within which the circular wooden bundles are pinned (within each hexagonal opening is a 2.7m-diameter bundle of bundles), and it descends down through the columns.
Xylem as seen from the nearby stream, which provides a peaceful soundtrack to the visitor experience. Photo: Iwan Baan
Xylem is completely Kéré in spirit. The Burkina Faso-born, Berlin-based architect comes back again and again to the role of the tree in shelter and community, harnessing simple, almost ancient methods of architecture and making them come alive through delightful and immersive new design interpretations. Like his 2017 Serpentine Pavilion in London, also wooden, Xylem is designed as a space for people to come together; but it is also intended as a space for ranch visitors — usually immersed in the endless, scorching, wide-open landscape — to find a more intimate and sheltered space to rest, reflect and connect to nature in peace and shade.
The name Xylem refers to the vascular tissue in plant stems which conducts water and nutrients upwards from the roots. 'The canopy and the seating elements are a symbol for this transfer of nutrition from the bottom to top,' explains Kéré. 'The connection of seats and roof represents that of root and canopy. Not in a spiritual sense, but rather in one of nurture. The dead wood is still alive through this connection with the human being, which keeps everything alive. The human energy is giving the tree new life; the usage of human beings thus awakens the tree to new life.' Peter Halstead echoes this sentiment, saying of the pavilion visitor: 'You're being the xylem, the conduit through which the earth connects to the sky.'
Xylem in the Tippet Rise landscape, with the Tiara Acoustic Shell behind it. Photo: Iwan Baan
Despite the role of music at Tippet Rise, the pavilion was not deliberately designed as a space for musical performance; saying that, the odd 'pop-up' recital does take place within its sheltered space. But it has another relationship with music, whether intentional or not. I always thought it meaninglessly abstract when people described architecture as music, yet finally here I feel the sense of that. Looking at the pavilion produces the visual sense that one might get aurally through hearing a wind chime: a polyphony of gentle and varying tones. In physical form, too, the roof recalls a sea of panpipes. Kéré admits music informed the design through the influence of the client: 'Peter is a composer and he is promoting music — spending time with [the Halsteads] has fed the design in so many ways. Their artistry, passion, poetry, music and deep support of the arts has given a lot to the design.'
Peter and Cathy approached Kéré after discovering his Canopy pavilion for the AFRICA: Architecture, Culture and Identity exhibition (2015) at the Louisiana Museum of Modern Art in Denmark, one of their favourite institutions. 'It was so striking,' says Cathy, 'just this feeling of wood, so natural, a beautiful gathering place… it felt like Tippet Rise for us.' Despite the fact Canopy was an interior installation, it's easy to see it as a direct starting point for Xylem, the design of which draws heavily on its concept. 'The Halsteads were impressed by the Louisiana installation in terms of material approach, in terms of the relation to nature and they asked me to think about this and create something for their own collection,' says Kéré. 'So the Louisiana installation has been a sort of starting point as it was our connection.'
Domo (2016) by Ensamble Studio, as seen in the landscape. Photo: Iwan Baan
The Halsteads invited Kéré to Montana in the summer of 2017 to experience Tippet Rise and develop the idea. 'We felt an immediate kinship with Francis,' says Cathy, explaining that the couple was so inspired by what the architect was doing in his hometown of Gando — Kéré built a primary school for the community that won the 2004 Aga Khan Award for Architecture — that they offered to help fund a 1000-student secondary school there alongside the commission for Tippet Rise. That school, the Naaba Belem Goumma Secondary School, is due to complete in early 2020 but already has two buildings open that are used by 300 students. 'Cathy and Peter said, you know, you are supporting us to create a structure for our community in Montana in the US, we want to support you to create another structure in your own village so the two may be connected and more value is added to the project,' says Kéré. 'A strong link is thus created between these two spaces adding a sense of connection of spaces far apart.'
Beartooth Portal (2015) by Ensamble Studio. Photo: Iwan Baan
Kéré's initial visit to Tippet Rise catalysed the development of Xylem. 'I was impressed by the monumentality of the landscape, the climate,' he says. 'But also by the material availability, which was wood from dead forest. So this was aligned with my own philosophy of checking what is most available in a given site.'
Kéré collaborated with Laura Viklund and Chris Gunn of Gunnstock Timber Frames on the pavilion. Viklund and Gunn spent time with Kéré on his first visit to Tippet Rise, 'talking about the work we had already completed at Tippet Rise, the craft of working with wood and his ongoing projects in Gando,' says Viklund. 'We drove around the ranch and the area looking at the landscape and the burnt remains from wildfires and discussed ways one could utilise what may normally be considered a lost material after a fire.'
The concrete sculptural installations by Ensamble Studio were cast from the land at Tippet Rise. Photo: Iwan Baan
In spring 2018, a multi-day design charette was held at Tippet Rise, in which Kéré collaborated with Aecom, Gunnstock Timber Frames and local structural engineering firm DCI on the refinement of the design and construction strategy. 'Soon after that, we were able to start acquiring the logs that fit our criteria and begin the long process of peeling every one of them before fabrication started,' says Viklund. This took place at the Gunnstock Timber Frames workshop in Wyoming over winter and the pavilion was installed during spring of this year, before opening in July.
Xylem aims to complement Viklund and Gunn's adjacent architecture and, like those buildings, relate strongly to the landscape. The Olivier Music Barn and Will's Shed focus on vernacular timber barn construction reinterpreted for contemporary usage, with corten steel elements. Viklund says she hopes they 'help visitors get their bearings for what they are about to experience. I hope [the visitors] feel a comforting familiarity with the forms and materials being not alien, but a part of the Montana vernacular. I hope in the exposed timber frame structures they experience an expression of craft befitting the artists who inhabit the ranch, and I hope they always maintain their connection to the land, which is as large a player in the Tippet Rise experience as any sculptor or musician.'
Two Discs by Alexander Calder (1965), on loan from the Smithsonian's Hirshhorn Museum. Image Credit: Andre Costantini / 2018 Calder Foundation, New York / Artists Rights Society (Ars), New York
And this land at Tippet Rise goes far, far beyond the central visitor campus. One can hike, bike or drive across the 12,000 acres, amid the wandering herds of cows or sheep, visiting the sculptural installations carefully placed across the expansive landscape. While some sculptures were brought ready-made to the ranch — such as the on-loan Two Discs by Alexander Calder (1965) or the two large-scale, steel sculptures by Mark di Suvero, Proverb (2002) and Beethoven's Quartet (2003) — the rest have been specially commissioned and developed through artist residencies at Tippet Rise.
On a hillside in the northern corner of the ranch, one finds Satellite #5: Pioneer (2016), by American artist Stephen Talasnik, a geometrical structure of yellow cedar and steel over 10m tall but nevertheless dwarfed by its landscape. Developed from maquettes inspired by the 1973 space-probe project, the work appears almost like a giant grasshopper sitting on the land in summer, and apparently in the snowy winter resembles a spacecraft roaming a lunar landscape.
Stephen Talasnik's yellow cedar and steel sculpture, Satellite #5: Pioneer (2016). Photo: Iwan Baan
Daydreams, by American sculptor Patrick Dougherty (2015), is an interactive sculpture which combines a replica frontier-period schoolhouse structure with a series of woven willow cocoons to create what appears as an abandoned building taken over by forces wavering between natural and supernatural.
Then there are three spectacular, concrete, architectural sculptural installations from Madrid-based Ensamble Studio: Beartooth Portal (2015), Inverted Portal (2016) and Domo (2016). Commissioned by the Halsteads to create a series of gateways and shelters as a 'narrative of the landscape', the structures sit high up overlooking the Beartooth Mountains on the horizon. Each is cast from the land at Tippet Rise — the studio dug holes out of the ground, lined them in plastic, cast the spaces and then raised up the concrete structures to sit or perch on top of the land.
Next for Tippet Rise is the building of a library, which the Halsteads envisage as spread across a cluster of barns or cabins; they describe it as a 'land library'. Books, like art, like music, like architecture, are important to them. 'Everything we're doing here at Tippet Rise is really poetry,' Peter muses. 'We're going beyond music, sculpture, landscape… it's about the metaphor or emotion behind things.'
All images courtesy of Tippet Rise Art Center