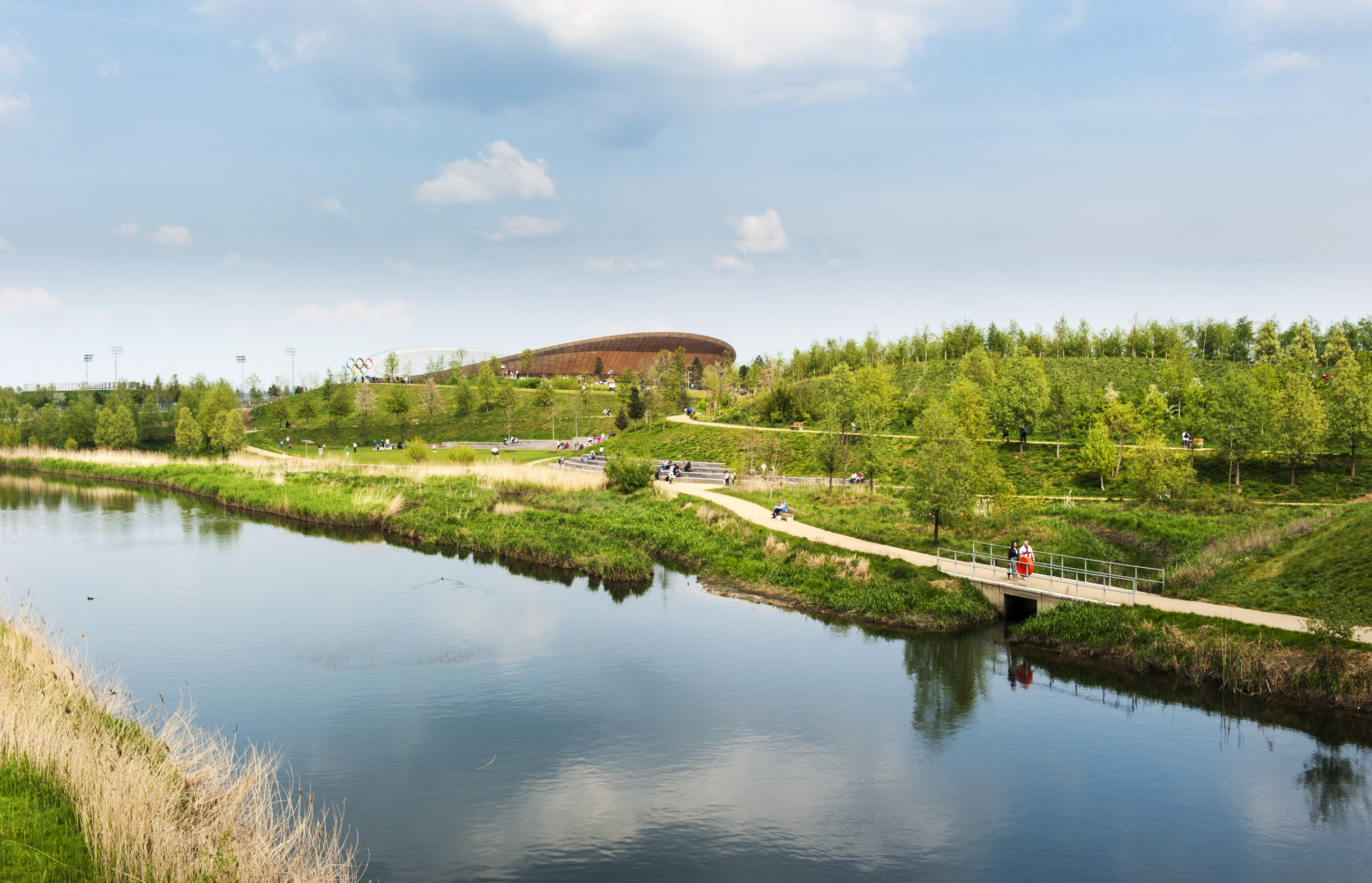 In response to many drainage systems being overloaded, the impact of climate change and the increased risk of floods, Atkins has created a toolkit that helps identify the locations where sustainable drainage systems (SuDS) can be implemented.
The SuDS Studio toolkit is a software that recognises opportunities across large geographical areas where SuDS — porous pavements, green roofs, grass swales, rain gardens, ponds, bioretention areas, and more — are feasible. Created four years ago, the toolkit was first used in a Blackpool City Council project.
Zorica Todorovic, Atkins' associate director who led the creation of the SuDS Studio toolkit, says: "We developed this unique geospatial tool that integrates years of our experience in traditional planning and engineering with our cutting edge geospatial modelling capabilities.
"SuDS Studio enables a rapid screening and identification of opportunities to implement SuDS across large areas like cities or entire regions. It enables planners and regulators to get a better understanding of the opportunities and benefits of implementing SuDS in different locations which could serve to inform [their] surface water management and other spatial policies."
She adds: "We are looking at different land uses — buildings, public spaces, the squares, the car parks, the roads and open spaces, so the tool can assess what is possible: for example where is possible to put rain gardens, filter drains, where is possible to put porous pavement, or where it is feasible to put ponds. It also gives you information on how much storm water they store in each location and how they could link together to provide green corridors through the city and integrate SuDS into blue green infrastructure."
The colour-coded maps not only display those opportunities, but also present the most suitable SuDS for that location according to criteria and parameters that reflect current best practice and guidance.
"It takes a number of different criteria and spatial parameters to assess what is possible for each building, each car park, each road and each open space," says Todorovic.
Companies can now do a rapid assessment of opportunities and constraints in implementing SuDS, a process that would otherwise take a great deal of time.
Todorovic says: "With this tool we are moving into a new digital era, where such tools would replace a number of months, if not years, of manual assessment. This will ensure not only consistent approach to the assessment of different solutions but also optimisation of their use across large areas."
The toolkit also evaluates how much water can be removed from the existing drainage systems when using SuDS and what are the most cost-effective options for a particular location, considering the great number of physical constraints within the city or region.
"There is a strong shift towards a new way of thinking in managing surface water for future. SuDS implementation is all about achieving multiple benefits and requires different stakeholders working in partnerships. With this tool we are not just looking at where surface water could be removed but how to maximise other benefits at the same time, like how to improve the water or air quality, reduce noise or heat island effects and improve biodiversity and amenity," says Todorovic.
This approach, explains Todorovic, enables the creation of integrated and informed urban planning policies that bring together multiple stakeholders and reduce costs: "The use of the tool supports this new way of thinking as it considers which of all the feasible SuDS opportunities is the most cost-effective, the one that takes maximum water for a minimum cost and the one that would maximise multiple benefits which would help unlock partnership funding for its implementation," says Todorovic.
The toolkit has been used by the Greater London Authority and water companies — Welsh Water, Anglian Water and Thames Water — in a number of projects across the UK.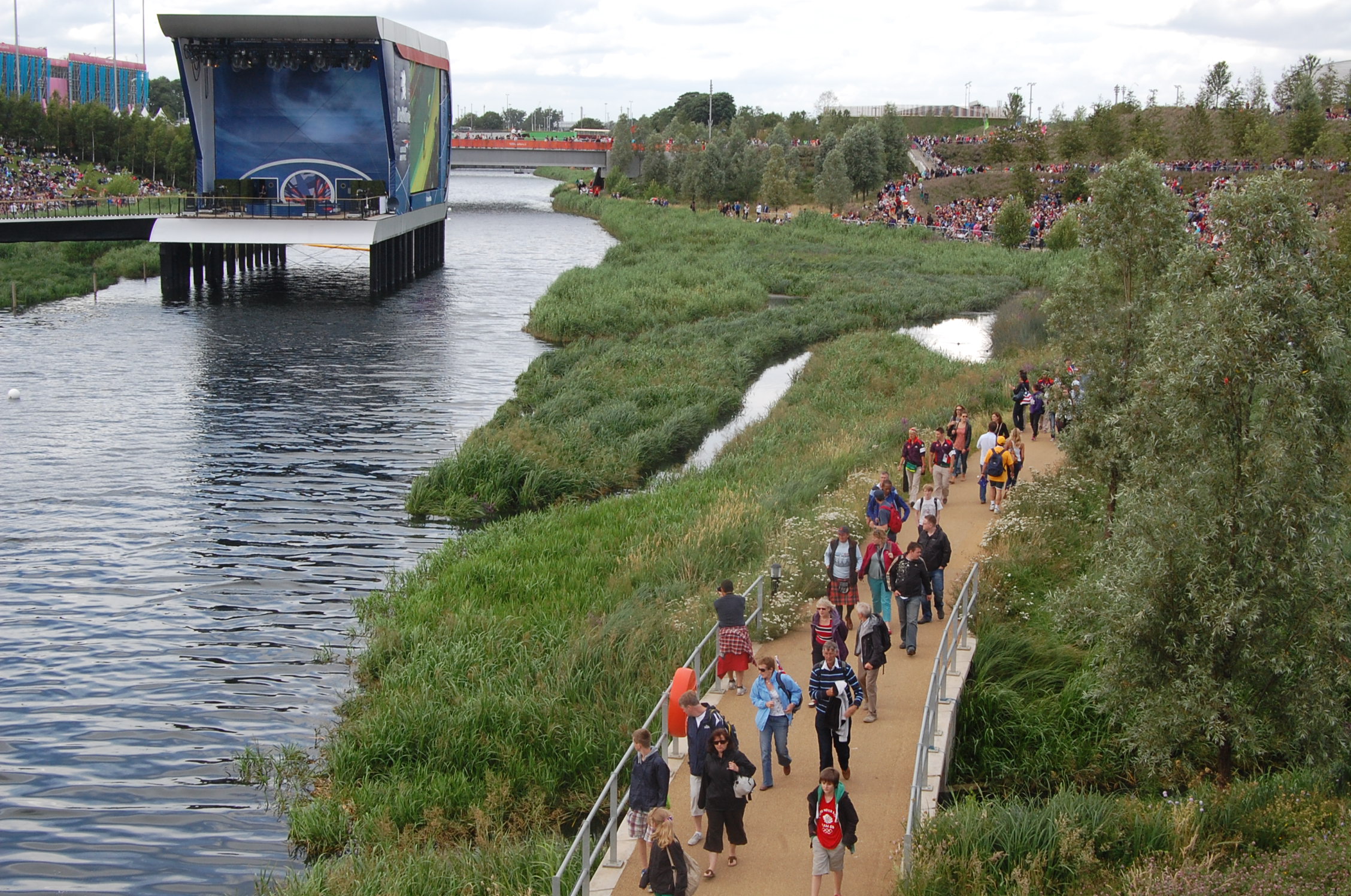 The Queen Elizabeth Olympic Park wetland channels receive flow from the wider SuDS drainage system.
Andy Bird, Anglian Water lead infrastructure planner, says: "SuDS offer us the prospect to do things differently than we have in the past when managing surface water run-off from urban areas. Traditional methods of improving drainage systems are now being supplemented or replaced with SuDS, and the SuDS studio results will give us a better understanding of the surface water removal potential for the entire Anglian Water region. This will allow us to undertake long term strategy planning, and look at opportunities for mitigating the future demands of growth, climate change and catchment creep together with reducing flood risk, energy usage and improving water quality.
"The data is now being incorporated and utilised by our scheme delivery teams to look for surface water removal opportunities for a number of new projects. It is also hugely important that we work closely with our other flood risk partners, including lead local flood authorities and district councils – we will be sharing the opportunities highlighted by SuDS studio with these partners to enable the delivery of partnership funded opportunities."
The toolkit has been also used in Sweden and Ireland, and is in the process of being implemented in the US and as Todorovic says: "City planners and communities are acutely verifying the environmental problems that cities are facing and the benefits that green infrastructure brings to enable growth and resilience."
Twenty 4 Twenty project
The SuDS Studio toolkit is being used in the Thames Water's Twenty 4 Twenty initiative in the UK.
The initiative is set to transform 20ha of hard, impermeable surfaces — an area equivalent to 30 football pitches — into sustainable drainage projects, in order to slow down rain water before it enters the sewers or to let it drain away naturally into the ground.
By removing the pressure from the sewer network, the risk of sewer flooding and pollution following heavy rainfall will be reduced.
Some of the SuDS being implemented as part of the project include rain gardens, natural drainage areas and permeable paving.
"We work really hard to make sure our sewers are as empty as possible whenever heavy rain is expected but it's important we also look at how to reduce surface water getting into them in the first place," said Thames Water's director Richard Aylard at the launch of London's Sustainable Drainage Action Plan in 2015.
He added: "We've set aside £20M to help support new and exciting sustainable drainage projects across our patch over the next five years. Our aim is to help create at least 20ha of green infrastructure to capture rainwater by 2020."
The toolkit, according to Todorovic, has been utilised in this initiative to identify the opportunities to take surface water from the impervious areas into SuDS and reduce the inflow in the combined sewers.
Thames Water's strategic planning manager Kyle Robins says: "Urbanisation and the loss of green space is putting pressure on our sewerage network when it rains heavily, increasing the risk of sewer flooding in homes. Climate change will make this problem more acute unless action is taken.
"Working with the GLA (Greater London Authority), the SuDS studio has increased our understanding of the risk of flooding in London in the future, and the key role SuDS might play in reducing this. Most importantly, the tool has helped us to identify the sort of techniques that could be used in some of London's major development areas, such as Old Oak Common."
<iframe src="https://tds.gd/c/9C945RV/chart/" style="width:500px;height:350px;border:0;" frameborder="0″ scrolling="no"></iframe>
* Data provided by Timetric's Construction Intelligence Center.