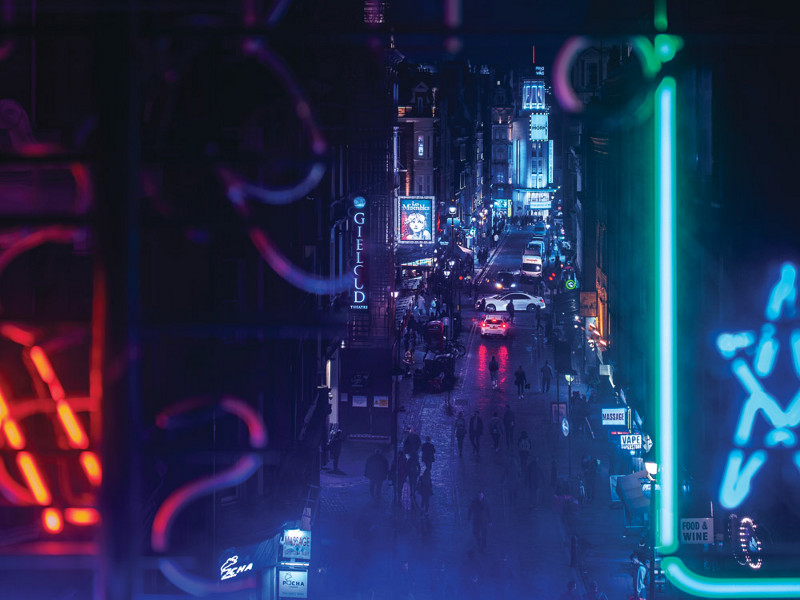 Words by Herbert Wright
Many lament the loss of past Soho, long the round-the-clock bastion of theatrical spirits, glamour, punters, chancers and gangsters. It was London's daring and dirty soul, splashed with neon, a place where stairs descended to lairs of bohemian boozing or cellars full of music, and ascended to sex for sale behind lace curtains. But this century, gentrification has accelerated as boutique hotels, trendy restaurants and exclusive members' clubs have moved into its dense urban fabric, pricing out old caffs, independent traders and local residents. A major new development resists the tide of commercial homogenisation, though, and it's right at the spot where Soho's sins glowed brightest.
Beside a narrow alley called Walker's Court, a high-up neon sign some seven metres across and half as high shines the words RAYMOND REVUEBAR out into the West End. Below these letters, four layers of coloured neon animate a dancing woman with huge feathers. This is the same sign that was created with 2.5km of neon tubing by artist Dick Bracey in 1958, the year that Paul Raymond — an entrepreneur who would become a glamour magazine publishing mogul — opened his legendary burlesque and striptease establishment below.
Looking through the restored Revuebar neon sign from inside the main new building. Image credit: Liam Wong
The venue eventually closed in 2004, but the neon sign has been remounted just where it once was, having been restored by Bracey's son and grandson at the family's neon emporium God's Own Junkyard in Walthamstow. What's different is the new building behind it. Above ground-floor retail and below a recessed fourth floor, it is a box wrapped in a brick lattice, through which a wall of LEDs glows softly with colour. The Brewer Street facade is penetrated by a single window, exactly behind the neon sign.
This volume is just part of the 4,600 sq m Walker's Court mixed-use scheme designed by Clerkenwell-based SODA Studio, replacing a number of unlisted buildings and extending along Brewer Street on its south side, up both sides of the full length of the alley, and includes the brand new Boulevard Theatre, which is entered from Peter Street on the north. Remarkably, the alley itself still includes older structures, including a couple of Georgian terrace houses, home to a tattooist and two sex shops.
The sign shines out across Brewer Street, mounted on the new volume created by SODA Studio. Image credit: Jack Hobhouse
On the other side lies the retained space which was once home to the Revuebar and now hosts The Box, licensed by Westminster City Council as a 'Sexual Entertainment Venue'. It offers burlesque known for probing the outer limits of risqué and has operated continuously despite construction completely enveloping it. The whole Walker's Court project has been an 'incredibly complicated job, working over and under existing elements', says Russell Potter, director of SODA Studio.
There's a lot of Soho in the portfolio of SODA, from a pub (the Ape & Bird, 2013) and a restaurant (Polpetto, 2014) to the Kettner's Townhouse project (2018) covering an entire block of Georgian townhouses. Much of that is down to the studio's relationship with Soho Estates, developers of Walker's Court, for whom SODA even redesigned the brand graphic.
The Boulevard Theatre's bar stools line up beside the windows looking out through perforated metal on to Walker's Court. Image credit: Jack Hobhouse
The property company was established by Paul Raymond, who died in 2008. His granddaughter Fawn James has been a hands-on director since 2004. In 2010, SODA was working on a scheme for the historic townhouse at 76 Dean Street (now the Soho House members' club), which had been gutted by fire. Potter heard at a party that Soho Estates had bought the property. 'On Monday I looked them up, rang them and asked if they needed an architect,' recalls Potter. 'Luckily they said yes!'
In 2013, a scheme to redevelop Walker's Court into a theatre, offices, retail and residential, designed jointly by SODA and MATT Architecture, gained planning permission — but the plans kept growing and SODA alone took them forward. The theatre is new but its roots are old. The Raymond Revuebar had included a small second stage that was later separated and called Elle et Lui. After it was renamed the Boulevard Theatre in the late 1970s, it hosted drama. Alternative comedy collective Comic Strip launched themselves on the world there around 1980, and Eddie Izzard hosted nights there; the venue shut, however, in the early Nineties. James, a trustee of other theatres in the area, wanted the Boulevard Theatre name revived. Walker's Court went on site in 2015 and although works continue, most has been completed in 2019 and the new Boulevard Theatre opened in October.
The theatre bulges out into the narrow alleyway of Walker's Court. Image credit: Jack Hobhouse
The alley is entered from Brewer Street between a listed 1750s corner building with an adult shop, and the new lattice brick volume on its eastern side at No 10. The alley is spanned by a pre-war stone bridge marked Maurice House, almost Soho's answer to Venice's Bridge of Sighs. This bridge was going to be replaced with a new double-decker version in the initial plan, but has survived, with a new level added above, glazed above brickwork laid with breakout side-on bricks.
Recessed almost under this bridge is the same wooden door that once led to the Revuebar and now serves The Box. The newbuild then starts its run on the west side. It is dominated by a white-tiled curving cylindrical form, rising through the second and third floors. This bulge, as we shall see, marks the Boulevard Theatre. It cantilevers out just 1.5m, but over a narrow alley, that's a lot. At the first floor, its base is an open structure of horizontal metallic arcs like the lines of latitude of a southern hemispherical surface. The bulge lies approximately halfway between the old bridge and a new, entirely glazed two-level bridge spanning the alley just before its northern end.
Walker's Court cuts between the two new brick volumes of the Boulevard Theatre, as seen from Peter Street. Image credit: Jack Hobhouse
There is variety in the surfaces of this north–south passage. We have already seen the permeable lattice brickwork at the southern end, but on the west side, facing the sex shops, facades vary between bricks that are rough, regular glazed, and glazed with a mother-of-pearl-like finish. Original plot widths were restored by the changes in brick. Retail is at ground floor, but there are also exits, and above, window apertures screened with metal perforated with a field of laser-cut lace-like motifs. These and the base of the cantilever have surfaces of subtly sparkling gold-hued metal. The effect was made by metalworkers Littlehampton Welding who shot hot flecks of zinc and copper at steel plate.
There is a sensual use of materials in the interior, including lace and leather. Image credit: Jack Hobhouse
The alley breaks out into Peter Street, and Berwick Street continues its alignment north. Looking back from there, Walker's Court presents different brick volumes on each side of the glass bridge. In one, a 6m-high window which folds around the corner reveals a staircase, while in the other is the entrance to the Boulevard Theatre. It is marked by signage in which the 'o' in 'Boulevard' has a gap, which alludes to keyholes, referencing Soho's peep shows. This is part of SODA's branding for the theatre, which also includes a big letter B with a small bite missing on the curved glass corner outside and doors inside, like an apple that has tempted someone.
Suspended steel stairs in the theatre complex, with bespoke leather railings. Image credit: Jack Hobhouse
Inside, the box office desk is tight but stylish, curves of golden metal under a blue ceiling giving it a contemporary deco feel. Enclosed stairs lead upwards, and on the first floor you turn into the all-glass bridge. Crossing to the west side past views over Walker's Court like you never saw before, you are now in the theatre foyer in that doubleheight glass box. A remarkable staircase rises inside it, to access the stalls and circle levels above. Made of 25mm-thick rolled steel and suspended, it needed a lot of testing to eliminate any wobbling — as Potter says, they didn't want to 'get the Millennium Bridge effect'. The balustrade is topped by a hand-stitched leather rail, sensual to touch, thus strangely appropriate to Soho.
The bar at the Boulevard Theatre. Image credit: Jack Hobhouse
Beside the stairs is the first-floor corridor, leading to the bar and restaurant, where the feel is again contemporary art deco, here accentuated with globe lamps around the pink walls. Potter comments that 'we wanted a feeling of decadence'. Bar seating runs along the wall above the alley, and its traffic can be watched through those golden horizontal curved elements beyond the window. A particularly subtle feature is that the edge of the bar counter is cut to profile a B for Boulevard.
Upstairs is the Boulevard Theatre itself, which SODA worked on with theatre design consultancy Charcoal Blue. The dark blue auditorium is structured around a circular stage, whose circumference actually arcs into the cantilever over the alley. There are eight windows in the bay it creates, an odd feature for a theatre, but they have screens which can be automatically lowered. The extra horizontal spread enabled 30% more capacity, up to 168. 'A block box was not possible,' says Potter.
When the theatre's circular stage floor is clear, an amphitheatrical configuration is possible. Image credit: Tom Lee
The stage floor can be turned by four motors to revolve like a turntable, and it is also divided into eight strips which can be individually lowered, enabling a catwalk across the circle, for example. The complex mechanics were installed by TAIT UK. There is a technical ceiling, but there was no room for a flytower. The thirdstorey circle balcony is hung from steel lines and has just two rows of seating. It can be accessed at the higher level of the all-glass bridge, the floor of which has lace sandwiched between two sheets of glass, referencing the lace curtains familiar to the area's older establishments.
All leather-upholstered theatre seats are bespoke, designed by SODA with with Race Furniture. Image credit: Jack Hobhouse
The theatre has four types of leather-upholstered seats, on which SODA worked with Race Furniture of Gloucestershire. They range from flip-up seating on the balcony to deployable seats which can be stacked horizontally; all are upholstered with the same leather as the balustrade rails. From the theatre, backstairs lead to the fourth floor, which includes two dressing rooms. They have desks designed by SODA with Wooden Horse Joinery which have opening lids like school desks, revealing mirrors with strips of light for making up. Moving north across the floor, which is stepped back from the alley, we enter offices which float in the Soho roofscapes, and include a small brick-walled terrace balcony looking north.
Dressing room make-up stations open like old school desks. Image credit: Jack Hobhouse
The third-floor glazed passage above the Maurice House bridge brings you back to the east side, and what will be offices. They lie behind the Revuebar neon sign, and finding yourself standing on the other side of it is enough to make you whistle. This is maximum Soho. By day, you can see the Prince of Wales Theatre all the way down Rupert Street just fine, except you're seeing it through those tubes of light. By night it's a wall of ritzy moving light that makes today's neon script artworks look fey by comparison.
The office has an upper floor, recessed above Brewer Street, and running east above it. The fit-out should be ready soon, and a sculptural staircase is going in. Potter reckons it's prime for renting to the film industry. East of the lattice brick volume, the site continues with three different narrow facades — of two restored buildings and one newbuild — along Brewer Street.
The new 'B' logo marks the entrance to the theatre. Image credit: Jack Hobhouse
The one beside the brick-lattice block, No 8, housed the entrance to Jack Isow's downstairs dive, the Jack of Hearts, which later became Madame Jojo's, a club with a dim velvet glamour and a theatrical stage. That has gone but Potter promises it will be 'back in some shape or form'. The space has already been expanded with a dig 6m deeper down, in which the only thing that archeologists found was a cat skeleton. The old drains, on the other hand, rendered a rich harvest of dumped drugs and handbags. Outside, there was a surprising reveal when knackered Seventies signage and awning were stripped away — a blocky, almost industrial 1929 facade with every floor different. It is now restored and uplights mounted on it.
The easternmost facade of 4 Brewer Street is Edwardian-style, also restored. Next door at No 6, a new five-storey brick building with Portland Stone panels between timber-framed windows manages to successfully reference the old facades either side. There are new rental flats on the first, second and third floors, each running behind two facades. The brief was that the sort who would rent in Soho would want 'big windows, a big bed and a small kitchen', reports Potter. They are fitted out by SODA.
Windows in the bulging volume overlooking Walker's Court can be shielded by screens. Image credit: Jack Hobhouse
We need architecture like Walker's Court because it brings magic instead of bland and brands. The Boulevard Theatre restores this particular spot's history of theatrical glamour, but with new forms. The project has a wider approach to its Soho context than just function. The townscape has always been a jumble, just like this scheme. Soho has a fine urban grain, and the facades pick up on it. And then there has been the pleasures of the place. 'If you can't have fun in Soho,' asks Potter, 'where can you have fun?' The design packs plenty of pleasure in its window reveal, its textures, and more. This scheme doesn't obliterate Soho's evaporating naughtiness, but references it in subtle design details — letters, lace — and (thanks to leases outside Soho Estates) literally incorporates whole chunks, unfiltered.
The Revuebar neon sign shines just like it did in 1958. Image credit: Jack Hobhouse
But what stops you dead in your tracks is that headline feature on Brewer Street, the Raymond Revuebar neon. You may see it in a puddle, or maybe playing on the distant facades from down the street. Close up, it's as if a glowing portal just opened on the kind of downtown desires you don't get through a drawing board. Whichever way it's visible, you won't miss that sign. It's more than an electric monument to Soho's past. It's switched on and alive. Just like the whole project behind it.
This article was originally published in Blueprint issue 367. You can buy a copy online here, or subscribe to Blueprint