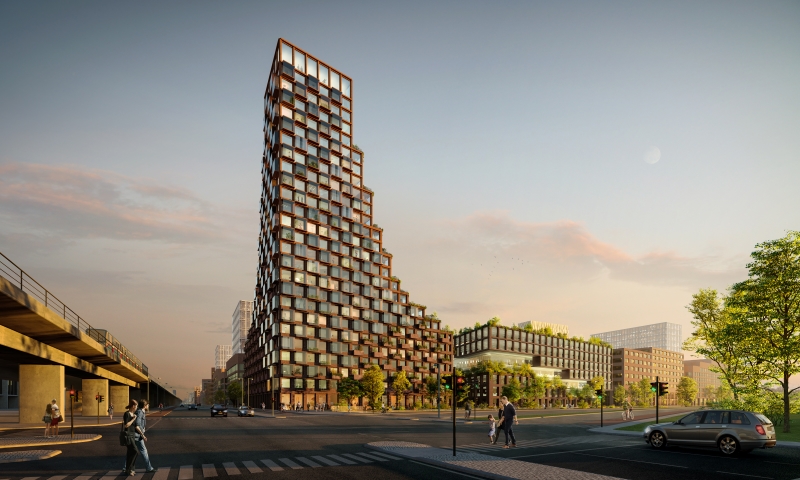 Earlier this year the UN's General Assembly warned that in 11 years' time the damage from climate change would be irreversible. An international approach was called for as was change to patterns of consumption.
According to the United Nations Environment Programme Sustainable Buildings and Climate Initiative, the building sector accounts for around 40% of energy consumption each year and up to 30% of all energy-related greenhouse gas emissions. Building sustainably is considered essential to combating the rapid rate of urbanisation.
"The responsibility is on us – we created the cities – to solve problems through processes we already know," said Anders Lendager, founder and CEO of Lendager Group recently at the World Circular Economy Forum earlier this year.
"Imagine a world without resource scarcity. A world where our behaviour doesn't negatively impact our climate. A world where waste doesn't exist. That world is real."
Upcycle House: a sustainable family home
Through many of the company's projects, such as Upcycle House, Lendager has fought to show that sustainable, cost-neutral buildings can be created by reusing waste products.
Jørn Kiesslinger, an architect with Lendager, says that the Upcycle House is a family house built to look at how to reduce the CO2 footprint through building with reused materials and building components.
"The astonishing thing was that future footprints could be reduced by 86%," he says. "It was the starting point. Anders said, 'Okay, if this is true, then this is something we have to do because the outcome is so big.'"
Upcycle House was built with a wide range of reused or recycled materials, from two old shipping containers as the main load-bearing structure to the floor covering, which was made of cork from wine bottles.
They also implemented reused bricks from Gamle Mursten, a company that specialises in circular building materials.
"They take back bricks from buildings that are knocked down, but only those before the sixties," he says, "because after we used cement, which means that the mortar is much harder and can't be cleaned from the bricks."
Common House: a high-rise hit and a miss
At the higher end of the groups ambition was the Common House project which was intended to be the world's first upcycled high-rise building. It didn't go ahead, but it did put the spotlight on the Lendager Group's unique vision for sustainable construction through the upcycling of reusable and waste materials.
Designed by Danish architecture firms Lendager Group and TREDJE NATUR for the Ørestad area of Copenhagen, it was to be built from upcycled materials, using 17,577 tonnes of upcycled waste and saving an estimated 1.174 tonnes of carbon emissions.
The materials included: recycled concrete (made from 10,000 tonnes of waste concrete); reused bricks (from 248 tonnes of brick waste); reused window glass (waste fraction of 400 tonnes) and upcycling wood (from 30 tonnes of waste wood) for flooring and wall panels.
Upcycling Studios: beautiful, practical and sustainable
Through another project called Upcycling Studios, which is part of the Ørestad South district in Copenhagen, Lendager shows, through the construction of 20 contemporary houses, how modern properties can be built to be beautiful, practical and sustainable.
Balance is key to this project: work and life (they can adapt to suit entrepreneurs who need both living and work space, or families, who could make extra income through renting part of the space through a sharing economy such as Airbnb); shadow and sun; and new materials from old structures.
Largely a project made from wood, concrete and glass, 75% of the glass panels were sourced from reused materials and 1,400 tonnes of upcycled concrete was cast from concrete waste on site.
"This is unusual in Denmark," says Kiesslinger, "as we normally work with prefabricated concrete elements."
Dinesen provided the wood for the floors and walls. "When you buy a Dinesen wooden floor the panels are in full lengths, there aren't any joints, so they have often a lot of left-over material fractions," says Kiesslinger. "This is what we're taking over, otherwise they would just throw it away and burn it. By this collaboration we turn useless waste to a new valuable building product."
Challenges: from design to the circular economy
Working in this unique way creates many obstacles to overcome, from the architectural design process to the global challenges involved with cradle-to-cradle building practices and the circular economy in the building sector.
"If we think about a system like cradle to cradle, the idea is to make a circular building product, but in terms of the building industry the lifespan of a product can be quite long: 50 to 100 years or longer," he explains. "So if you are a material producer and building a component with a life span of 20 years, then actually your business case will start in 20 years as that's when you get the material back. This is what makes it complicated. For a lot of producers there is no business case for the material to have this circular loop."
Another problem Lendager face is related to CE certification, which is difficult to attain for reused materials and yet always required by clients. "Gamle Mursten now have CE certification for their recycled bricks so that's maybe the first reused material with CE certification, but for us it is very hard to do it," he says.
"Then, of course, we have to have very intense discussions with our client, such as the risks that are involved." Lendager always carry out testing and make mock ups of the product to prove the quality of the project beforehand.
One of the biggest differences in the design process. As they gather the resources they can find or harvest from other building sites, they first have to find out what kind of results they can achieve from the materials before the design work takes place. The outcome of the design is wholly dependent on what waste materials are available for upcycling.
The future is circular
Having  developed a successful business case, Kiesslinger says the company's long-term vision is to be able to upscale these ideas and grow as a company, although he says expanding requires a certain size of company as the work they do requires a great deal of specialist expertise in-house, particularly in terms of project development.
"The other thing is to also share our ideas, so that more and more people become inspired by them," he adds, "so we can actually see a circular economy come out of a building site – it is possible."