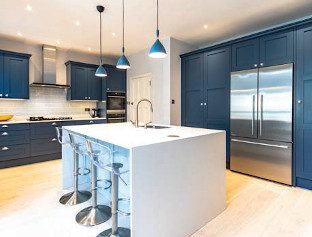 British kitchens are going green. We're not necessarily talking colour here – although that too according to some manufacturers – but definitely in terms of environmental credentials.
Rising consumer awareness of their need to minimise their impact on the planet is apparently percolating down to choice of kitchen cabinets and worktops. One manufacturer said two of the most important market influencers for 2020 were Greta Thunberg and David Attenborough. They were only partly joking.
"Not every customer is insisting their kitchen must be exclusively in bio-based renewable materials. For some, style remains all, regardless of climate impact," they said. "However, we're getting enough enquiries about materials' environmental merits and sustainability for it to be a trend."
This green tinge to the kitchen business is picked up by online homestyle platform Houzz.
"Sustainability is becoming a more frequently requested feature on Houzz, with 15% of renovators stating that 'integrating green materials' was a priority," says its latest kitchen focus. "The word 'eco' is also among our most searched keywords."
Houzz also reports kitchen designers "experimenting with eco materials, recyclable products and focusing on product life cycle".
All of which, say manufacturers, is good news for wood. Not only are consumers opting for it generally, for styles ranging from traditional Shaker, to the industrial look featuring unadorned plywood carcassing, they are being bolder in terms of timber aesthetic and more adventurous in choice of species. But first, the state of the UK kitchen market generally. That too has been reasonably good news to date, but with sector analysts sounding a note of caution for 2020.
JKMR (www.trade-monitor.co.uk) states in its 2019 Kitchen Furniture Market report, including integrated appliances, sinks and other fixtures, that fitted kitchen installations have been growing since 2011, reaching 1.233 million in 2018. Its provisional figures for 2019 see the sales graph dipping 2.85% to under 1.2 million installations due to increased consumer caution triggered by uncertainty over Brexit and the election. And continuing question marks over Brexit and its potential impact on everything from house prices to EU product supply lines, is forecast to continue to dent confidence in 2020, producing a further 2.5% fall in sales, says JKMR. Although it puts a relatively positive spin on this.
"Even this decline would mean 1.15 million installations, substantially above figures for the recession," it states.
It also forecasts sales value continuing to rise.
"With manufacturing sales price passed on to retail, a further 1.4% rise in market value to £4.28bn is projected for 2019, climbing to £4.4bn in 2020," states JKMR, adding that rising "consumer aspiration outside lowest market levels" will further underpin installation value.
In its Domestic Kitchen Furniture report, which focuses on kitchen units, AMA Research (www.amaresearch.co.uk) estimates that the 2019 market grew a further 2% in value in 2019 to £1.8bn and forecasts 2-3% growth for 2020/2021. However, it too adds a proviso on forward projections. "Growth will depend on consumer confidence, which was subdued late 2019, and could render forecasts optimistic," said an AMA spokesperson.
From the showroom floor, however, some kitchen suppliers are now taking a more upbeat view of 2020 prospects.
"Late 2019 our forecasts would have been more cautious. But with more political certainty and direction on Brexit, we've actually seen enhanced sentiment," said Stoneham Kitchens managing director Adrian Stoneham. "A re-invigorated property market, with increased sales activity and rising prices, together with earnings growth will transpire to greater home improvement spending. We're confident kitchens will benefit in 2020."
Further positivity can be found in AMA's kitchen worktops report. It says sales value grew 3% in 2019 to £257m. Timber accounts for 6% of sales and rising at the expense of laminates, although 'engineered' stone, which has 14% market share, is growing fastest.
On routes to market, JKMR states that Howdens remains the industry giant, accounting for 376,000 out of the 2019 UK total of 1.198 million installations. Next come other multiple kitchen producers with 189,000 installations, independent specialists 153,000, direct contractors 146,000, new build and registered social housing installations via multiples and Howden 128,000, Wren 86,000 and multiple merchants 22,000.
On market risers and fallers, JKMR expects Howden, Wren, Wickes and Homebase to have grown sales in 2019, while B&Q and Magnet struggled to follow suit.
In terms of market tastes in style and materials, AMA says the broad trend is that consumers are becoming more discerning and demanding.
"'Informed customers' are an [increasing] market feature," it states. "They research every aspect of kitchen purchase online and know what they want and how much they're willing to pay before they visit showrooms."
The rise of the informed kitchen buyer is also linked to growing interest in matters environmental, which, as stated, is generally seen as positive for wood. But today's increasingly demanding consumer doesn't accept that timber is environmentally good per se, hence, says AMA, greater prominence of FSC and PEFC labelling on wood kitchens. "Sustainability is becoming a key feature in procurement policy for many organisations, but customers do seek evidence," said Mr Stoneham.
Several kitchen makers agreed that wood's eco-appeal, combined with more discriminating consumers wanting 'statement' design, is resulting in use of more timber species and aesthetics.
"We're particularly using a greater variety for worktops," said one manufacturer. "That includes oaks and beech, but also tropical
varieties with bolder colouring and grain." "Oak in various guises, such as natural and anthracite-stained, is very popular and provides a great contrast to coloured accents in the kitchen. And painted oak with enhanced grain is also a favourite," said Mr Stoneham.
"American black walnut is specified for complete rooms or combined with painted facades and we're also featuring character oak, burr walnut, macassar and zebrano." Papilio Bespoke Kitchens is seeing a tendency for the 'Scandi look …. beautiful, but minimal cabinetry often with raw timber veneers', with birch a favoured timber.
"Walnut has also grown in popularity, we suspect because of the trend for metal [fittings], with brass particularly popular," said managing director Matt Prall. "The walnut really brings out the metal, whereas lighter woods reduce its impact."
Manufacturers also report more homeowners wanting wood to look like wood. "They're not necessarily going for an entire kitchen in a uniform natural finish, but many are teaming natural wood for some cabinets and work surfaces, with other units in pops of colour," said another kitchen maker. "Perhaps it's a case of not only wanting to be green, but being seen to be green."
"Increased focus on sustainability means that customers are also looking for quality, natural wood that withstands the test of time," said Mr Stoneham.
At the same time, manufacturers stress, for most people it's not a case of money no object. Price remains a primary deciding factor, so wood has to be competitive, and some companies report customers opting increasingly for veneered sheet material for doors and cabinets, or wood-look laminate.
"Laminates are now so good most people can't tell the difference," said one company. "In addition, suppliers have their own increasingly convincing sustainability story, including that some are 80/90% certified sustainable wood fibre. You can also posit the argument that they make more environmentally sound use of timber than using it solid."
LochAnna Kitchens also reports growth in popularity of "man-made doors, panels and worktops that emulate real wood".
"Customers are attracted to them not just because of their likeness to wood, but also their blend of looks and functionality," said LochAnna kitchen category manager Sinead Trainor.
"Besides solid timbers, we also rely on veneered board, including MFC, MR MDF, acrylic and Parapan," said Mr Stoneham. "We use specialist veneers too, such as Alpi [composites] and Tabu [through-dyed veneer]."
Another material making kitchen inroads, says Houzz, is bamboo: "It's trending as an eco-material and was among our most searched kitchen terms in 2019."
Manufacturers reported upward timber prices pressure in 2019, but that is now abating with the strengthening of sterling. "The pound's recovery has particularly assisted North American and European hardwoods," said Mr Stoneham.
In unit design, Stoneham concurs with Houzz that a key trend is mixing natural wood with coloured kitchen furniture.
"This works well with kitchen islands in natural timber and perimeter cabinets in colour, or upper cabinets painted and lower cabinets in wood," said Mr Stoneham.
LochAnna also sees customers becoming bolder in colour choice.
"We predict the combination of brave, yet tasteful colours, from deep purple to vivid greens, with natural woodgrains and stone will be popular in 2020," said LochAnna managing director Paul Jenkinson.
Papilio, however, adds that its customers tend not to favour flat, solid colours. "Even with a painted finish, they like the grain showing through the lacquer," said Mr Prall. In terms of worktops, manufacturers say wood is holding market share, but there is rising competition from stone lookalike alternatives.
"Acrylic and solid surface worktops are increasingly successfully emulating the look of authentic stone and natural surface, creating a luxurious appearance very cost effectively," said LochAnna's Ms Trainor.
Looking forward, manufacturers are generally positive about prospects for the rest of the year and believe increasing design and materials innovation by the UK industry can help it grow market share.
"We're hoping consumers will look to the UK for products and furniture and move away from off-the-shelf German systems that crowd the high streets," said Mr Prall.