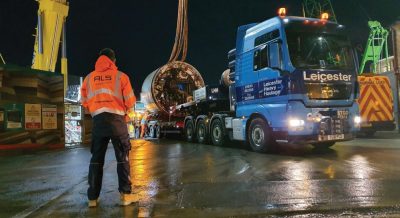 Brought to you by
Away from the main Thames Tideway tunnel, the TBM boring a 1.1km connection tunnel in the project's west has completed its first bore and begun its second 580m drive. Although in this case the machine is relatively small at 3m in diameter, TBM moves through a city are always interesting to watch and generate public interest in a tunnelling project as the equipment snakes its way through the streets.
ALS was contracted to undertake the sub-1km road transportation and the route planning, as well as liaising with local councils, the Thames Tideway logistics team and the police.
Starting at the reception shaft north of the river, the machine was lifted by two LTM 1500 cranes manufactured by Liebherr and hired out by Sarens and lowered back down the launch shaft at Dormay street, south of the river.
The TBM was lifted in two parts on the morning of 10 December, the 40t forward shell and cutterhead followed by the 37t stationary shell. The extraction was a 16m lift radius up a 20m deep shaft and the lowering was a 22m radius and 22m deep shaft. The two lowering operations were performed that evening and the following morning. The cutter had two integral lifting eyes and the stationary shell had four. The loads were lifted with slings and shackles.
During the raising, crane position was crucial as the location straddles a live sewer and was also close to the shaft. Designers had to carry out load-bearing calculations and 3 by 4m spreader mats and foam were employed to spread the load. The concrete slabs that were poured during site setup were designed and built with the crane in mind.
Site restrictions meant that the transport lorry could not leave the first site until 8pm, even though the lift had been completed a long time before that. The actual transfer between the sites took 10 minutes.
The tractor used was a 250t capacity MAN TGX.41.680, pulling a Nooteboom 5 Axle Pendle Steerable Semi Low Loader. The TBM sections were secured with simple chains and tighteners; no special measures were required despite the heavy loads involved.
Physical obstacles were minimal and a dedicated project logistics team helps the operation. The exit shaft is in the vicinity of a park, shopping centre and residential apartments with access from a single carriageway road. The vehicle was required to reverse onto site and Thames Tideway traffic management were only permitted to stop traffic for a maximum of 10 minutes. All in all the main challenges were keeping in line with the restrictions imposed by the project and local stakeholders rather than the technical challenges of the job itself.
The TBM is a refurbished Lovat machine and previously worked on a water ring-main project in north London. When it finishes this project, it will have facilitated sewerage overflows getting to a treatment plant in East London, rather than them being discharged into the River Thames.