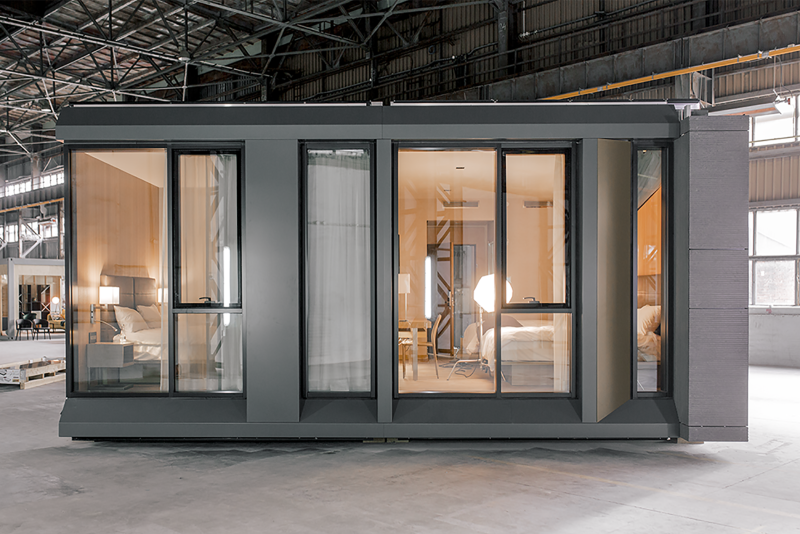 While prefabricated buildings and designs have long held a place in construction, up until recently it has been stuck on the fringes. Prefab homes and other structures have for decades been viewed as convenient but unappealing, best used if circumstances prevent a site-built approach or if speed is of the essence, as it was during Britain's post-WW2 housing crisis. Prefabricated schemes were seen as clever and industrious, but a step down architecturally and aesthetically, gaining a reputation as identikit solutions that stick out like a sore thumb in the built environment.
In the 21st century, this stereotype no longer holds up to scrutiny. Even the 'prefab' moniker has gone out of style, with today's incarnation more usually described as modular construction for the modules that manufacturers design to interlock or stack on top of one another. And in practical terms, modular design and construction offers more than it ever has before, in terms of the efficiency and quality of building project, and as a tool to help tackle modern problems.
"Factory-built homes give us an incredible opportunity to embrace the digital and clean-tech manufacturing age, making a medieval and antiquated homebuilding industry more efficient, more professional and generally so much better," wrote British architect and TV presenter George Clarke in a February blog. "Off-site has the opportunity to revolutionise the way we order, buy, design, procure, make, live in and maintain 21st century homes."
Could modular building solve housing crises?
With a growing global population and ongoing urbanisation trends, many of the world's major cities are experiencing crises of housing capacity and affordability. As rental costs continue to climb, outpacing wages in many countries, the tightest squeeze is inevitably felt by those with the lowest incomes.
According to a 2018 report published by the US National Low Income Housing Coalition, for example, there is a shortage of more than seven million affordable and available homes for extremely low-income (ELI) families, and 71% of ELI households spend more than half of their income on housing.
Many column inches have been dedicated to modular construction's potential to alleviate the pressure on urban housing. With the ability to precision-manufacture modules in advance – complete with interior fixtures and fittings in many cases – before transporting them to site to be lifted into place, time savings are the chief benefit of going modular.
"We're talking anywhere from 30% to 50% shorter construction schedules," said Modular Building Institute executive director Tom Hardiman in an interview with Autodesk's Redshift blog. "On a traditional site, you do all your foundation work, then you start building the first floor, then the second floor, and so on. With modular, the building is being constructed off-site while you're doing the foundation work."
The Launchpad pilot project in Bristol, UK provides a good example of quick modular turnarounds. In September, East Yorkshire-based modular construction firm Integra Buildings delivered a block of 30 studio apartments – intended for recent graduates and other young renters looking for affordable accommodation – in just 12 weeks.
The modules, including stairway units and apartment modules, were based on a larger, bespoke shipping container concept, and were fully fitted out in Yorkshire before being transported to the site in Bristol, where average house prices have reached nearly £300,000 and 11,000 people were stuck on the waiting list for council housing last year.
"The speed of delivery means we've been able to do a deal on the land and will move people in within six months," said Oona Goldsworthy, chief executive of housing association United Communities, which led the pilot. "There's a huge shortage of available land for housing projects, but modular gives us the flexibility to use what I call pop-up sites."
Modular methods
There are two dominant methods in modern modular construction. Volumetric modular, the approach taken by Integra in Bristol, involves the fabrication of three-dimensional units with completed interiors, which are then transported to site and lifted into place. This minimises the need for complex on-site work once they arrive, with the drawback that designers are limited to units that can practically fit on the back of a lorry.
The other prominent approach is flat-pack – or kit-of-parts – construction, where building elements like structural frames, cladding and panels are manufactured in a factory and then shipped to site as flat-pack kits, like giant Ikea furniture sites, to be assembled on-site. While a hybrid of these two techniques may turn out to be the optimal strategy on many projects, the flat-pack approach is suited to extensive bespoke design touches and aesthetic variations, addressing the perception that the modular method produces only bland, homogenous results.
"The whole point of a lot of the new technology is to move towards mass customization – not towards a highly repetitive world covered in Levittown-like housing, which is what people fear when they hear 'prefabrication'," Michael Green Architecture principal Michael Green told the Architectural Record at the beginning of September.
Maximising the benefits
Many of the other benefits of prefabrication come from the assembly line. For countries with unpredictable weather and high chances of rain, the ability to build housing modules indoors in a temperature-controlled environment is a boon for efficiency, while the standardisation of factory working opens the construction sector up to a wider pool of less skilled labour, both on and off-site, while maintaining quality control.
But as many experts have noted, there is still some way to go before factories and supply chains are properly optimised for the digital age of modular construction. Unlike traditional construction, where design changes can be made on-site, the strength of modular building is in standardisation, and as a New London Architecture report pointed out last year, developing standards that enable diverse prefab projects to move forward with confidence will require an industry-wide collaborative effort, taking in data-sharing, digital design, factory optimisation and supply chain management.
"There's no point bolting a spaceship on to a horse and cart," said Open Systems Lab co-founder Alastair Parvin in NLA's report. "We need a totally new operating system."
The cost-saving potential of modular construction is still unclear; some architects have reported comparable costs to site-built projects, while others have noted savings ranging from modest (5-10%) to substantial (20%+). It has certainly been proven that prefabricated designs are no panacea on budget overruns, as Vancouver recently found out when a project using modular methods to build more than 600 housing units for the city's homeless residents saw its costs rise from $66m to $88m.
Costs for modular building could fall steadily if the lessons learned from early projects can be consistently applied, and the benefits of repeat builds begin to kick in.
"Whenever you repeat a manufacturing process, you improve it," FullStack Modular CEO Roger Krulak told Redshift. "Although they don't all look alike or even have the same program, all modular buildings have the same general makeup. Because you're repeating the same processes over and over again, you gain efficiencies, and that can drive costs down."
Scaling up: the modular city
In Singapore, meanwhile, work finished this summer on the Clement Canopy buildings, two towers that represent the tallest buildings ever built using modular construction. Builder Bouygues Batiment International and its modular unit Dragages Singapore oversaw this complex operation, which involved the installation of 1,899 modules to form more than 500 luxury apartments. Concrete modules were pre-cast in Senai, Malaysia, before being shuttled to West Singapore for technical work and then stacked at the site according to a sequencing programme.
The next step, of course, is considering modular methods for the planning and construction of entire communities. Work in this area is mostly conceptual at this stage, and often focuses on mitigating the environmental impacts of urban development. Architecture firm Bjarke Ingels Group has proposed a floating city concept in response to UN-Habitat's New Urban Agenda and the threat that 90% of the world's major cities will be exposed to rising sea levels by 2050.
BIG's 'modular maritime metropolis' concept imagines two-hectare floating modules that can accommodate up to 300 residents, as well as communal farming, culture, services and public spaces. The floating modules could be attached into a city of 10,000 people, with flood-proofing and the ability to unmoor and change location should climate patterns shift.
Meanwhile, Ikea – the global king of flat-pack furniture, is investigating the possibility of building flat-pack neighbourhoods. With the linked goals of sustainability, liveability and affordability, Ikea is working with Space10 and EFFEKT Architects on the Urban Village Project. The scheme envisions a customisable timber building system that can produce flat-pack structures in different configurations, with interchangeable elements to create an assortment of styles.
The modular construction system would run alongside a digital platform for building management and an innovative subscription model for resident living costs, a good example of the kind of holistic thinking that will see old urban development models give way to new ideas that will unlock the true potential of modular building, no matter the scale.