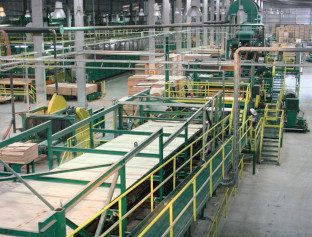 Brought to you by
Another chapter has started in the story of Uruguay-based plywood manufacturer Uruply (Lumin).
Construction and groundwork at the Tacuarembó mill in the north central region of Uruguay has been under way in preparation for the assembly of an additional production line during 2020.
The current 270,000m3 capacity mill will be added to by a new thin veneer line, which opens up new product possibilities. For Lumin, which markets its pine and eucalyptus plywood in six grades as a sustainable alternative to tropical plywood, it is a big moment.
According to Lumin CEO Alvaro Molinari, the reasons for the expansion can be explained by the company's journey over recent years, which included a change in ownership in 2017 when Weyerhaeuser sold the plywood manufacturing operation to a consortium led by BTG Pactual's Timberland Investment Group (TIG).
Weyerhaeuser had originally started its involvement in South America back in 1997. Back then in Uruguay there was a small amount of native trees and the majority of the landmass was grasslands. The government decided to promote the development of forestry, passing a law that offered incentives for investment, which ultimately proved very successful.
"In the 30 years since then plantations have gone from virtually nothing to one million hectares," said Mr Molinari.
Weyerhaeuser decided to invest in forestry there, embarking on a joint venture with an investment fund. The Lumin plywood mill started operation in 2006, shortly before the joint venture split the forestry and mill assets, with Weyerhaeuser keeping the plywood mill.
A raft of changes followed at Weyerhaeuser in subsequent years, including it becoming a real estate investment trust (REIT) in 2010 and then a merger with fellow large US forest product company Plum Creek, all resulting in it divesting its international operations. It held onto the Lumin operation until 2017 when the BTG-led consortium completed a US$402.5m takeover.
Mr Molinari had been part of the Lumin story from its inception in 1997 and worked his way up, learning all parts of the business – the tree nurseries, timberlands, plant engineering and construction, operations, general management and then finally CEO.
Today there are 65,000ha of plantation forest assets, a three million clonal seedling annual nursery capacity, 250,000m3 per year plywood production output with 95% export volume, 180,000m3 of annual log exports and 750 direct jobs supported.
New Investment
The new owners empowered the existing Lumin directors to run the company. "They wanted ideas to grow the business and that's how we came up with the plan for the new line," said Mr Molinari.
Lumin is looking to develop more added value products, taking full advantage of the top clear grade material.
"Increasing our focus on high-end products adds value and protects us from the commodity market."
The business realised that if it could increase its range of plywood to include thinner veneer/panels it could better take advantage of the clear top grade material. Basically, it could produce more quality veneer from the same log, giving cost and product range benefits.
The new line will therefore include new peeling technology able to peel 1.3-1.5mm veneers. Existing peeling operations focus on producing thicker 3.2-3.8mm veneers.
So thinner faces combined with a thicker core can give it a different product configuration.
Existing plywood products are based on 12mm, 15mm and 18mm thick boards used in the construction industry, carpentry, transportation and packaging. The new line will produce sizes including 5.5mm, 6mm and 9mm boards, which will be targeted at specific end-user applications, such as furniture and mouldings.
The new production line sees Finlandbased Raute as the principal technology partner, supplying the green line, layup, drying and peeling equipment, with a range of other providers also involved. The existing production line is Coe (USNR).
"The good thing is we have quite a bit of experience in mill construction and equipment so Lumin is the project manager," explained Mr Molinari. "It is a package type of arrangement with suppliers."
It agreed orders with suppliers last autumn and construction work has already seen a new building being erected and foundation beds for machinery completed.
Equipment will start arriving in Q2, with a start-up envisaged in Q1, 2021 when approximately 80 new direct jobs will have been created.
One of Lumin's primary marketing strengths is its claim to be a sustainable alternative to tropical plywood products. Indeed, its Tropical Replacement Panel (TRP) is a eucalyptus throughout board specifically marketed as an alternative to traditional tropical plywood products.
"Eucalyptus is a hardwood and very similar to other tropical species [in colouring and performance] but we have forest and product certification too," added Mr Molinari.
This includes PS1 and EN 13986 (CE2+), for use in construction in the US and Europe respectively, the latter being certified by BM TRADA. Lumin also complies with the E1 standard for emissions in Europe, adheres to the air quality standards required by the California Air Resource Board (CARB), and complies with the emission of formaldehyde required by the US EPA TSCA Title VI, as well as having PEFC forest certification for 100% of its plantations.
Currently, Lumin uses an equal amount of pine and eucalyptus in production. "We are continuing to switch [production] more towards eucalyptus because we see potential in the product and the forestry side of things – eucalyptus grows faster than pine," said Mr Molinari.
The new investment will feature an annual plywood production capacity of 34,000- 36,000m3. It will also allow Lumin to increase its TRP capacity, which Mr Molinari described as "exciting".
Mexico, the US, Europe and Latin America are the main marketing target destinations. "Europe is a strategic market for this product. We want to launch this product with a branding plan to allow us to place it on the market as an alternative to tropical panels."
Its will also be making TRP with two good faces as an additional selling point. Currently, the face is B grade and the back C grade. In addition, the new line will produce an additional 34,000-36,000m3 of veneer for sale – mainly for core veneers but with some face products. "This gives us opportunities for veneer sales in the US and Asia."
"We will of course continue to serve our existing market with the current products." Current production output of the existing mill is 250,000m3.
Lumin's new investment gives the company confidence for a growing business in the future. And it follows a difficult year on global forest products markets. "2019 was a very challenging year for everybody," said Mr Molinari.
"We have seen an improvement this year but it still very early to tell if it is a consistent recovery. We hope by the end of Q1 and into Q2 that the market is going to recover and we are seeing some good signs. We definitely need a recovery and there has to be a better balance between supply and demand on markets.