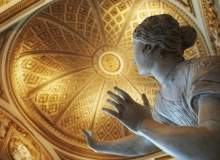 As the 21st century rumbles on through its teens and the digital age continues to flourish, there's a natural tendency to assume that the online world is gradually shunting its physical counterpart into obsolescence. Just as the internet is re-shaping previously physical realms in its own image, there have been fears that the digitalisation of culture posed a threat to museums, the ultimate physical repositories of the world's past. With art, culture and history more accessible than ever online, would these public structures retain the power to tempt us away from our screens?
The museums' answer has been rather emphatic – yes, these vital institutions, which have been conserving culture for public display for more than 250 years in their modern form, can survive and thrive in the age of the internet. Around the world, museums have been defying digital revolution and economic recession alike to find success.
21st century museums: surviving and thriving
There are now more than 55,000 museums around the world, more than double the 23,000 that existed in the early 1990s. US museums attracted 850 million visitors in 2012, and in the UK government statistics have revealed that 4.6 million people visited state-sponsored museums and galleries in April 2014 alone – a 3% increase on the same period from the year before. More than half of England's adult population visits at least one such institution each year, while in Sweden the figure is closer to three quarters.
This is partly because even at a time when the majority of the world's art and antiquities are no more than a mouse click away, the social significance of public cultural spaces is still vital, perhaps more so than ever before. As Tate galleries director Sir Nicholas Serota has put it, the 21st century museum is "a forum as much as a treasure box".
"Museums are spaces in which identities are understood, formed and shared," wrote Camila Batmanghelidjh, founder of education charity Kids Company, as part of a 2010 statement by the National Museum Directors Conference. They provide a stimulating public space in which people can come together and be inspired."
Museums haven't just survived on the back of our social needs, however. They've also proactively rolled with the times, opening up to a much wider audience and shedding a traditionally fusty image in favour of interactivity and excitement. Design has a significant role to play in museums' adjustment to the modern world, with architectural trailblazers such as the Guggenheim Museum Bilbao – opened to the public in 1997 – kicking off an era in which the structure of the museum itself can be as much of a draw as the collections within. "Since Bilbao, the museum is the first piece in the collection of the museum," architect Elizabeth Diller told Building Design + Construction back in 2002.
---
---
Designbuild-network.com lists ten of the top iOS and Android apps for tech-savvy architects.
---
Putting digital at the heart of museum design
Beyond iconic building design, the adoption of digital technologies is one of the main ways museums have been keeping up with the times. Over the last ten years, digital tech has become common enough that at this point, virtually all museums will make some concessions to social media, data analysis or interactive exhibits. Wider innovations in big data are helping museums understand the demographics and requirements of their visitors much better, which allows them to either cater better to an existing audience or change their strategy to court a previously disinterested one.
But more than that, museum directors and curators are increasingly coming to understand that the smart integration of internet-enabled infrastructure into the fabric of an institution's design can create a symbiotic relationship between physical and digital that can work wonders for museums and their visitors. Experimentation with digital concepts by museums is commonplace, with innovation and sophistication rapidly increasing in this space, and it's not just about visitor engagement.
In late 2011, London's Grant Museum of Zoology collaborated with University College London's Centre for Advanced Spatial Analysis and Centre for Digital Humanities to develop an initiative called QRator.
QRator is a distinctive method of bringing visitors and museum staff together in a way that's far more curated than simply maintaining a Facebook page or Twitter account. Using embedded iPads (the museum was the second in the world to house permanent iPads as part of displays), their own smartphones via QR codes and Twitter, or the museum's website, visitors can engage with each other and museum staff over open-ended questions such as "What makes an animal British?" and "Can keeping pets be justified given their impact on wildlife?". The system has since been presented the Museums & Heritage Award for Innovation and rolled out to another London-based cultural institution, the Museum of Brands, Packaging and Advertising.
"There's been a great response from our visitors – they have left thousands of answers to the questions," the Grant Museum's museum manager Jack Ashby told the Digital Learning Network in 2012. "One major thing that we didn't anticipate is that people are also using them as a kind of digital visitors' book. As well as getting involved in the conversations, people are letting us know their thoughts on the museum in general and what they like or dislike about many of our specimens. The jar of moles gets a lot of mentions. This has become a great way for visitors to point things out to each other without us telling them what we think they should see."
Cooper-Hewitt: tackling the internet head-on
"Museums have been defying digital revolution and economic recession alike to find success."
More recently completed museum projects are bringing digital concepts even closer to the heart of their operations. Take the Cooper-Hewitt Smithsonian Design Museum on New York's Museum Mile. In December 2014, this venerable design institution completed a three-year, $91m renovation that has not only increased the building's exhibition space by 60%, but has also, in the words of Cooper-Hewitt's director Caroline Baumann, seen the museum "completely reimagined for 21st century audiences".
On the surface that reimagining incorporates advanced digital displays, an interactive 'immersion room' where visitors can sketch their own designs, and ultra-high-definition touch screens for exploring the museum's collection. But dig deeper and it becomes clear that Cooper-Hewitt's stately exterior hides a commitment to digital that extends far further. A dedicated application programming interface (API) has been built, connecting the museum's collection and customer databases to its website, gallery apps and a new feature that launched in early March 2015 – The Pen.
The Pen is a pen-shaped device that allows users to scan any object in Cooper-Hewitt's collection; in this way visitors can curate and save their own galleries of the exhibits they discover, and then revisit their selections digitally later using a personal web address, powered by the API. This sort of innovation blurs the physical and the digital and points the way for museums to elegantly fold online conveniences into their own physical design.
"What 'digital' in the museum means is really that everything is available whenever you want," Cooper-Hewitt's director of digital and emerging media Seb Chan told The Atlantic in January. "Wherever you want, whenever, however."
For now digital innovations and structural museum design are somewhat separate endeavours, but it appears that for future projects they will become, increasingly, one and the same.
In March 2015, Dubai's monarch Sheik Mohammed bin Rashid Al Maktoum unveiled the $136m plan for the Museum of the Future, a massive oval structure that will host exhibits of modern inventions as well as cutting-edge research. With its central hologram, impossible-seeming architecture and its planned use of 3D printing for parts of the structure, Dubai's latest crown jewel appears to be the most explicit yet in its embrace of modern and future concepts.
It's a forward-thinking philosophy that has served the wider museum community well over the last decade, ensuring that these cultural institutions continue to reflect the contemporary world, as well as conserving the relics of the past.