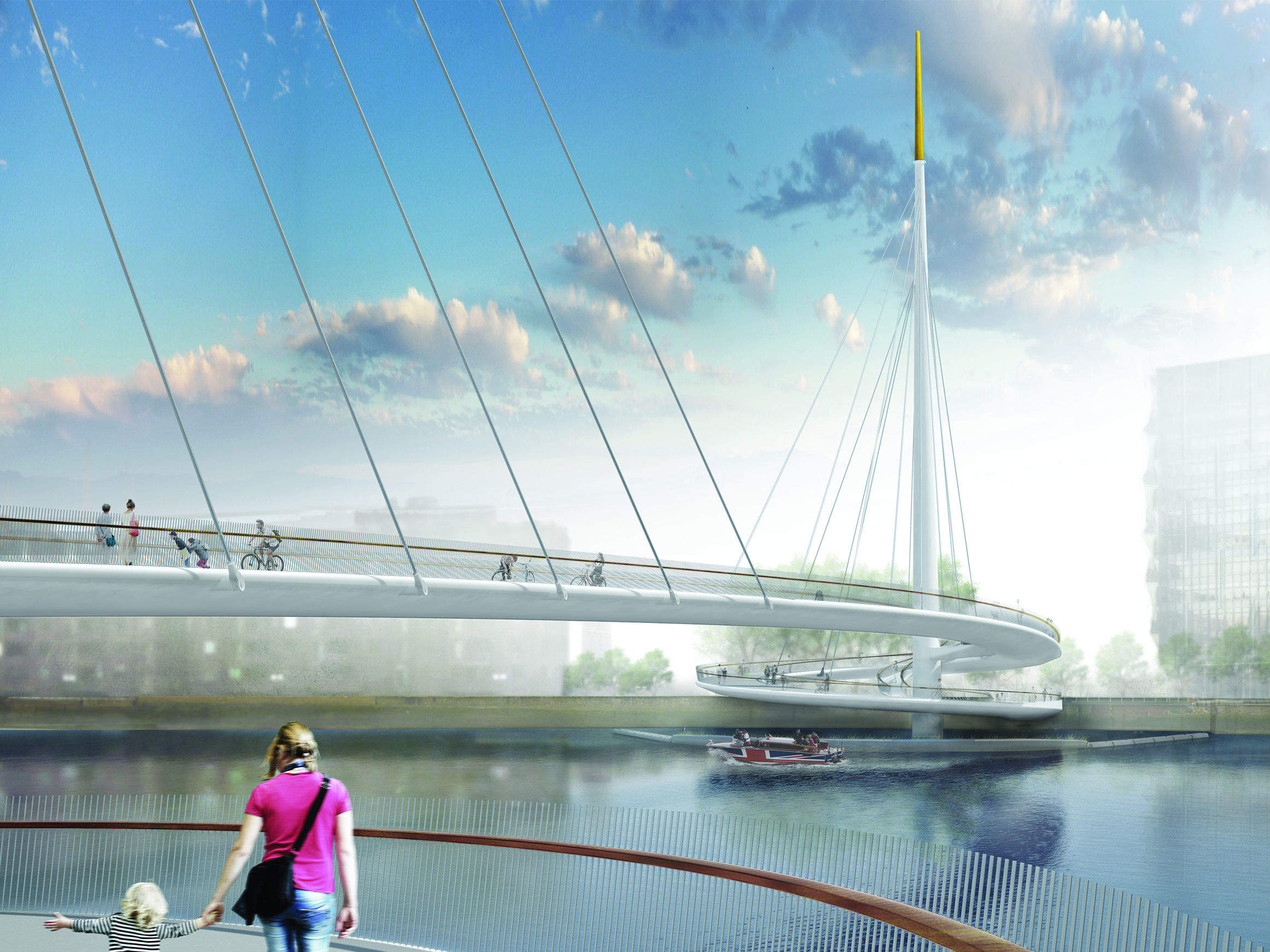 Ironically, for architectural and engineering constructs whose primary function is to connect people on opposite sides of a divide, bridges more often end up polarising public opinion.
Upon its opening in 1894, Tower Bridge, arguably the capital's most iconic landmark, was described by architect Henry Heathcote Statham as representing "the vice of tawdriness and pretentiousness, and of falsification of the actual facts of the structure", while designer Frank Brangwyn declared that "a more absurd structure than the Tower Bridge was never thrown across a strategic river".
More than a century later in June 2000, it was engineering rather than aesthetic concerns that took precedence when the Millennium Bridge connecting St Paul's cathedral with the Tate Modern was forced to shut after only three days when pedestrians complained that it swayed. The Arup-designed suspension bridge re-opened in February 2002 at a cost of £18.2m, £2.2m over budget.
The capital's latest major bridge project is already the subject of controversy. In December 2014, Wandsworth Council launched a competition to design central London's first car-free bridge for cyclists and pedestrians across the River Thames from Nine Elms on the South Bank to the historic Pimlico embankment, at a cost of £43m. The contest attracted 74 entries worldwide.
A preferred bidder, led by Danish firm Bystrup Architecture Design and Engineering, was announced in November 2015 following a unanimous recommendation from the contest's judging panel. But while jury chairman Graham Stirk of Rogers Stirk Harbour + Partners praised Bystrup's "elegant and simple" design, Westminster City Council Cabinet member Heather Acton roundly criticised the plan.
"Residents and local groups are furious, and with every justification," she stated. "A cycling and pedestrian bridge is not needed in this location," she added.
"A preferred bidder, led by Danish firm Bystrup Architecture Design and Engineering, was announced in November 2015 following a unanimous recommendation."
The bridge may land on Pimlico Gardens, one of Nine Elm's few riverside parks and a valuable community asset. Critics also warn that it could bring an extra 18,000 cyclists and pedestrians a day through St George's Square – the only garden square in London that opens directly on to the river.
Design for life: marrying elegance and simplicity
One element that everyone agrees on, at least for now, is the integrity of Bystrup's winning bid, a deceptively simple design that seamlessly blends the utilitarian and aesthetic demands of the brief.
The full team, which includes Bystrup, Robin Snell & Partners, Sven Ole Hansen ApS, Aarsleff, ÅF Lighting Aecom, COWI Engineering, and DP9, secured one of London's prestigious commissions ahead of leading international architects, including Amanda Levete, Buro Happold, and Hopkins.
The proposal of a slender cantilevered arc punctuated at both ends by spiral ramps is described by the design team as a 'minimal, seamless crossing' with single spire masts and an 'elegant' winding deck.
"This was an extremely difficult choice between four excellent teams, but ultimately we felt that Bystrup and their partners had the most compelling approach to the challenges posed in our brief," says Stirk.
"Their strategy is elegant and simple, they aspire to celebrate the river and create a thing of real beauty which is what this bridge should be," he continues. "Their light touch approach to landing points is commendable and the exploration of lighting and textured surfaces to manage movement across the bridge is both interesting and inventive. They see the bridge as a sustainable transport link and piece of new public realm which should be attractive, fun and a pleasure to use."
Among the most significant challenges for the design team to overcome concerns the bridge height. The structure must rise above the banks of the Thames to allow large vessels to pass beneath, something Bystrup succeeded in doing without creating slopes too steep for cyclists and pedestrians.
It must also be fully accessible for disabled people in compliance with the Disability Discrimination Act, and bicycles and walkers travelling in both directions must be able to cross safely.
"From the outset we wanted to design an elegant bridge that provided simple and uninhibited access for all, with minimal impact landings on each bank," says studio founder Erik Bystrup, who is also behind the UK's new pylon design. "We are very excited that this will be the first shared pedestrian and cycle bridge over the Thames, adding to the rich history of London's river crossings."
"This team has impressed at every stage of the competition, combining light and graceful design ideas with an inventive approach to the core transport challenges," says the Wandsworth Council leader Ravi Govindia. "We are convinced they have the talent to develop a successful bridge design which would be both a valuable river crossing and a beautiful addition to the Thames."
Troubled waters: is the bridge necessary?
Not everyone has been so effusive in their praise. The new bridge will be partially funded by £26m from private developments in Nine Elms, part of a £1bn infrastructure overhaul of the neglected area, which stretches from Battersea to Vauxhall and includes the new US Embassy and Battersea Power Station. However, residents remain unconvinced that a new bridge is necessary.
"It's nothing but a sales ploy to sell flats in the new Nine Elms developments."
"It's nothing but a sales ploy to sell flats in the new Nine Elms developments," Pimlico resident and community campaigner Virginia Forbes told The Guardian. "It is entirely for the benefit of the investors and developers, those that are trying to wash their money through the London property market. It will do nothing for Pimlico – apart from making it easier to walk to the new Waitrose."
"Cycle Superhighway 5 is already up and running across Vauxhall bridge, just a few seconds away," added Heather Action. "That should be the final nail in the coffin for this unneeded bridge."
Transport for London (TfL) disagrees, pointing to a feasibility study it commissioned in 2013 it says confirms that a car-free alternative to Vauxhall or Chelsea Bridges would be both viable and valuable, given that 20,000 homes and 25,000 jobs are emerging south of the river.
Bystrup's storied CV suggests that he is more than capable of overcoming one of the key project challenges, namely minimising the loss of open space and enhancing the public realm where the bridge touches both bank. His practice specialises in infrastructure and has built two lean pedestrian bridges in Copenhagen, as well as Denmark's largest swing bridge.
"We've worked really hard to make the bridge as simple as possible," he stated to The Guardian. "The Port of London Authority clearance regulations are incredibly tight, but we've tried to make the access arrangements on both banks as compact as we can. It's about lifting people up, giving them a wonderful view over the river, and setting them down again with minimum fuss."
Wandsworth Council will now work with communities and stakeholders on both sides of the river to develop a detailed design. This must then be approved by both Wandsworth and Westminster Councils, and signed off by Mayor of London Boris Johnson, before the latest addition to the capital's collection of iconic bridges faces the ultimate test of approval – that of public opinion.