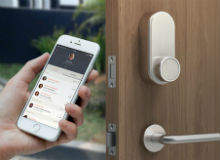 IoT (Internet of Things) connectivity is driving the consumer technology market, with smart home technology one of the biggest growth areas. Just before CES (Consumer Electronics Show) 2016 opened this year the CTA (Consumer Technology Association) in the US launched its latest report, which revealed that smart home technology would reach 8.9 million units sold in 2016 with $1.2 billion in revenue – a 21% increase on the previous year.
Lighting, security systems, locks, smoke detectors, thermostats, household appliances, TVs, speakers, cameras, laptops and smartphones can now all be connected to one network. But despite the market's growth and positive predictions, the companies behind the products, from startups to established industry players, say there are a range of common obstacles that are hindering penetration of the mainstream market, particularly outside the US.
These include consumers' security and privacy concerns, lack of awareness about IoT generally, as well as minimal understanding that smart home technology can bring meaningful change, not just replicate what is already done with an app. Also, in a world where laptops and smartphones are changed every few years, consumers fear rapid device obsolescence.
Security and privacy concerns
Recent Accenture research, published in "Igniting Growth in Consumer Technology", shows that demand for IoT devices is slower than predicted and 47% of the 28,000 consumers surveyed cited "privacy risk/security concerns" as a barrier to adoption.
"Accenture's recent findings that almost half of consumers see privacy and security risks as a barrier to adoption highlights the work that's desperately needed in the IoT sector," says Michael Hollins, head of smart devices division for Warmup, a company offering heating solutions and connected products, the latest being the 4iE Smart WiFi Thermostat.
He believes that this comprises two key elements: the actual risk of compromised security, which he says can be mitigated with appropriate data protection technology, and the perceived risk.
"Almost half of consumers see privacy and security risks as a barrier to adoption."
"This is harder to overcome and requires a greater understanding of the reasoning involved in a family justifying an open invitation to bring technology companies into their home," he says, adding that transparency is key. "If data is being collected people want to know why and what it is used for," he explains.
On the other hand, Ecobee's VP of marketing, Rahul Raj, says that the company's research does not show that perceived risk is presenting a significant barrier to adoption. The Ecobee 3 smart thermostat uses room sensors to read and deliver the desired temperature in the rooms that matter most and, says Raj, has become the number two thermostat brand in the retail marketplace by dollar share. "Ecobee uses the latest encryption technology to ensure there are no external ports for hackers, protecting our customers at every turn," he says.
Philip Steele, the founder of startup smart hub and app nCube, which gives a single-point of control for all the smart technology in one home, is launching nCube in February 2016. This product is marketed as offering "unique privacy".
"If I look at the trend for apps, such as social networking services, there's a trend to sign over access to data just to start using those products," says Steele. "But our homes are a more private place and therefore our solution is designed to keep as much user data in the home." Users go through a two-factor authentication design and remote access goes through the servers securely.
Lack of consumer awareness
Limelight Automation, specialist smart home installers in the UK, says that slow consumer demand is down to lack of consumer awareness. The company has observed how IoT devices have not taken off to the same degree in the UK as in the US, but agrees that security concerns are a contributing barrier to adoption.
"We keep things as secure as possible by selecting only the very best and security conscious network equipment available," says Director Adam Forrest. "For this we use providers such as Draytek, Luxul and Cisco – the in-built security features give peace of mind that we're installing the most secure networks available in the residential market."
This problem is never more evident than for home security companies, such as Glue, one of the market's smart lock providers. While consumers have concerns about entrusting the security of their front door to technology, Diego Oliva, Founder of Glue, says that smart locks are making homes more secure.
"People have been hiding keys under mats for decades, which is very unsafe," says Oliva. "Official police figures show more than 6,000 burglaries in 2014 involved intruders using keys to gain access to the property, as opposed to breaking and entering."
Magical experiences
For Glue, however, the biggest challenge for the industry is building products and services that "truly improve people's lives". "Simple home automation that improves the home experience marginally is not enough," says Oliva. "Glue is not only about keyless access to your home, but also about controlled smart access that can help you experience your home as it if was a five-star hotel," he explains.
This meaningful value is the single biggest hurdle for all smart technology areas believes Warmup's Hollins, who says that consumers do not want technology that replicates what they already do with an app, but will only truly engage with technology that provides an experience that is, in effect, magical.
"if it is going to rain the next day, send an email notification to my inbox."
The automated part of the nCube, such as setting up a warm welcome home (the music starts, your preferred lights come on and the heating is set to a certain temperature, and so on), is the area that Steele is driving the most.
Just as IFTTT.com creates "recipes" or connections across apps on the internet to create more meaningful and useful experiences for internet users such as "if it is going to rain the next day, send an email notification to my inbox" or "if I post a picture on Instagram, save the photo to Dropbox, the nCube will do the same for the home. "In fact, we have been described as the 'IFTTT in the home'," he says. "And as everything works offline, all that logic is running locally on the hub."
Obsolete devices
"The main blocker stopping smart home tech really taking off is a lack of interoperability," says Rob Hilborn, head of strategy at broadband information website Broadband Genie. "Manufacturers are frequently using proprietary standards which make their kit incompatible with others, so anyone looking to jump into smart homes is faced with either choosing a single company and relying on them entirely, or mixing and matching hardware devices which may not be able to communicate with each other." This can add to a consumer's household bills, rather than reduce them.
This issue has gradually led to the creation of more user-friendly central smart home hub-style products, such as Apple HomeKit and nCube. There is doubt in the industry as to whether products like these could ever replace high-end automation solutions such as Control4 and Savant, but they do offer more affordable options for centralised control – 62% of Accenture's surveyed consumers cited cost as the greatest barrier to adoption.
Forrest says Limelight uses Control4 and they integrate different third party devices using driver providers such as Houselogix and Driverworks. "To avoid interoperability issues, we stick to tried and tested methods," he says.
Combining the plethora of interoperability issues with the sheer number of smart home products on the market, making choices that will work now and not become obsolete in the future is a confusing challenge for consumers, and for most it is still insurmountable.
"Where smartphones are obsolete within two years, the difference with home appliances is that consumers don't expect to replace them for ten years or more," says Hollins. "The saviour for the market here is the higher reliance on the software of these appliances."
Steele concurs and says that with smart hubs there are some on the market that have some sort of functionality built in as well as the software features, such as gesture recognition or speakers and microphones. "These sorts of devices risk becoming obsolete quickly as designs and tastes change and the hardware becomes out of date," he says. "Our strategy is to build something where all the value is in the software."
Positive signs
Although take up is slower than expected, companies are seeing positive signs, indicating that there is growth in the market.
Originally serving the high-end market in the London area, Forrest says that the uptake of smart home technology is no longer restricted to the "rich and famous". "We are seeing an increase in people on modest budgets that just want their homes to work more effectively and efficiently," says Forrest.
Raj says that Ecobee's sales have more than doubled since first shipping the product in 2009, and with products like nCube and Apple HomeKit entering the market more consumers will find that affordable and effective home automation is possible, making mainstream market penetration more likely in the future.
"It's still early days for smart home technology," says Hilborn. "We're at a point where it's more affordable and easier than ever, but still some way from it being a mass market technology."