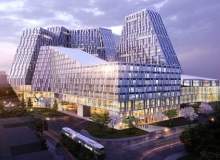 As China continues its rapid economic and societal transformation, perhaps the most striking illustration of this shift is the changing face of the country's swiftly expanding cities. Chinese residents are flocking to cities in unprecedented numbers; the country's urban dwellers now outnumber its rural population for the first time, driving the growth of more than 160 cities that currently host at least a million people apiece.
By 2030, the combined population of China's cities is expected to cross the one billion mark, further boosting the share of urban economic output to around 95% of the country's total gross domestic product.
The rampant growth of China's urban population brings with it decades of work to create – or recreate – city-spaces that can take the strain. The hundreds of millions of newcomers who have already descended on Chinese cities, not to mention the 350 million expected to join them over the next decade, require a rethinking of urban space to support dense populations efficiently while also considering the common spaces and human scale that make the difference between faceless districts and proper neighbourhoods. As Nanjing's then-mayor Jiang Hongkun said at the UN's third World Urban Forum in 2008: "Building harmonious cities is our vision."
The rise of mixed use in China
As a result of its rapidly urbanising population, China has found itself at the top of stack as a construction market, with construction spending in the country reaching almost $1.8 trillion in 2013, making it the largest market in the world. Annual growth over the next five years is pegged at a healthy 7.3%, according to respondents of AECOM's recent Asia Construction Outlook survey.
Developing urban residential, commercial and retail space forms a core part of China's booming design-build sector. And given the complex considerations involved in servicing densely populated cities, large mixed-use developments – already popular in the US and Europe – have proven a good fit for China's property developers. Major projects such as Shanghai's Grand Gateway, designed by Seattle-based Callison Architecture and completed in 2005, have helped pave the way for a surge of mixed-use projects, many of which are dizzying in their complexity and scale.
"When it comes to mixed-use developments, different uses merge, where the main benefits can be designs changing from a mono-architecture city scene to various landscapes," Beijing University of Civil Engineering and Architecture professor Fritz Strauss told Sina English in a 2013 interview. "It's not just a shopping mall, not just an office building."
For better or worse (mixed-use projects have their drawbacks as well as advantages), the sense that large-scale mixed-use developments can be 'cities within cities' with their own design aesthetic and live-work-shop dynamics is a baton that has been picked up and enthusiastically carried forward in China.
3D living: mixed-use super structures
The city-within-a-city style of development is becoming increasingly apparent in the designs for a number of upcoming projects in China. Spark Architects' design proposal for the Vanke Supercity project in the satellite town of Changping, 50km north of Beijing's Forbidden City, envisions a stack of interlocking, multi-functional boxes accommodating residences, shops and a cinema tower.
The boxes, which are accessed from the building's podium via escalators and walkways, give the design an inward-facing feel that is enhanced by the sheltered 'urban courtyards' that separate them. These integrated exterior spaces on multiple levels give the building a sense of three-dimensional living, with multi-level accommodation boxes overlapping and overlooking one another and the courtyards in between.
Designs like Vanke Supercity are representative of a growing trend in China for mixed-use projects to eschew the skyscraper template of Grand Gateway and other projects like it in favour of a softer profile, with a complex of associated buildings linked by more intimate exteriors.
Another apt demonstration of the trend comes from the city of Shenyang in north-east China's Liaoning Province, where LA-headquartered architecture firm 5+ Design in August revealed the design for the Diamond Hills mixed-use project. The residential / office / retail project, which will be built atop an integrated transport hub for bus and light rail travel (in-built transport links are another key component of many mixed-use developments), was forced to limit its silhouette due to strict regulations to prevent excessive blocking of the sun.
"In China, there are code ordinances that require each residential building to receive a minimum of two hours of sunshine on the shortest day of the year," said 5+ Design's Ramon Hone. "This means that buildings nearby must be designed so as not to block the sun."
To stay up to code, the firm conducted a study on the movement of the sun throughout the day and literally shaped its design on the resulting data, giving the building a mountainous profile that makes a striking virtue of the project's chief restriction.
Mixed-use sustainability
Tied to China's growing tendency towards lower-profile mixed-use projects is a burgeoning environmental sensitivity. Since the first Chinese building was awarded gold status by the US Green Building Council's LEED certification scheme, green building in China has been on the rise, with 35 million m² of environmentally efficient buildings planned for construction in Beijing alone by 2015, according to the People's Daily newspaper.
The government's desire to limit carbon emissions from buildings has gone beyond mixed-use developments to entire sustainable cities such as Meixi Lake Eco City, currently under construction west of Changsha, which is intended to house more than 200,000 people and serve as an eco-friendly hub for low-carbon construction. The Living Lattice exhibition centre, which is being built to "communicate the vision for the Meixi Lake Eco City", was awarded an Outstanding rating under the UK Building Research Establishment's BREEAM environmental rating scheme for its innovative latticed design, which maximises passive lighting and ventilation.
This progress is clearly beginning to rub off on mixed-use developers, as illustrated by the Sliced Porosity Block, a mixed-use complex completed in 2012 that consists of five mixed-use towers surrounding a large central plaza in the centre of Chengdu. The development maximises sunlight exposure by cutting the towers into unusual geometric shapes, which also serves to limit the towers' imposing qualities and create human scale.
The project received LEED gold certification by using high-performance glazing, local materials and energy-efficient equipment, while the ponds in the central plaza harvest recycled rainwater and more than 450 geothermal wells provide heating and cooling.
Whitewashing China's heritage?
Despite the strides being made in China's mixed-use sector, the prevalence of large mixed-use developments in the country's cities does present a significant risk to the heritage and historic identities of some of the world's oldest and most culturally significant urban areas. In Beijing, where a relentless construction boom has flattened many traditional narrow streets, or 'hutongs', to make way for more modern buildings, resistance to breakneck property development has centred on the Zaha Hadid-designed Galaxy Soho, a massive mixed-use shopping and office complex.
The 370,000m² complex was last year presented with an International RIBA award by the Royal Institute of British Architects for its "almost geological solidity and presence", but it has not received as warm a response from others in Beijing. The building's flowing, somewhat space-age ribbed domes are certainly striking, but the Beijing Cultural Heritage Protection Centre has criticised its impact on the traditional neighbourhoods around it.
"The Galaxy Soho project has violated a number of heritage preservation laws and regulations," said a letter sent by the centre in 2013 to protest the building's RIBA award, as quoted by Building Design. "It has caused great damage to the preservation of the old Beijing streetscape, the original urban plan, the traditional Hutong and courtyard houses."
Prince's Foundation special adviser Hank Dittmar told Building Design that in many cities, Chinese culture is being pushed to one side in the rush to secure high-profile mega-structures designed by international architects. "Politicians and developers [are] seeking to position their metropolis or their project in the global economy by hiring a famous architect who has attracted attention to another city," he said. "The result is a succession of cities becoming architectural trophy rooms with every city collecting its own Hadid, Nouvel, Eisenmann or Rogers."
These issues, coupled with the fact that mixed-use projects by global luxury brands including Armani and Fairmont Hotels & Resorts are on the rise in cities such as Chengdu, raise the unpleasant prospect of urban planners whitewashing distinctive Chinese culture in favour of generic Western modernism for the purpose of simple prestige.
To be fair, the debate around mixed-use developments and identikit neighbourhoods is hardly exclusive to China – it's been raging in Europe and the US for years. Mixed-use developments are well-suited to addressing China's unique urban challenges, and if done well have the potential to provide space-efficient, comfortable and distinctive spaces for China's rapidly urbanising population to live, work and play. Still, it's worth crossing a finger or two in hope that its cities don't sacrifice their own identity in the process.