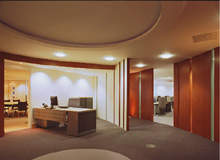 The most popular LEAF seminar was undoubtedly 'Maintaining high-quality standards in a cost-competitive environment', chaired by Ahrend's Chris Grover and Gensler's Gary Wheeler, which ended with rousing applause. Before the interactive debate kicked off, Grover and Wheeler gave a joint presentation asking whether it was possible to uphold Western standards in developing countries. After all, the general premise is to drive costs down, so what does that mean for quality?
The example given was the working environment. In Europe, approximately 85% of company costs are spent on staff. The trend of investing more in people seems a rewarding approach to facility design. Most countries have standards in place, or are in the process of developing them, to ensure that employees work under adequate conditions.
If we look at the rest of the world, however, we see a very different picture. The key was to create a workable distinction between emerging and developing countries. Wheeler defined developing countries as those with no infrastructure and emerging countries as those with a lack of orientation, but the potential for rapid growth. Within this model Western countries can be defined as mature.
"The key to high quality is to see people as partners, not suppliers."
Chris Grover pointed out that 'third world' and 'first world' imply a coherent definition of a 'second world' somewhere in the mix. Peter Eaton of Aukett Fitzroy Robinson felt there might be a certain amount of overlap, as many countries develop in meteoric fashion, with some regions outpacing others (witness the rural-urban divide in Poland and Ireland).
Aviaplan's Geoffrey Clark gave the example of Estonia, where government policy is to ensure that airports get built first before further construction can develop. One could also cite the example of India, where due to funding issues only the first phase can initially be contracted, just in case the second phase is never commissioned.
Regarding client satisfaction, the main difference between developing and mature countries is that in the developing world satisfactory is often good enough, while clients from the West accept nothing less than what they originally asked for. Grover was under no illusions: 'In developing countries, we need a more focused approach. Instead of the scatter-gun method we should aim for a sniper approach.'
DESIGN AS VEHICLE FOR CHANGE
The discussion moved from defining terms to the complex subject of local versus global. In Dubai, for instance, a new financial centre has been developed to house a stock exchange to rival Europe and the USA. The Arab world, however, has no experience in this kind of trade. Rather than a minus, Gary Wheeler sees such situations as an opportunity for change; architects can play a key role in helping countries and companies to forge a new identity.
All agreed on the importance of managing clients' expectations regarding quality, cost, delivery, experience and relationship, and Chris Grover identified a general industry trend: 'We are all trying to change from project-based to relationship-based.' The key to high quality is to see people as partners, not suppliers.
"Today, sustainability is what counts, not splashy showcase projects."
However, globalisation still involves developing an understanding of a different culture, which takes time. For example, both Wheeler and Grover presented office designs for three different locations through three different approaches, but for the same client.
Considerations such as long-term lease (UK) vs short term lease (USA) and cultural and cost-driven factors played a key role in the design.
On this evidence, more cost-efficient open-plan offices are becoming more popular all over the world. However, Grover suggested that any savings be re-invested to improve the quality of materials.
Buildings are getting smarter across the board, particularly in the workplace. In this area, it seems that Europe has surged ahead of the USA. According to Wheeler: 'Europe is far ahead of the USA in terms of the workplace. For instance, Europe has 80% raised floor while the States has only 10%.'
According to a recent MIT survey, 30% of offices will be mobile workplaces by 2006. The working space is or should be a collaborative and interactive area. The workplace of the future will enshrine knowledge sharing, a sense of community and interactive communication. After all, technological advances mean that most jobs can be done from anywhere, so offices function largely as places to interact.
THE NEW FACE OF DESIGN
"Design is an integral part of architects' work and needs to be core to their thinking."
Perspectives in architecture are changing. Buildings are no longer being designed to look good on the cover of a magazine. Today, sustainability is what counts, not splashy showcase projects. Wheeler stressed that design is an integral part of architects' work and needs to be core to their thinking – a seemingly obvious statement in, say, Italy or Scandinavia, but by no means a given in the USA.
The main challenge that architects face today is to stay agile in this fast-moving market. The seminar concluded with the sentiment that hoarding knowledge does not help anyone and a call for knowledge to be shared, in a collective attempt to raise the bar and offer value for money.