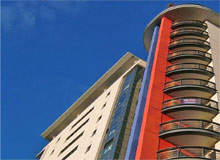 On LEAF London's second discussion panel was Herbie Girardet, director of programmes at the World Future Council, and senior advisor on Arup's Dongtan project, the world's first sustainable city, Professor Brian Ford, Professor of Bioclimatic architecture and Head of the School for the Built Environment at the University of Nottingham and James Thomas from MAKE Architects. The discussion centred on the challenges creating sustainable cities of the future.
LIVING BEYOND OUR MEANS
Girardet opened the discussion with an overview of the challenge ahead, sketching a disturbing picture of a world population that was living way beyond the ability of the planet to sustain its enormous consumption of resources and generation of waste. "Fossil fuels have fuelled the growth of cities," said Girardet. "Every year we burn a million years of fossil fuels and we need to get away from multi-planet living."
At current rates of consumption, London needs three planets and New York five. London's eco-footprint is 275 times its surface. Girardet looked to designers to work on garden cities of the future citing his work with Arup on Dongtan city near Shanghai. Dongtan will be the the world's first sustainable city.
ECO-CITIES
Dongtan is a new 'eco-city' planned for the island of Chongming, near Shanghai. The city should be open, with accommodation for 50,000, by the time the Expo 2010 opens in Shanghai. At three-quarters the size of Manhattan and located on the third largest island in China at the mouth of the Yangtse river, Dongtan will be developed on 630ha of land as a sustainable city to attract a range of commercial and leisure investments.
Dongtan was recently presented at the United Nations World Urban Forum by China as an example of an eco-city, and is the first of up to four such cities to be designed and built in China by Arup. The cities are planned to be ecologically friendly, with zero-greenhouse-emission transit and complete self-sufficiency in water and energy, together with the use of zero-energy building principles.
Girardet explained how Dongtan will have only green transport movements along its coastline. People will arrive at the coast and leave their cars behind then travel alongshore as pedestrians, cyclists or upon sustainable public transport vehicles.
Local government will be critical in addressing the environmental problems of the world. Recently the UN Environment Programme's Millennium Ecosystems Assessment, where 1,360 scientists around the world examined the links between the environment and human health and well-being, had shown that the world's people were consuming natural resources at a faster rate than the planet could sustain.
The future was not entirely bleak. Girardet cited that things are looking up. London, citing the recent go-ahead for the world's biggest wind farm in the Thames Estuary, but said the change is happening far too slowly. "National and international policies need to converge," Girardet said. "In order for sustainable development to succeed we need new sustainability standards."
A GLOBAL EFFORT
Professor Brian Ford entered the discussion by saying that a sustainable urban future is a better quality environment. "The relationship between the external and internal environments is key," he said. Professor Ford stressed the importance of interdisciplinary collaboration. "Architects need to be well versed in understanding engineering," he said. "Collaborative engagement is the way ahead."
"Every year, we burn a million years' worth of fossil fuels. We need to get away from the idea of multi-planet living."
On a practical point of view, James Thomas from Make Architects demonstrated how his practice is working on a number of eco-friendly projects, including Walpole House in London and the Future City in Kharbhari Al Kuwait which uses innovative design which can bring temperature down by 10° – a necessity considering this is one of the hottest places on earth.
At present, most of humanity's carbon dioxide emissions originate from cities. Therefore, global efforts to reduce greenhouse gas emissions have to begin in cities.
It is no exaggeration to say that, in many ways, the battle for sustainable development will be won or lost in our cities.
LEAF London ran from 30 January – 1 February. The event brought together top architects and suppliers from across the globe looking to strengthen their knowledge of the UK market. Running alongside prearranged one-to-one meetings and network opportunities was a seminar programme that concentrated almost exclusively on the sustainability issue.