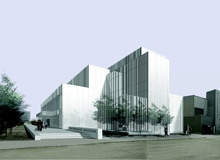 David Chipperfield's whole design career has been an exercise in restraint. But there is nothing restrained about the way his buildings have been received, with the practice's abstract modernist designs continuing to win plaudits and awards across Europe and beyond.
David Chipperfield Architects recently took the Overall Winner prize at the 2006 LEAF Awards for the stunning America's Cup Foredeck Building in Valencia, as well as winning the Best Regeneration Project Award for the Des Moines Public Library in Iowa. And in November 2006, Chipperfield himself was appointed royal designer for industry by the Royal Society for the Encouragement of Arts, Manufacturers and Commerce.
Chipperfield is one of the few modernist architects working today. His work is neither shocking nor extravagant, but takes a cerebral, almost philosophical approach that can be traced back to his early days as a young architect, when he worked at the practices of Douglas Stephen, Richard Rogers and Norman Foster.
The firm Chipperfield founded in 1984 has established itself as a world-renowned practice and is in the process of completing a host of prestigious projects, from Milan to Missouri. However, the ultimate goal is always the same. "We are trying to produce architecture that people can enjoy," explains Victoria Jessen-Pike, design director of David Chipperfield Architects' London office. "We want to make the most of every building we design."
THE RETURN OF NEOCLASSICISM
One of Chipperfield's most ambitious current projects is in Berlin. The firm led a masterplanning team to develop an 'archaeological promenade' around the German capital's Museumsinsel (Museum Island), home to the Altes Museum, the Dom, Stüler's Alte Nationalgalerie, the Neues Museum and the Pergamon Museum. Chipperfield is also working closely on the renovation of the Neues Museum, due to be completed in 2009.
The firm took on the project with gusto, with the neoclassicism of Schinkel providing obvious appeal. "The way David approached the commission was by likening it to fixing the parts of a Greek vase," explains Jessen-Pike. "Our approach was not to restore it to how it was, but to place it in a contemporary setting."
"We are not setting out to create 'iconic' buildings."
Germany has proved fertile ground for the practice. The Museum of Modern Literature in Marbach Germany, which opened in January 2006 to great acclaim, is a fine example. This glass and concrete neoclassical pavilion is typical Chipperfield – a building reduced to its bare essentials.
The museum's classical lines also addressed the nation's past, with the Nazi appropriation of that style still in living memory, and the building has helped make neoclassicism acceptable again in Germany. "Naturally, we had to take into account the sense of history," says Jessen-Pike. "It's a highly emotive subject."
DAVID CHIPPERFIELD GLOBAL ARCHITECTURE PROJECTS
Despite its being based in London, and producing award-winning architecture there, such as the River and Rowing Museum in Henley-on-Thames, David Chipperfield Architects has won its biggest commissions abroad and is very much part of the global architectural elite. So, does it see itself as a British or global company? "We are trying to be both," replies Jessen-Pike.
Indeed, the company thrives on collaborations with architects abroad. "On every project that is not in the UK, we enjoy working with a local architect," she adds. For example, the award-winning America's Cup Foredeck Building in Valencia was designed in collaboration with Barcelona-based practice b720 Arquitectos. "It is a relationship that starts from the beginning," she says of working with other practices. "As a result, everyone is fully committed to a single goal."
ARCHITECTURAL DESIGNS: MAINTAINING QUALITY STANDARDS
Given its founder's global reputation, the firm is aware of the pressure architects are under to produce headline-grabbing designs, but this does not influence its design ethos. "We are not setting out to produce iconic buildings," says Jessen-Pike matter-of-factly.
"The firm has won its biggest commissions abroad and is very much part of the global architectural elite."
Interestingly, the firm was recently chosen to design the Hepworth Waterfront Gallery in Wakefield, beating off competition from more 'iconic' architects such as Zaha Hadid. The Hepworth will relocate Wakefield's existing art gallery to the conservation area at the headland of the River Calder and will house major the gallery's collection of British and European art in an expanded exhibition space.
Looking to the future, the firm has some major projects coming up in China, such as the Bailujun residential district, but is also looking to work on new projects closer to home. "We would love to work on the 2012 London Olympics," admits Jessen-Pike.
The firm is also concentrating on retail and product design, but in its pragmatic way all projects, whether major constructions or smaller product commissions, are running in parallel. "We are just working on different scales," observes Jessen-Pike, with typical restraint. Ironically, by eschewing flashy design and self-consciously 'iconic' commissions, the firm is more in demand than ever.