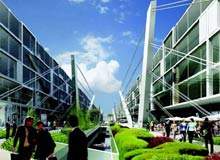 We live in an age of celebrity and branding. From politics to pop music, it seems that public tastes are increasingly personality-led. Some argue this has resulted in a culture that values style over substance. But for several high-profile operators,
it has led to an unprecedented expansion of traditional architectural remits.
Hadi Teherani is excited by these developments. The Iranian-born architect, famed for his challenging, visionary designs, such as Munich's Swiss RH centre and the Dockland office building in Hamburg (which won Best Structural Design at the LEAF Awards
in 2005), has moved into interior design and lifestyle products – a transition he sees as crucial in pushing his Teherani brand.
Slight and immaculately dressed, the 52-year-old speaks unashamedly about his attempts to expand his commercial operations.
"As your reputation grows," he explains, "people begin to appreciate your name as a brand. Traditionally, architects have not
thought that much about it, but we have to learn."
Teherani views such an approach as crucial in protecting the interests of the profession: "The big names in fashion are moving over to architecture. We now have Armani hotels fitted with Armani furniture and interior features. Initially, we thought
that people would understand that it was not Armani's job to design buildings, but the power of celebrity has allowed him to employ the best architects and then sell the result more easily through his name."
Teherani believes speed is essential: "We have to be quick with the branding. You can only reach people when you're right there in the house. A Teherani water bottle on the bedside table means that they know and trust you – just look at Philippe
Starck."
How well do you
really

know your competitors?

Access the most comprehensive Company Profiles on the market, powered by GlobalData. Save hours of research. Gain competitive edge.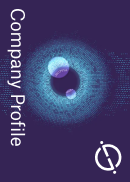 Company Profile – free sample
Thank you!
Your download email will arrive shortly
Not ready to buy yet? Download a free sample
We are confident about the unique quality of our Company Profiles. However, we want you to make the most beneficial decision for your business, so we offer a free sample that you can download by submitting the below form
By GlobalData
Starck is a name that comes up frequently during our discussion, and he provides much of the inspiration for Teherani's change of direction. Although softly spoken, shy even, he remains unconcerned that some of his contemporaries might frown on such
naked ambition: "In Germany, for a long time it was forbidden for architects to develop their profession. Some might not like it, but people must understand that what we are doing is all part of the same line. The same rules apply."
"Hadi Teherani founded BRT Architekten with Jens Bothe and Kai Richter in 1991, in Hamburg."
The movement into interiors was accidental. "We had a lot of innovations in our buildings, but could not find the right products with which to furnish them," he explains.
"At first, we created solutions only for our own buildings, but invested so much
time in them that we had to bring them to market. Then, it was opened to lifestyle. Once you make that move, it opens up an enormous range – kitchens, belts, shoes, music – you name it."
Teherani sees no conflict between these various interests: "I am concerned with the conclusiveness of the architectonic statement. It is what the Bauhaus of the 1920s was striving for: a harmonious, total work of art. With the inside of the building,
the design rules are no different to those for its external appearance. Such an understanding ensures there is no break in the aesthetic statement."
Teherani's commitment to this 'one line' approach is total: "It is not possible to design a room without thinking of its subsequent use or formation. Any participation from a different side is an interference in the process and does not always share
the basic disposition of the architect."
A NEW STORY FOR HAMBURG
Such an expansion of interests does not mean a movement away from architecture, and nowhere will this news be more welcome than in Hamburg, a city Teherani and his firm, BRT, have helped transform since the company's inception in 1991. "Hamburg is a
nice town with very conservative architecture," he explains. "We are demonstrating that the city is not like an old newspaper but can still create new stories. A good city must tell stories about its history but also continue creating."
"From politics to pop music, public tastes are increasingly personality-led."
Despite having interests in cities from Dubai to Istanbul, Teherani admits he instinctively designs for his hometown.
"I arrived there as a six-year-old, it's where I grew up and I know how the people feel. What makes the city so special is that if
you do not speak its language, you cannot be successful. I can talk to it fluently."
Many of his projects have required their fair share of dialogue – Teherani does not so much work to commissions as actively seek them. He cites Dockland as a recent example of this: "It was a site where the moment I saw it I started to design.
It was just a stretch of land with a few stones and a lighthouse, but everyone seemed to own a piece of it – federal waterways, the city council, harbour administration – and it took a long time to put the vision of a gateway building into
people's heads. Now, when the politicians and the public speak about Hamburg, they show Dockland."
Such tenacity is present in much of Teherani's work. "My great passion is the unexpected solution," he begins. "I often want to build on land that does not yet exist. Sometimes that might be a water surface, such as Dockland or the Berlin Arch, other
times it might be a traffic island, as was the case with Lofthouse. Unusual challenges that inspire unconventional answers make for better designs."
A CITY ON WATER
The downturn in Germany's economic fortunes has seen BRT look beyond the domestic market, but the project closest to Teherani's heart will, unsurprisingly, be in his home city. "Hamburg has more bridges than Venice, Amsterdam and London combined," he
explains. "However, the port is not really linked to the rest of the city and suffers from poor urban planning. I want to make short cuts and bring the city together."
"A Teherani water bottle on the bedside table means that they know and trust you."
His solution is the Living Bridge, 'a city on the water'. This 700m-long development, spanning the river Elbe, takes its inspiration from the Ponte Vecchio, and would contain parks, shops and apartments.
"It would be the world's largest such
development," Teherani explains proudly. "Logistically and politically, it is quite difficult, but this is something that could fundamentally change the city."
This ability to create bold new designs on both the smallest and grandest scales will certainly help Teherani develop his brand, and he is optimistic about the future. "Improvement always lies in the future, not in the past," he adds.
Teherani may have a way to go before his name is on a par with Philippe Starck, but his designs are proof, if any were needed, that style and substance should never be mutually exclusive.