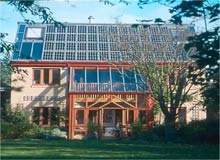 As environmental issues continue to grab the headlines, the need for eco-friendly design is becoming increasingly urgent. Depletion of fossil fuels, climate change and pollution are affecting every aspect of our lives, and people are starting to sit
up and take notice.
"We all recognise that we are going through a time of enormous change," says Dr Susan Roaf, professor of sustainable architecture at Oxford Brookes University and a respected architect, author and councillor.
"And we all have to take part in solving
this for our own common future – because the future is where all of us and our children will spend our lives."
BUILDING THE FUTURE
As director of the Low-Carbon Cities Initiative Consultancy and an international award winner, Roaf is ideally placed to promote sustainability on international committees, think tanks and working groups. She is sharing this knowledge through the
Ecohouse she has created in Oxford, which she holds up as a blueprint for future development in the UK, particularly in the capital.
Energy bills in the Ecohouse are around £240 per annum, but fuel prices are predicted to double by 2015. "It's not unusual for people to have bills of £800 to £1,000, and when they double it will really begin to eat into a
household's available resources," she warns. "What we need to do now is to 'future-proof' our lifestyles by making good investments – which will see returns even in the short term."
A key factor in good housing development is thermal mass – using quality materials to protect the interior environment from external extremes. Good windows that can be easily opened for ventilation are also a must. Other recommendations include
shading south and west-facing windows, installing low-energy lighting, fitting top-grade white goods, excluding draughts and putting in plenty of insulation.
As Roaf sees it: "If you spend your money on really good windows, double insulation and quality building materials, then you are going to get low energy bills. If you spend your money on 'bling' interiors, you can expect to pay more for your bills.
You need to spend wisely to ensure low running costs."
"We only have ten years to turn the amount of emissions around, or as a species we simply won't survive."
The Ecohouse's bills are significantly reduced by a photovoltaic integrated roof system, which powers the home for three-quarters of the year.
"Every new house should have solar heating," says Roaf. "If a developer building a new house in London spent
£1,000 on solar heating and £1,000 on low-energy lighting and installed A+ units, it would put £5,000 on the sale price.
"Clever developers can see this is where the market is going and that buyers will pay a premium for sustainable homes.
"They will have no problem selling their buildings, and the cost of homes is so high in London that people don't want to be buying
rubbish."
In the Ecohouse, the emphasis is on installing A+, energy-efficient white goods. Roaf also uses low-impact materials, water-based paints, cork flooring and storage cupboards with old-fashioned curtain frontages.
"It costs more to put in the A+ goods," she explains, "but the running costs are much lower. On average, an A+ fridge will use about 140kW per year, compared with 20kW a day for a larger fridge / freezer on a lower efficiency rating. It's an
investment people have to make, but they will make that back."
TIME FOR ACTION
There also have to be incentives for people to make this investment, as current legislation is falling short. While the climate change and sustainable energy bill will help, there are different requirements for different planning authorities. Councils
in Oxford, Merton, Croydon and Brent insist on at least 10% of energy coming from renewable and sustainable sources. However, in the Greater London Authority, Mayor of London Ken Livingstone wants to see this rise to 20%.
Roaf says London cannot afford to progress any other way, and her campaign is being fought on two fronts: developers have to be encouraged to develop the market and householders need to be scared into action by the reality of rising bills.
"In Roaf's Oxford Ecohouse, the emphasis is on installing A+, energy-efficient white goods."
"The world is changing so fast," she says, "and we only have ten years to turn the amount of emissions around, or as a species we simply won't survive. The developers and designers who make the decisions about the built environment we occupy are at
the heart of that change.
"They are responsible for helping to bring sustainable development into our lives. The people at LEAF are leaders in their fields and they understand the need to be part of the solution – not part of the problem.
"But it's also time to scare the public and say 'you won't be able to afford your bills by 2015'. Given that 50% of greenhouse gas emissions come from our homes, and we use 50% of energy in them, it's the most important challenge in the world."