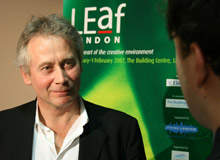 Peter Bishop delivered the LEAF London keynote welcome address, declaring that, while the 20th Century would be remembered as a period of unheralded individual freedom, the 21st Century "has to be an age of individual responsibility."
Bishop mused upon how positive it was to see an event so centred on sustainable issues. "Four or five years ago sustainability simply wouldn't have been on the agenda," he claimed. "Now it has to be central to our consideration of everything."
"Design for London will promote design in London on a wider scale – working alongside the boroughs."
Outlining the mission set for his agency, now entering its fourth week in existance, Bishop referred to his position as 'the best job in the world' and openly discussed the challenges set by 'a dynamic, confident city which is growing by the size of Leeds every 12 years'.
The Design for London director was delighted to have been invited to the event and commented upon how heartening it was to see the crowd assembled before him. "Normally when I attend these events," he said, "it tends to be a collection of the same faces. Here, however, there seems to be a great, eclectic mix of new people. That has to be a good sign."
LEAF London has brought together architects and suppliers looking to strengthen their knowledge of the UK market. Running alongside one-to-one and network opportunities is a seminar programme concentrating almost exclusively on sustainability issues. The event runs until 2 February 2007.
PF: What is Design for London's function?
PB: Design for London will work with project managers and clients within the Greater London Authority (GLA), advancing high-quality design throughout its operations. Once established, we will promote design in London on a wider scale –
working alongside the boroughs, other partners and organisations – offering expert advice and raising public awareness. We should act as a shop window for London, promoting developments to the rest of the world.
PF: What challenges do you face?
PB: There has been a tendency for people to only consider the importance of design once it's too late. If it's not high on the agenda at the start of a project, it tends not to feature at all. We have to get people throughout the GLA sitting
down, discussing design and making it essential.
We are an organisation of just 25 people and the sheer scope of what we can do in London makes for some stark choices about what our priorities should be. We must work out how to add value to other people's work without treading on toes, duplicating
effort or making anyone's life more difficult. We must narrow the programme down to what will make a fundamental difference over the next five to ten years.
PF: Is there a clear, integrated vision for what form development should take?
PB: We are not expected to come up with an absolute vision, and such a thing would be both dangerous and alien to the way that London has developed. Unlike other European cities, London is extremely pragmatic and has evolved into an
extraordinary metropolis without a grand plan. It will continue to develop in that way. However, I do want to put down some simple markers concerning what our city should embody.
"We need to think through basic design structures to help guide the development of London."
We need to think through basic design structures, to help guide the development of London and confront challenges such as how to produce well-designed, affordable, sustainable housing.
There are lots of areas in the city that do not work particularly well. Somebody needs to step in, pull together various stakeholders and try to provide a direction. We must mend the rifts across the city and knit areas back together again. Out of
these components a vision will emerge.
PF: What will your working relationship with Richard Rogers involve?
PB: As a member of our management board, and the mayor's adviser on architecture and urban design, he has a big part to play. Our roles are very complementary, and Richard will be chairing an advisory group responsible for harnessing some of
the top names and most talented people in the architectural and design professions.
We have been spending a lot of time together since I got the job, and have given a lot of thought to what our expectations and our direction should be.
PF: How will Design for London approach the Olympics?
PB: We must take a broader perspective than just the Olympic Park itself and consider what happens after the games. The integration of developments in the Lea Valley with the rest of the Thames Gateway, and plugging existing communities and
schemes into that, will be absolutely fundamental to its success.
What happens outside the immediate areas hosting Olympic events is another concern. There's a responsibility to guide the investment into areas such as transport infrastructure and to ask searching questions about whether the centre of London and
other major tourist sites are in a fit state to welcome the world.
PF: How do you feel about the current state of design in London?
PB: It depends what kind of mood I'm in. At times I look across the city with a concern bordering on despair. There are few really great buildings. I think we've fallen some way behind many cities in Europe in regards to urban design, public
spaces, and even great architecture.
"We must mend the rifts across the city and knit areas back together again."
With the growth in cheap flights and city breaks, Londoners are returning from abroad and starting to notice just how far we've fallen. The last ten years have seen fantastic growth in both public awareness of design and the delivery of some key
projects in London. There is a real groundswell of support now, which will allow Design for London to make a genuine impact on the city. A very different London is emerging.
PF: What is your favourite contemporary London building?
PB: What a difficult question! Richard Rogers's Lloyd's building is pretty unique, and Foster's Gherkin has established a new landmark in London, but what I would pick out isn't a building at all. The Millennium Bridge is elegant in design and
beautifully detailed in execution, but has also changed the life of that part of the city, making it very difficult to imagine what people did prior to its construction. It has design excellence, but also helps shape the way in which the city works and
is testament to the power of good design.