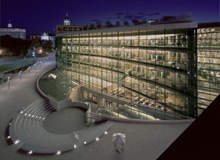 Dubai might not seem an appropriate setting for a talk on 'humanising mega-scale', but the location, if anything, lent poignancy to Moshe Safdie's presentation at the third annual Leaf Summit.
Since rising to prominence as a 24-year-old following his Habitat '68 commission for Montréal's World Expo, Safdie's work has been synonymous with a belief in matching the 'response of architecture to the programme'.
He began his lecture, 'The State of the Profession: Mega-scale, Order and Complexity', by posing a fundamental question: where everything is possible, what is appropriate?
In Safdie's eyes, much of today's building design has been redefined and stripped of its ethical framework.
He described an industry overly concerned with fashion and corrupted by outside influences. More worrying still was his fear that those entering the profession are no longer concerning themselves with the principles he and many of his contemporaries still view as essential. How do we use resources? What is inherently buildable? How do we respond to the specifics of culture and space?
SUSTAINABLE DEVELOPMENT?
As a case-in-point, Safdie cited the Freedom Tower development at Ground Zero, New York. The original World Trade Centre towers were, in his eyes, 'symbols of failed modernism' and he expressed astonishment at how low down the priority list 'creating a better urban environment' had figured in the debate over what should replace them.
He highlighted Shanghai, a city he had recently returned to for the first time in over 30 years, and his dismay at developments there. "When I wasin China last," he began, "there were no towers, no expressways. Now it has all these things, but demonstrates neither understanding nor context. It seems that little thought has been put into how to sustain such developments."
DUBAI DISAPPOINTMENT
Safdie, in Dubai for the first time, was troubled by what he had witnessed since his arrival. "Is such density necessary?", he asked. "How far does the desert go?" He was also critical of the character of such developments.
"Dubai has gone out and bought artefacts and ideas from the West," he began. "There is no assertion of culture. Instead, there is an assertion to impress. Where are the people of Dubai? What is it that they want? What I see is all the excesses of Western culture writ large. An opportunity to learn from our mistakes of the past 50 years has been sadly missed."
"Where everything is possible, what is appropriate?"
Through his portfolio of work, and publications such as The City After the Automobile (1998), Safdie has long demonstrated a concern for the future of city planning. He spoke eloquently about a scheme run at his practice which sees two graduates employed each year exclusively to work on 'the high building issue'.
"How do we make a collection of buildings greater than the sum of its parts?" he asked. "How do we humanise mega-scale while retaining all its amenities and advantages?"
USER-FRIENDLY PLANNING
The Canadian-Israeli architect was here to answer questions as well as pose them, however, and cited Singapore's Urban Redevelopment Authority as a group with a clear objectives – city planners concerned with grounding development within the needs of its users. It was in Singapore that Safdie began a whirlwind tour of his projects, past and present, demonstrating how to go about 'matching architecture to the programme'.
Marina Bay Sands, due to open in 2009, addressed many of the
aforementioned concerns, integrating a waterfront promenade, grand shopping arcade, civic space, museum, hotels, casino and parkland, and putting particular emphasis on communal space and activity. It is a site that seeks to bring people together and develop community.
Another project Safdie talked the audience through was the Salt Lake City Library, where his brief had been 'to transform downtown'. The result was a site brimming with amenities and features. "I was told that it would be impossible to keep people in town past five 'o' clock," Safdie told his audience. "We proved them wrong." With 9,000 visitors a day, the library is now the most visited site in Utah and an integral part of the city's social dynamic.
Other highlights included the Khalsa Heritage Memorial, a museum of the Sikh people located in the Punjab. "This is a powerful and symbolic place," said Safdie. "It was vital that I reflected that." Two complexes straddling either side of a ravine, connected by a ceremonial bridge seemed an appropriately grand response to such a prestigious commission. The 75ac site boasts galleries, a piazza, library and auditorium, its design firmly rooted in the fortress architecture of the region.
The United States Institute of Peace, a stone's throw from the Lincoln Memorial in Washington DC, was another project invested with immense symbolic value.
"Safdie has long demonstrated a concern for the future of city planning."
The Institute is an organisation founded and financed by Congress to promote peace worldwide. Safdie sought to reflect such aspirations through a series of interlocking spheres and an overriding sense of lightness, whiteness and openness.
WAGE WAR ON SCALE
As the presentation drew to a close, the veteran architect looked to hammer his message home. "Inspiration has to do with going back to first principles," he explained, "doing the most with the least materials."
"Architects seem overly concerned with the imposition of complexity. Why? I am constantly looking at my own work and asking myself whether there is anything capricious about what I have done. I am instantly suspicious if the answer is 'yes'."
This stirring lecture concluded with a heartfelt call to arms: "Do not surrender to scale, wage war on it." Dubai suddenly seemed a more appropriate setting than ever.